Cycle the Balkans
Start: Dubrovnik Finish: Sarajevo
Visiting:
Dubrovnik
,
Kotor
,
Niksic
,
Pluzine
,
Mostar
,
Sarajevo
---
---
Duration: 7 Nights
Physical rating: Medium
Special diets catered: Vegetarians
Tour Operator: Intrepid Travel
Group size: 1 - 15
Age range: 14-99 years
Tour operated in: English
---
Tour Overview
Get your legs moving on a Balkan cycling adventure from Dubrovnik to Sarajevo. Taking in stunning scenery on the coast and inland, this trip will take you riding through three fascinating countries – Croatia, Bosnia and Herzegovina, and Montenegro. Tackle challenging climbs, scenic flats and a new rail trail following the now defunct Austro-Hungarian railway line, finishing in the intriguing, yet sobering, city of Sarajevo, with visits to Mostar and other picturesque towns on the way.
Highlights
Cycle the Ciro Trail, new rail trail following the now defunct Austro-Hungarian railway line.
Cycle past some of the most inspiring natural landscapes in Europe, from stunning beaches to towering mountains.
Explore three fascinating countries by bike
Sarajevo is one of the most scenically located cities in Europe. See the sights on a guided walking tour and learn about its recent history as a city under siege
Witness Mostar's famous bridge divers hurl themselves from the stones of a bridge that has spanned the river here for centuries
Itinerary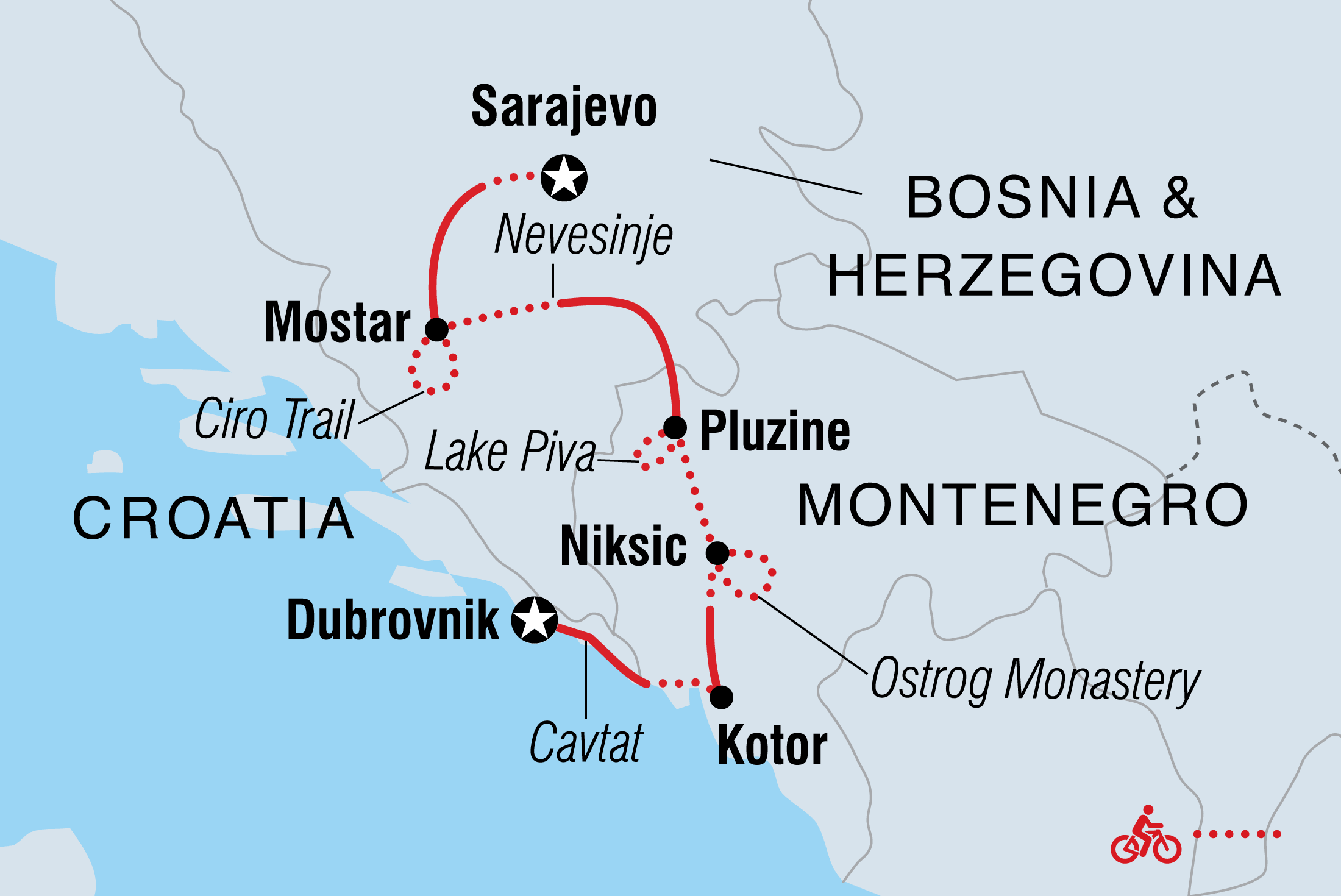 Day 1: Dubrovnik
Location: Dubrovnik
Welcome to Croatia and Dubrovnik, a traveller's favourite that has exploded in popularity since Game of Thrones took over the world. The group doesn't spend a lot of time here, so we recommend arriving early to experience this incredibly beautiful city. Meet your group at 6 pm then perhaps go out for an optional dinner together (hot tip: Old Town's gelato is phenomenal).
Day 2: Kotor
Location: Kotor
Meals: breaksfast
This morning you'll transport by vehicle from Dubrovnik into Montenegro to avoid the hectic traffic outside the city. Continue over the border to Herceg Novi where you'll have your bike fitted before you'll start cycling. Follow the Bay of Kotor, cycling alongside rolling hills for approx. 16 kilometres to the small whitewashed port town of Kamenari. Take a short ferry ride across the azure waters between the headlands to Lepetane, then continue riding along the shaded quiet road all the way town of Kotor itself. Located on the shore of the Adriatic, Kotor is a 5th-century World Heritage-listed city boasting a spectacular location between the beautiful bay and the imposing mountains. Its medieval Old Town features winding cobblestone lanes, historic buildings and buzzing nightlife. Ride: approx. 25-30kms/15-19 miles, lightly undulating terrain, with approx. 240 metres/790ft of elevation gain in total.
Day 3: Niksic
Location: Niksic
Meals: breaksfast
Depart Kotor this morning by vehicle, heading north to scenic Slano Lake . Start riding near the dam wall of the lake along the old road (mixed asphalt and gravel surface) via the tiny hamlet of Kunak. Montenegro is naturally hilly and this section of road is no exception, with a steep climb in store. However the steep and windy descent, with spectacular views along the way definitely make the climb worthwhile. After rejoining the main road we park the bikes and jump into local taxis to ascend to the incredible Ostrog Monastery, a white-washed building built into a cliff that's the most important site in Montenegro for Orthodox Christians. As tempting as the ride would be you'll thank us for avoiding the sweat and effort (and crazy traffic) required to reach this gravity-defying icon, resting some 900 metres above the Zeta Valley. After the monastery visit jump back on the bikes and continue a gradual climb along the quiet old road to the tiny village of Stubica before dropping back down to the Zeta River then riding the long, straight boulevard all the way to Niksic. As you get closer you'll pay a quick visit to the Ramparts of Onogost for a good view of the town. Founded in the 4th century, Niksic is the country's second-largest city and has plenty of options when it comes to an evening meal and entertainment. Ride: approx. 40kms/25miles, undulating terrain, with approx. 750 metres/2460ft of elevation gain in total.
Day 4: Pluzine
Location: Pluzine
Meals: breaksfast
Today you'll cycle approximately 40 kilometres from Niksic to Pluzine, a small town on the shore of the man-made Lake Piva. It's a hilly ride today, starting with a long but gradual climb then hitting undulating terrain. Ride through rolling, tree-lined hills with the support vehicle nearby in case you'd prefer to avoid the long climb. Visit the 16th-century Piva Monastery and its museum that contains, among other things, a psalm from the Crnojevici printing press, the first printing press in the Balkans (circa 15th century). Enjoy a picnic by Lake Piva then continue to Pluzine, a small, beautiful town in which to relax and rest those legs. Ride: approx. 40kms/25 miles, with a long but gradual climb for the first 25kms. Elevation gain is approx.1070 metres/3500ft. Note: depending on adverse traffic or weather conditions your group leader may shorten or lengthen this particular ride
Day 5: Mostar
Location: Mostar
Meals: breaksfast
Today is a shorter ride than yesterday and you'll be cycling through Bosnia and Herzegovina for the first time. Depart Pluzine and drive approximately 185 kilometres to small Bosnian village of Žulja to start our cycling. Riding along an old, long forgotten country road through half-abandoned hamlets past shepherds tending herds of sheep, this is the Europe beyond tourism, where everything done the old traditional way. Riding along the ridgeline for around 10kms, the mainly asphalt road is virtually traffic-free and enjoys spectacular views down to Mostar and the surrounding hills before descending to the charming town of Blagaj, situated at the spring of the Buna river and a historical tekke (Dervish monastery). Enjoy lunch then ride the next flat 15kms to the utterly charming town of Mostar. Mostar is best known for its iconic Stari Most (Old Bridge), from which locals dive into the River Neretva. This is a tradition for local boys, who are said to have a lifetime of bad luck if they do not complete the jump in order to become a man. It's a beautiful spot to kick back by the river, enjoy a Bosnian coffee and watch the divers and the world go by. Ride: approx. 31 kms/19 miles, mostly downhill with approx. 220 metres/720ft of elevation gain.
Day 6: Mostar
Location: Mostar
Meals: breaksfast
Prepare for a real treat riding a section of the Ciro Trail, a new trail trail that follows an old Austro-Hungarian railway track running from Dubrovnik to Mostar. Stretching more than 140 kilometres, this well-maintained track traverses some truly wild, spectacular landscapes while winding through long-abandoned villages. It's touted as an 'open-air museum', and was partly funded by the EU in the hope of injecting some tourist dollars into the local economy. You'll ride approx. 35 kilometres of the trail to the cosmopolitan city of Čapljina before visiting the ancient Roman ruins of Mogorjelo villa, crossing the canyon and cycling back to medieval town of Počitelj. After a short visit (and perhaps a quick coffee while the bikes are loaded onto the trailer) drive back to Mostar, where you can continue exploring the alleys, bars and restaurants in search of a hidden gem. Ride: approx 40-45kms/25-28 miles, undulating with approx. 270m/885ft of elevation gain
Day 7: Sarajevo
Location: Sarajevo
Meals: breaksfast
Start the day with an approximately 120 kilometre drive north towards Sarajevo, the intriguing capital of Bosnia and Herzegovina. Sarajevo hosted the 1984 Winter Olympics and you'll begin cycling from Igman, the site for several events including the ski jump. More importantly, Igman was the only lifeline into Sarajevo during its thousand-day blockade during the Bosnian War in the early 1990s. Weather permitting, the group will take the same route as many Sarajevans did, over Igman and finishing at beautiful Vrelo Bosne (springs of Bosna River) in the suburbs of Sarajevo. The views are phenomenal on a clear day. After lunch, and a little time to explore in Vrelo Bosne we'll load the bikes up and drive into Sarajevo proper, arriving with enough time for your leader will take you on an orientation walk of this fascinating city before an optional farewell dinner with your group. Ride: approx. 30 kms/18 miles, mostly downhill with approx. 200 metres/650ft of elevation gain.
Day 8: Sarajevo
Location: Sarajevo
Your Balkan cycling adventure comes to an end today. There are no planned activities or rides, so you're free to depart anytime before noon.
Accommodation
Hotel (6 nights), Guesthouse (1 night)
Transport
Bicycle , Support vehicle (e-bike option available , subject to availability)
Book with Confidence
Low Deposit

Intrepid Travel requires a deposit of 200 GBP to secure a place on this tour, and the final balance is not due till 21 days before departure..

Secure payments

All payments to TourHub are deposited into an externally regulated Trust account.
---
Travel, Your Way
Good reasons for travelling privately
Personalise your trip

Make changes to the itinerary, accommodation, or transport method

Increased safety during COVID

Spend the majority of time amongst your group to reduce exposure to others

Travel more exclusively

Your tour guide can focus all their attention on your group

Travel for a special occasion

Celebrate an important event by only travelling with your friends or family
Learn more