Gallipoli Pilgrimage
2 Days Starting and ending in Istanbul
Visiting:
İstanbul
,
Gallipoli Peninsula
Tour operator:
Physical rating:
Low
Special diets catered:
Vegetarians
Trip Styles:
Activities:
Tour code:
ERAG
Group size:
1 - 12
Age range:
5-99 years
Tour operated in:
English
Interests:
Recommended For:
Tour Overview
Travel to a region associated with one of the most significant military battles of our time. Be guided through Anzac Cove to the battlefields, the Nek and Lone Pine and share the stories of heroism and camaraderie that unfolded among the tragedies of what has become a defining moment in Australian and New Zealand history. Many say that the struggles of Gallipoli marked the birth of a national consciousness among Australians and New Zealanders. This journey provides a great opportunity to pay respect to those who lost their lives and to reflect on what they fought for, and you'll be able to take time out to explore Troy before returning to Istanbul.
Highlights
A moving and educational experience regardless of your age or background.

Listen to stories of bravery and comradeship.

A quintessential Antipodean pilgrimage, to reflect and pay your respects.

A comfort version of our Gallipoli Short Break – with upgraded accommodation and a private Intrepid Leader from start to finish. 
Itinerary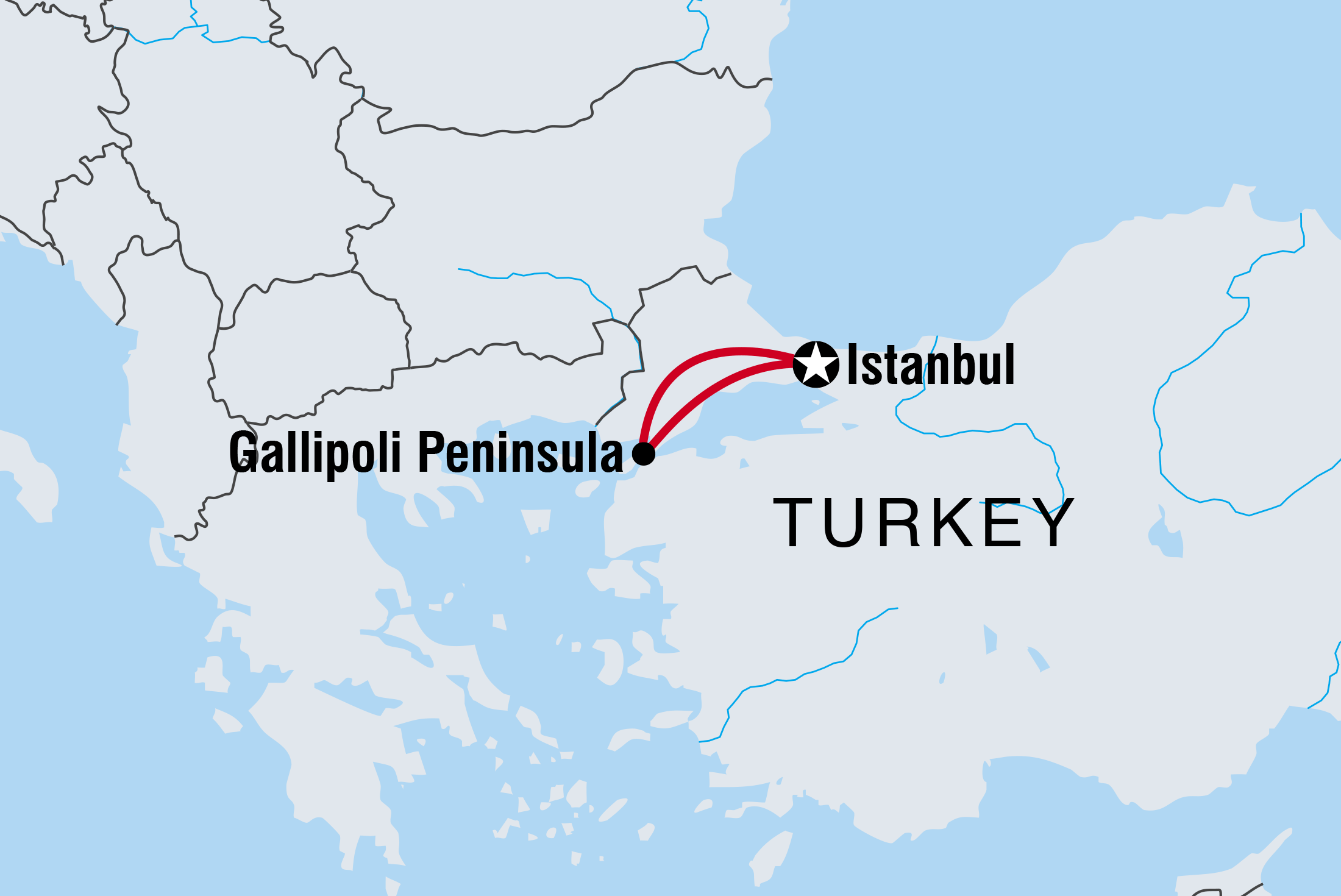 Expand All

Day 1 :

Istanbul/Gallipoli
Location:
İstanbul, Gallipoli Peninsula
Accommodation:
Hotel
Meals Included:
Lunch
Hosgeldinz. Welcome to Turkey!

Your Gallipoli Pilgrimage starts at approximately 6.30am this morning. You will be picked up from the Golden Horn Istanbul or, if advised prior to departure, from your alternate Sultanahmet hotel (Please call and reconfirm with the office at least 24 hours prior to pick up on +90 532 641 2822 ).

You will then travel by minibus to Eceabat. Please note that the vehicle used for the transfer is on a share basis and you will share this bus with other travellers visiting Gallipoli. The journey will take approx 6 hours.

After a light lunch you will be met for a fully guided Gallipoli tour visiting the following sites on the Battle Fields of the Gallipoli Peninsula:
~ Brighton Beach
~ ANZAC Cove
~ ANZAC Commemorative Site
~ Ariburnu & Beach Cemetery
~ Respect to Mehmetcik Statue
~ Lone Pine Australian Memorial
~ Johnston's Jolly (Turkish and Allied trenches and tunnels)
~ Quinn's Post
~ The Nek and Walker's Ridge
~ Chunuk Bair New Zealand Memorial

For any Australian or New Zealander visiting the shores of Turkey, a visit to the battle fields of the Gallipoli Peninsula is a must. The battle at Gallipoli in WW1 is seen as the turning point in the history both of these nations (and also the Republic of Turkey). It was the moment when the nations' characters were defined and the core value of mateship was embedded in their psyche. The names of ANZAC Cove, the Nek and Lone Pine have a special place in the hearts of Antipodeans and are just some of the places you will visit first hand on this trip. You will be struck by the beauty and serenity of the place, in stark contrast to the stories your guide will tell you of the events that unfolded here. You will walk through the trenches and be transported to a place in history.

Pride will swell in the stories of heroism and camaraderie, not only amongst one's own troops but also with the enemy, making this a truly unique battlefield. There are opportunities to visit the war graves to seek out those from your town or area.

You will stay overnight in Canakkale.  Our accommodation tonight is in a bed and breakfast.

Included Activities:
-Gallipoli - Fully guided Gallipoli tour & visit to the Commonwealth graveyards

Day 2 :

Gallipoli/Istanbul
Location:
Gallipoli Peninsula, İstanbul
Meals Included:
Breakfast
Today we will have a free morning in Canakkale.  Why not consider taking an optional guided tour of of the historical site of Troy. We will be learning a lot about the famous archaeological site of Troy and see a replica statue of the Trojan Horse. Then, delve into the interesting era's of Troy and discover how this settlement transformed over time. The tour finished around 5:30 pm, after which our  transfer returns to Istanbul. This service will drop you door to door, at which point this trip finishes upon arrival. Arrival back into Istanbul is scheduled to be at around 11:30 pm, but may vary depending on traffic conditions.

We recommend you arrange an additional night's accommodation for the evening of day 2. Extra accommodation pre and post tour can be requested, please ask your agent at time of booking. Accommodation can also be requested for Canakkale if planning to stay longer on the peninsula.

Optional Activities:
-Troy - Guided visit
What's Included
Gallipoli - Fully guided Gallipoli tour & visit to the Commonwealth graveyards

Meals

1 breakfasts, 1 lunches

Accommodation

Hotel (1 night)

Transport

Bus
What's Not Included
Tipping and Gratuities

International Travel
Included Activities
Gallipoli - Fully guided Gallipoli tour & visit to the Commonwealth graveyards
Check out our Q&As
Are international flights included in this tour?
Are all the relevant entry visa's included in the price of the tour?
Are all entrance fees included in the price?
Are the local guides on the tour English speaking?
Are airport transfers included in this tour?
Are children permitted to take part in the tour?

Yes if aged 15+ and accompanied by an adult

What policies are in place for Covid-19?

Please contact us for latest COVID-19 policies

How long has the tour company been trading?

Intrepid Travel has been taking travellers around the world for over 30 years

Will the accommodation included meet local health and safety regulations?

What Ethical Travel credentials does the tour company have?

Since 2002, The Intrepid Foundation has supported over 130 organisations across the world. We're creating positive impact through the joy of travel, community and connection.

Do you operate a "single share" option and how does it work?

Over 50% of traveller travel solo with Intrepid. You can choose to share a room with another solo travelle of the same sex for no additional charge, or choose to pay a single supplement if you'd like your own room. Please request this when booking, and we will secure you a single supplement wherever possible. Please note, if you are booking a last-minute trip, it may be harder for us to secure a single room
Dates & Availability
Instant Booking Available
Instant Booking Available
Instant Booking Available
Instant Booking Available
Instant Booking Available
Instant Booking Available
Instant Booking Available
Instant Booking Available
Instant Booking Available
Instant Booking Available
Instant Booking Available
Instant Booking Available
Instant Booking Available
Instant Booking Available
Instant Booking Available
Instant Booking Available
Instant Booking Available
Instant Booking Available
Instant Booking Available
Instant Booking Available
Instant Booking Available
Instant Booking Available
Instant Booking Available
Instant Booking Available
Instant Booking Available
Instant Booking Available
Instant Booking Available
Instant Booking Available
Instant Booking Available
Instant Booking Available
Instant Booking Available
Instant Booking Available
Instant Booking Available
Instant Booking Available
Instant Booking Available
Instant Booking Available
Instant Booking Available
Instant Booking Available
Instant Booking Available
Instant Booking Available
Instant Booking Available
Instant Booking Available
Instant Booking Available
Instant Booking Available
Instant Booking Available
Instant Booking Available
Instant Booking Available
Instant Booking Available
Instant Booking Available
Instant Booking Available
Instant Booking Available
Instant Booking Available
Instant Booking Available
Instant Booking Available
Instant Booking Available
Instant Booking Available
Instant Booking Available
Instant Booking Available
Instant Booking Available
Instant Booking Available
Instant Booking Available
Instant Booking Available
Instant Booking Available
Instant Booking Available
Instant Booking Available
Instant Booking Available
Instant Booking Available
Instant Booking Available
Instant Booking Available
Instant Booking Available
Instant Booking Available
Instant Booking Available
Instant Booking Available
Instant Booking Available
Instant Booking Available
Instant Booking Available
Instant Booking Available
Instant Booking Available
Instant Booking Available
Instant Booking Available
Instant Booking Available
Instant Booking Available
Instant Booking Available
Instant Booking Available
Instant Booking Available
Instant Booking Available
Instant Booking Available
Instant Booking Available
Instant Booking Available
Instant Booking Available
Instant Booking Available
Instant Booking Available
Instant Booking Available
Instant Booking Available
Instant Booking Available
Instant Booking Available
Instant Booking Available
Instant Booking Available
Instant Booking Available
Instant Booking Available
Instant Booking Available
Instant Booking Available
Instant Booking Available
Instant Booking Available
Instant Booking Available
Instant Booking Available
Instant Booking Available
Instant Booking Available
Instant Booking Available
Instant Booking Available
Instant Booking Available
Instant Booking Available
Instant Booking Available
Instant Booking Available
Instant Booking Available
Instant Booking Available
Instant Booking Available
Instant Booking Available
Instant Booking Available
Instant Booking Available
Instant Booking Available
Instant Booking Available
Instant Booking Available
Instant Booking Available
Instant Booking Available
Instant Booking Available
Instant Booking Available
Instant Booking Available
Instant Booking Available
Instant Booking Available
Instant Booking Available
Instant Booking Available
Instant Booking Available
Instant Booking Available
Instant Booking Available
Instant Booking Available
Instant Booking Available
Instant Booking Available
Instant Booking Available
Instant Booking Available
Instant Booking Available
Instant Booking Available
Instant Booking Available
Instant Booking Available
Instant Booking Available
Instant Booking Available
Instant Booking Available
Instant Booking Available
Instant Booking Available
Instant Booking Available
Instant Booking Available
Instant Booking Available
Instant Booking Available
Instant Booking Available
Instant Booking Available
Instant Booking Available
Instant Booking Available
Instant Booking Available
Instant Booking Available
Instant Booking Available
Instant Booking Available
Instant Booking Available
Instant Booking Available
Instant Booking Available
Instant Booking Available
Instant Booking Available
Instant Booking Available
Instant Booking Available
Instant Booking Available
Instant Booking Available
Instant Booking Available
Instant Booking Available
Instant Booking Available
Instant Booking Available
Instant Booking Available
Instant Booking Available
Instant Booking Available
Instant Booking Available
Instant Booking Available
Instant Booking Available
Instant Booking Available
Instant Booking Available
Instant Booking Available
Instant Booking Available
Instant Booking Available
Instant Booking Available
Instant Booking Available
Instant Booking Available
Instant Booking Available
Instant Booking Available
Instant Booking Available
Instant Booking Available
Instant Booking Available
Instant Booking Available
Instant Booking Available
Instant Booking Available
Instant Booking Available
Instant Booking Available
Instant Booking Available
Instant Booking Available
Instant Booking Available
Instant Booking Available
Instant Booking Available
Instant Booking Available
Instant Booking Available
Instant Booking Available
Instant Booking Available
Instant Booking Available
Instant Booking Available
Instant Booking Available
Instant Booking Available
Instant Booking Available
Instant Booking Available
Instant Booking Available
Instant Booking Available
Instant Booking Available
Instant Booking Available