Jewels of the Russian Arctic: Franz Josef Land and Novaya Zemlya
Start: Helsinki Finish: Helsinki
Visiting:
Helsinki
,
Murmansk
,
At Sea
,
Exploring Novaya Zemlya
,
Exploring Franz Josef Land
,
Disembarkation in Murmansk
---
---
Duration: 15 Nights
Physical rating: Low
Special diets catered: Vegetarians
Tour Operator: Intrepid Travel
Group size: 1 - 132
Age range: 8-99 years
Tour operated in: English
---
Tour Overview
Russia by land is exquisite, but have you thought about taking in this mammoth country by sea? An Arctic adventure in Russia will see you embark on a voyage around the archipelagos of Novaya Zemlya and Franz Josef Land, like a true polar expeditioner. For the nature lovers out there, polar bear encounters are a real possibility and there will be plenty of opportunities to spot walrus, seals, whales and wide variety of seabirds – both nesting on the icy cliffs and soaring above your ship. You'll also get up close and personal with spectacular glaciers, fjords and icebergs – so have your camera ready.
Highlights
Search for polar bears, walrus and other wildlife in Franz Josef Land.
Visit Eurasia's largest Arctic Archipelago, the striking and diverse Noyaua Zemlya.
Explore the extraordinary mix of Eastern and Western influenced architecture of Helsinki.
Get up close to the stunning glacier of Inostrantseva Bay.
Places You'll See
Cities & Attractions:
Itinerary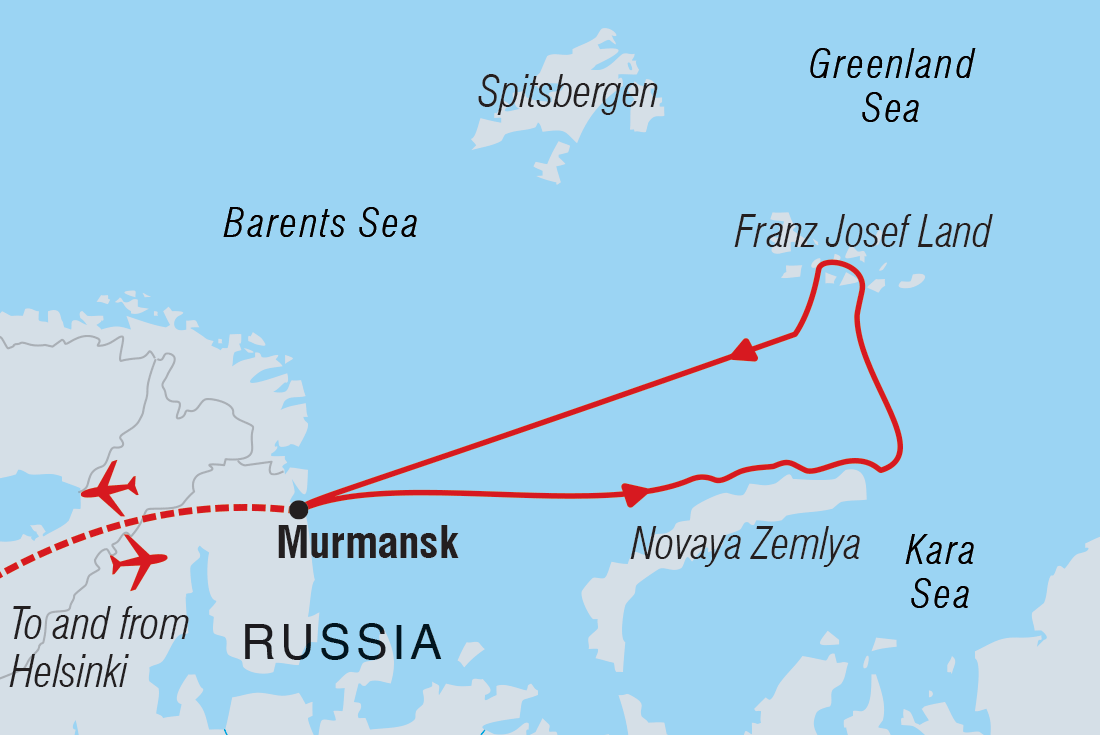 Day 1: Helsinki
Location: Helsinki
Your Arctic adventure begins in Helsinki, renowned for its extraordinary architecture and intriguing mix of eastern and western influences. If you arrive early, explore the many museums, galleries and restaurants, relax at a Finnish sauna or wander the vibrant Design District before retiring at your included hotel for the night.
Day 2: Murmansk
Location: Murmansk
Meals: breaksfast, dinner
After breakfast, you'll be transferred to the airport and board your private charter flight to Murmansk, Russia. This is where you'll board the ship that will be your home for the next two weeks. Once aboard, get acquainted with the ship, your fellow travellers and the crew and settle in for your voyage north.
Day 3-4: At Sea
Location: At Sea
Over the next two days you'll sail through the Barents Sea and your Expedition Team will prepare you for the adventures that await. Learn about the storied history and politics of the region, its fascinating wildlife, geology, ecology and climate, and the incredible sights you will soon be exploring. Your crew will keep a lookout for seabirds, such as kittiwakes, skuas and fulmars soaring above your ship to point out to you. Whale and seal sightings may also be possible in this biologically diverse sea, so keep a close eye out.
Day 5-7: Exploring Novaya Zemlya
Location: Exploring Novaya Zemlya
The next few days will be dedicated to exploring the largest of the Eurasian Arctic archipelagos, the rarely visited Novaya Zemlya or New Land. It's the third-largest wilderness area in Europe and is actually made up of two main islands, Severny (northern) and Yuzhny (southern), separated by the imposing Matochkin Strait. As we explore Novaya Zemlya, expect a new adventure every day. Each expedition will be unique, depending on the weather and ice, but a few landing sites we strive to visit include Inostrantseva Bay, the Oransky Islands, Cape Zhelaniya, Cape Spory Navalok and Russkaya Gavan. Boasting one of the most picturesque glaciers in the entire archipelago, Inostrantseva Bay provides breathtaking panoramic views of pristine arctic wilderness. If conditions allow, you may explore ashore, or Zodiac cruise along the face of the glacier, at a safe distance, possibly witnessing the wonders of calving ice. Encounters with Brünnich's guillemots (thick-billed murres) are likely, owing to a small colony in the coastal cliffs. To the northwest side of Severny Island are the Oransky Islands. Wildlife abounds here, with a variety of animal and plant life to be discovered, Walrus have been sighted here on many previous expeditions. Coming across a walrus haul-out is unforgettable. These giant pinnipeds of the Arctic create a raucous as each walrus vies for a choice spot of coastline. Encounters with whales and seabirds are possible, as well as polar bears, a genetically distinct subpopulation here. A significant site in polar exploration, Novaya Zemlya also offers a number of opportunities for you to trace the footsteps of famous explorers and reflect on the region's history.
Day 8: At Sea
Location: At Sea
Meals: breaksfast, lunch, dinner
Bid farewell to Novaya Zemlya as you cruise farther north to Franz Josef Land. There are several activities on board the ship to keep you entertained while at sea. Attend presentations by your Expedition Team, relax in our polar library or simply spend some time on deck, admiring the sea and keeping an eye out for wildlife.
Day 9-12: Exploring Franz Josef Land
Location: Exploring Franz Josef Land
This remote group of 191 islands, many covered in ice, forms the most northerly archipelago in Eurasia and lies entirely within the Arctic Circle and is part of the Russian Arctic National Park. Weather and ice conditions will shape your exploration, but hopefully you'll get to explore historical sites, remote seabird colonies and walrus haul-outs at some notable destinations, such as Cape Flora, Cape Norway, Bell Island and Tikhaya Bukta. Polar bear encounters are also a real possibility… On Jackson Island, Cape Norway is where Norwegian explorers Fridtjof Nansen and Hjalmar Johansen wintered from 1895 to 1896. The conditions were astonishingly difficult, but they survived until the summer and continued their journey south. The remains of their small hut are still here today, along with a memorial marking the event. Exploring Tikhaya Bukta (Calm Bay), the site of an abandoned weather station on Hooker Island, will feel like stepping back in time. There is plenty to discover as you wander the ruins, immersed in Russian polar history, and you may even be able to send a postcard from the post office. The Stolichky and Appolonov Islands offer plentiful walrus encounters, as the lumbering giants can be found hauled out here. If ice and weather are in your favour, we'll explore the area by Zodiac, at a safe distance, to view these pinnipeds of the Arctic in their natural habitat.
Day 13-14: At Sea
Location: At Sea
As your Arctic expedition winds down, you have a couple of days to sail through this wildlife-rich sea, where whales of various species are often seen. Take in a presentation from the Expedition Team, reminisce about your incredible journey with your shipmates, relax in the lounge while swapping stories and photos or enjoy the solitude of the sea. Expedition staff will be on hand to answer any remaining questions and spot wildlife.
Day 15: Disembarkation in Murmansk
Location: Disembarkation in Murmansk
Meals: breaksfast
Returning to Russia's most northerly city, you'll have time to bid farewell to your Expedition Team and crew before catching your group charter flight back to Helsinki, where you will have one more night in this exquisite city. You may want to head out for a final dinner with your group, or simply appreciate being back on dry land by exploring the city further.
Day 16: Helsinki
Location: Helsinki
Meals: breaksfast
Your journey ends today after breakfast, and you can spend time exploring more of the Finnish capital or catch your homeward-bound flight at any time.
Accommodation
Expedition Cruise ship 13 nights, Quality hotel 2 nights
Transport
Expedition cruise ship , plane , Zodiac
Your Peace of Mind Options
Low Deposit

Intrepid Travel requires a deposit of 200 GBP to secure a place on this tour, and the final balance is not due till 21 days before departure..

Secure payments

All payments to TourHub are deposited into an externally regulated Trust account.
---