North Pole: Journey to the top of the World
Start: Helsinki Finish: Helsinki
Visiting:
Helsinki
,
Embarkation in Murmansk, Russia
,
Northbound in the Arctic Ocean
,
The North Pole - 90° North
,
Southbound in the Arctic Ocean
,
Franz Josef Land and the Arctic Ocean
,
Southbound at Sea
,
Disembarkation in Murmansk
---
---
Duration: 13 Nights
Physical rating: Low
Special diets catered: Vegetarians
Tour Operator: Intrepid Travel
Group size: 1 - 128
Age range: 8-99 years
Tour operated in: English
---
Tour Overview
If there's one place you can really feel on top of the world, the North Pole is it. Few people ever have the surreal experience of seeing the world from its northernmost point. This is one trip with a distinct goal, and the feeling of accomplishing such a rare feat is a huge rush. Witness slow-moving ice, silent, white landscapes and marvel at the heroism of those who came before you. It's a tough voyage, but your transport is well equipped for the mission – 50 Years of Victory is the most powerful icebreaker ship in the world. Be awed as the mighty vessel crushes through ice three m thick, paving your way through the most northern reaches of the Arctic Ocean. And when it's time to head back home, wind down with a visit to Franz Joseph Land, where a bounty of wildlife and striking natural scenery awaits.
Highlights
Feel on Top of the World and literally stand on it – reach the pinnacle of Arctic endeavours and the Earth with an expedition to 90 degrees North
Cruise in Zodiacs to explore remote seabird colonies, seldom-visited landing sites, and to discover historic remains from three ill-fated arctic expeditions
Discover the Arctic Circle's wildlife and wildflowers on Franz Josef Land
Float high above the Pole on a unique, optional sightseeing hot air balloon ride
Climb aboard a ship that can go where others cannot – crush through metres of ice on the world's largest, most-powerful nuclear icebreaker, '50 Years of Victory'
Places You'll See
Itinerary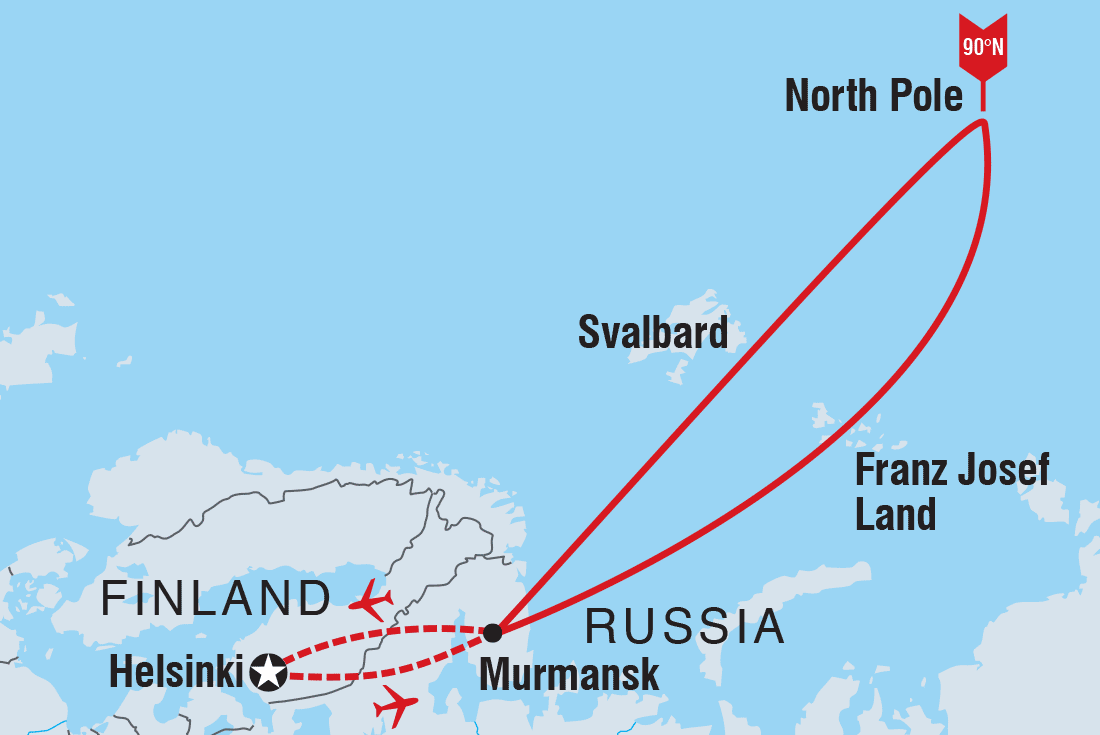 Day 1: Helsinki
Location: Helsinki
Your adventure begins with one-night in magical Helsinki, Finland's capital. Staying up to the wee hours is easy in here, as daylight fades to twilight for only a few hours during summer. No arrival transfer included.
Day 2: Embarkation in Murmansk, Russia
Location: Embarkation in Murmansk, Russia
Accommodation: Cruise ship
Meals: breaksfast, dinner
From Helsinki, you'll join your fellow passengers on the charter flight that will take you to Murmansk, Russia, where you'll embark on your voyage to the North Pole and get acquainted with 50 Years of Victory, the world's largest and most powerful icebreaker.
Day 3-6: Northbound in the Arctic Ocean
Location: Northbound in the Arctic Ocean
Accommodation: Cruise ship
Being on board Victory and feeling the icebreaker as it crushes through the Arctic pack-ice is an experience you'll never forget. Just as memorable is boarding the ship's helicopter for a thrilling aerial view over the ship and the expansive Arctic Ocean. You can expect variable sailing conditions this far north. The crossing from Murmansk to the North Pole can take us anywhere from four to six days depending on ice conditions. This means you'll have plenty of time to get to know your shipmates, be treated to lectures and discussions by our expedition team while keeping a lookout for bird life. There are also many wonderful amenities to take advantage of on board, such as the ship's lap pool or basketball court.
Day 7: The North Pole - 90° North
Location: The North Pole - 90° North
Accommodation: Cruise ship
Meals: breaksfast, lunch, dinner
All the anticipation reaches a climax as you reach the North Pole! Many travellers find themselves overcome with emotion, while others are in a festive and celebratory mood. Take photos, call your family, wave a flag; just be sure to enjoy your moment at the top! Later, everyone will celebrate with a champagne toast and a BBQ on the ice. If the opportunity allows, you also have the option of taking a Polar plunge into the icy waters around the North Pole. We'll also attempt to launch passengers high above the pole in our hot air balloon to commemorate this great moment (highly weather dependent).
Day 8: Southbound in the Arctic Ocean
Location: Southbound in the Arctic Ocean
Accommodation: Cruise ship
Meals: breaksfast, lunch, dinner
On our return voyage you can sit back and relax. As you head further south, you may get lucky and spot polar bears hunting for seals.
Day 9-10: Franz Josef Land and the Arctic Ocean
Location: Franz Josef Land and the Arctic Ocean
Accommodation: Cruise ship
This group of 191 islands forms the most northerly archipelago in Eurasia and lies entirely within the Arctic Circle. Here you'll explore Cape Flora and discover historic remains from three ill-fated Arctic expeditions. When conditions permit, we'll launch the Zodiacs and cruise beneath towering cliffs to allow you to explore remote seabird colonies. The 50 Years of Victory helicopter again will provide aerial sightseeing and our Zodiacs will be used to transfer you to seldom-visited landing sites. POSSIBLE LANDING SITES IN FRANZ JOSEF LAND ALEXANDER LAND World War II history, with the remains of Germany's Schatsgräber station found here. There is also a large air landing strip and the frontier Russian station Nagurskaya, which was abandoned in 1996. ALGER ISLAND Relics from the turn of the 20th century are found along the shores of Alger Island. A number of expeditions, including the Baldwin-Ziegler expedition of 1901-02 and the Fiala-Ziegler expedition of 1903-05 set up bases here. Remains of their huts and time here are found at Camp Ziegler and West Camp Ziegler. At the center of the island is the impressive Mount Richthofen (0.25 miles, 404 m). Nearby Matilda Island also offers insights into life here more than 100 years ago. APOLLONOV ISLAND This small island has a ridge that may provide a vantage point for viewing a walrus rookery, known to haul-out on the island. Zodiac cruising for watching walrus from a distance is also a possibility. BELL ISLAND In 1881 Benjamin Leigh-Smith's expedition built a hut here, but never had the opportunity to use it as their ship wrecked off the coast. The hut is in supreme condition, and has a number of interesting inscriptions on its interior walls. An old Russian isba (wood structure) is also found here, which may even pre-date the official 1873 discovery of Franz Josef Land. CALM BAY, HOOKER ISLAND Sporadically in use today, this is the site of the first ever polar station in the archipelago, built in 1929. Memorials to Georgiy Sedov's wintering in 1913-14 are built here and the remains of a glaciologist hut can also be seen. CAMBRIDGE STRAIT This is a well-known area for spotting polar bears. This is a popular hunting ground for them as seals also frequent the area. CAPE FLIGLEY, RUDOLF ISLAND The most northern point of the archipelago is marked with a copper plaque and memorial cross. This is also the most northern part of Europe, reaching further north than Spitsbergen. The island is almost entirely ice-covered and temperatures only rise above freezing for a few shorts weeks each summer. CAPE FLORA, NORTHBROOK ISLAND More than half a dozen expeditions passed through here in the late 19th and early 20th centuries - among them was the '1000 Days in the Arctic' expedition of Jackson-Harmsworth. Many buildings from the time are in ruins or have fallen into the sea, but some remain. Memorials and crosses have been erected in more recent years in memory of the survivors and victims of those early expeditions. CAPE FORBE, GRANT LAND Of interesting note is a Norwegian hut from the 1930's, which was used for walrus hunting. CAPE HELLER, WILCZEK LAND Historically significant markers can be found here, including the remains of a stone hut used by two men from the 1898-99 Walter Wellman expedition. There is a grave site and large memorial post in honor of the one member who died here just after New Year's in 1899. CAPE NORWAY, JACKSON ISLAND Sometimes unreachable, even to icebreakers, weather is always a factor at this northern part of the archipelago. A variety of arctic flora is found in this area, making it particularly interesting for botanists. This is also the location where Fridtjof Nansen and Frederick Jackson stayed during the 1895-96 winter and the remains of their stone hut can be visited. CAPE TEGETTHOF, HALL ISLAND Impressive tall cliffs are home to large numbers of seabirds, while the ruins of the Walter Wellman 1898-99 expedition are also found. With a diverse landscape the island is great for exploring on foot, provided that polar bears aren't in the vicinity. CHAMP ISLAND Wildflowers of the tundra are a common sight, giving a bit of color to an often bleak landscape. Of particular interest are the mysteriously perfectly-rounded rocks scattered on parts of the island. They are up to 2m in diameter and have been nicknamed 'Devil's Marbles.' GRAHAM BELL ISLAND One of two islands in the archipelago named after Alexander Graham Bell. Cape Kohlsaat on the eastern edge of the island is the most eastern point of the archipelago. Until 1995 there was a large military base in use and the island is still subject to military restrictions. GREELEY ISLAND The Fiala-Ziegler expedition of 1903-05 left behind a large depot, named Kane Lodge. It is one of the more impressive depots from this, and other expeditions found in the archipelago. HAYS ISLAND For 40 years the geophysical observatory known as Krenkel operated here, complete with a launching ramp for sending rockets into the upper atmosphere. The station re-opened in 2004 with much smaller operations, thus a large part remains unused. Research and modern-life in the Arctic are portrayed well here, with a great sampling of abandoned items, including aircraft. The island also has a natural attraction, featuring a scenic ice dome and interesting basalt formations. NEGRI FJORD This is a scenic and narrow waterway that lies between MacKlintok Island and Hall Island towards the southern reaches of Franz Josef Land. RUBINI ROCK, HOOKER ISLAND Considered by many to be home to the most impressive bird cliffs anywhere in Franz Josef Land. The cliffs are home to a bounty of seabirds and because of deep waters, ships are able to get up close to the edge of the cliffs for great views. Most of the shores are dominated by glacier fronts, while a large part of the island is ice-covered. SALISBURY ISLAND A number of narrow channels and varying landscapes are found near Salisbury Island, which is close to Champ, Ziegler and Wiener-Neustadt Islands. This makes it an ideal place for helicopter exploration and scenic flights. It is relatively difficult to land along the coast of the archipelago's sixth largest island, so admire from afar. TEPLITZ BAY, RUDOLF ISLAND With a long history of arctic exploration this bay was first explored during Julius Payer's 1874 expedition. Once a base for long-distance arctic flights, the bay is also home to an abandoned polar station. Ships have sunk in these icy waters; a wrecked aircraft lies on the icecap and monuments and graves pay homage to the early explorers who died here. For wildlife, both narwhal and beluga whales have been seen in these waters. VICTORIA ISLAND The westernmost island of the archipelago, this very small island is actually geographically closer to Svalbard than Franz Josef Land. The icecap here reaches almost 100m thick and is an impressive sight from a distance. Walrus, polar bears and ivory gulls are most commonly spotted, with the island being a large breeding ground for the gulls. WILCZEK ISLAND The Austro-Hungarian Tegetthof expedition left their mark here after being trapped in ice in 1872. Sites include a grave of one of their team members, located high up on a ridge. The island is half ice-covered and is among the most southerly islands of the archipelago.
Day 11-12: Southbound at Sea
Location: Southbound at Sea
Accommodation: Cruise ship
Enjoy your time out on deck or reminisce with your shipmates and new friends as you cross the Arctic Ocean back to Murmansk.
Day 13: Disembarkation in Murmansk
Location: Disembarkation in Murmansk
Accommodation: Cruise ship
Meals: breaksfast
Returning to Russia's most northerly city, it will be time to bid farewell to your ship, 50 Years of Victory. You'll be transferred to the airport for your charter flight to Helsinki, Finland, to enjoy one final night with your newfound friends.
Day 14: Helsinki
Location: Helsinki
Meals: breaksfast
After breakfast, your official Quark Expeditions® journey comes to an end. We do encourage you to spend some extra time exploring Helsinki, Tallinn and other cities in the region. No departure transfer included.
Book with Confidence
Low Deposit

Intrepid Travel requires a deposit of 200 GBP to secure a place on this tour, and the final balance is not due till 21 days before departure..

Secure payments

All payments to TourHub are deposited into an externally regulated Trust account.
---
Travel, Your Way
Good reasons for travelling privately
Personalise your trip

Make changes to the itinerary, accommodation, or transport method

Increased safety during COVID

Spend the majority of time amongst your group to reduce exposure to others

Travel more exclusively

Your tour guide can focus all their attention on your group

Travel for a special occasion

Celebrate an important event by only travelling with your friends or family
Learn more
Dates & Availability