Northwest Passage: Epic High Arctic
Start: Toronto Finish: Toronto
Visiting:
Toronto
,
Canadian High Arctic
,
Smith Sound
,
Qaanaaq
,
At Sea
,
West Greenland
---
---
Duration: 16 Nights
Physical rating: Low
Special diets catered: Vegetarians
Tour Operator: Intrepid Travel
Group size: 1 - 200
Age range: 8-99 years
Tour operated in: English
---
Tour Overview
Cruise on waters that few have sailed and set foot on lands that even fewer have walked on this 17-day expedition in the High Arctic. This epic adventure will have you hiking over permafrost, searching for wildlife and passing by fjords, glaciers and icebergs on a daily basis. Follow the coast and discover places where explorers of old met their demise, research stations abandoned and active, tiny Inuit communities and ruins left by their ancient predecessors. Go west to Greenland and see colourful villages beneath massive mountains, hike to glaciers and kayak past icebergs. Tackle the icy wilderness in a comfortable expedition vessel and a team of expert leaders.
Highlights
Go further and deeper than ever possible on this Arctic tour with Zodiac cruises, shore excursions and helicopter expeditions to take you to places once out of human reach.
This is immersive expedition travel. Hear the deafening crash of shards falling from icebergs, hike to Inuit ruins and, if you're brave, take a polar plunge into icy waters.
Visit Inuit communities as you travel through parts of the Northwest Passage and the waters of western Greenland and learn about cultures and survival on the edge of the map.
Enjoy a well-equipped vessel with modern staterooms, a number of bar and lounge areas and health and wellness facilities. And on your sailing days, join experts for an onboard lecture program.
Our expert expedition crew will be on alert for sightings of animals like musk oxen, caribou, and whales so you have the best chance of spotting them.
Places You'll See
Cities & Attractions:
Itinerary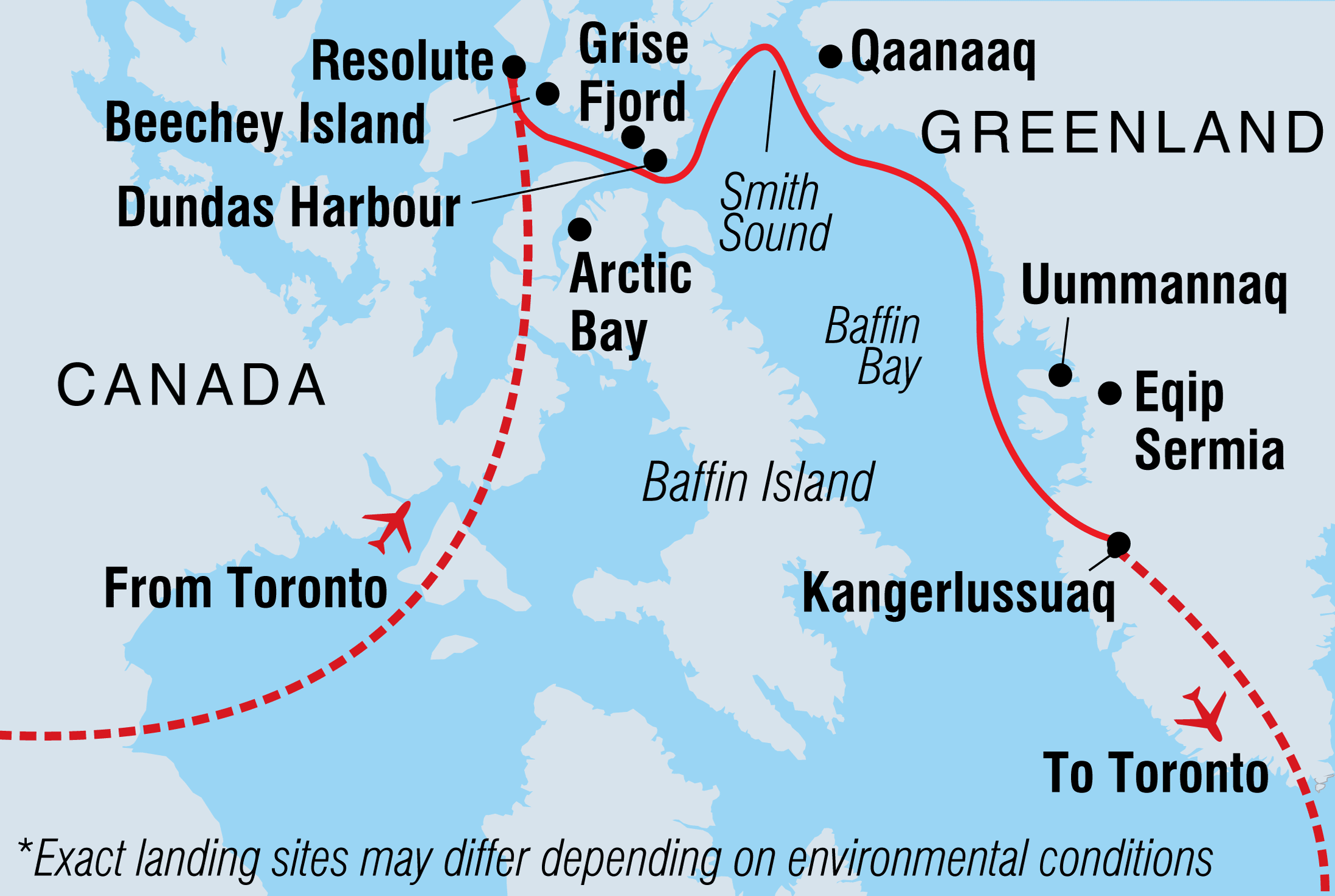 Day 1: Toronto
Location: Toronto
Welcome to Toronto, Canada. You can arrive at any time today and make your way to the pre-expedition accommodation. There, you will receive a welcome letter outlining times and further details about your charter flight to the Arctic tomorrow morning. Tonight, you may like to meet with an expedition representative in the hotel lobby, who can answer any questions you may have about your adventure. Until then, enjoy the sights of Toronto or simply relax in your accommodation.
Day 2: Resolute – Embarkation Day
Location: Resolute – Embarkation Day
This morning, board your charter flight to Resolute. Upon arrival, you may have the chance to walk around this little Inuit hamlet before enjoying your first of many Zodiac cruises as you're transferred to your expedition vessel. Meet your crew and settle into your cabin.
Day 3-6: Canadian High Arctic
Location: Canadian High Arctic
Begin your polar voyage in the Northwest Passage as you pass by the same icy inlets, channels and bays that have fascinated explorers since the 17th century and have been home to Inuit communities for even longer. Although no strict itinerary is set, your expedition could include cruising to Beechey Island, the final resting place of three members of Sir John Franklin's ill-fated 1845–46 expedition, learning the local way of life in Arctic Bay, setting foot on Devon Island for a number of hiking opportunities, spotting walruses in the waters of Croker Bay, searching for musk oxen in Dundas Harbour or learning of hunting and fishing traditions in Grise Fjord. As you travel through sections of the Passage, let your expert polar crew take you on unforgettable Zodiac and helicopter sightseeing and landing trips to visit areas that are otherwise inaccessible to humans. In between shore visits, scenic cruising and optional adventure activities, appreciate the onboard amenities of your polar vessel and enjoy a series of lectures presented by Arctic experts.
Day 7-8: Smith Sound
Location: Smith Sound
Before saying goodbye to Canada, you will cruise as far north as possible, exploring both sides of the spectacular Smith Sound – the uninhabited passage between Ellesmere Island and Greenland.
Day 9: Qaanaaq
Location: Qaanaaq
Today, stop in Qaanaaq, Greenland. Formerly known as Thule – in ancient philosophy, it was Ultima Thule, or 'edge of known territory' – this is the main town in north-western Greenland. On shore, you will spend time learning about local Inuit culture and traditions, perhaps visiting the town's museum.
Day 10: At Sea
Location: At Sea
Back on board, journey south along the coast of Greenland with time spent at sea. During the day, there will be a number of presentations and lectures from your onboard experts to explain some of the incredible geography, wildlife and histories you have experienced, plus prepare you for the adventures and locations that lie ahead. In your leisure time, perhaps get to know your fellow voyagers over a drink in the onboard lounge, or make use of the spa and wellness facilities.
Day 11-15: West Greenland
Location: West Greenland
Over the next four days, continue to explore Greenland's west, with a flexible itinerary to account for the varying weather and ice conditions. You may have the chance to admire the twin peaks of the mountain that towers over Uummannaq, visit the archaeological site of Qilaqitsoq, and cruise towards the impressive blue-hued Eqip Sermia glacier. Take a Zodiac past icebergs such as Sermeq Kujalleq, listening out for breaking ice crashing into the waters below. Air, land and sea excursions are all a possibility here, and your expert team will be monitoring the conditions to ensure wildlife and sightseeing opportunities are maximised.
Day 16: Kangerlussuaq – Disembarkation Day – Toronto
Location: Kangerlussuaq – Disembarkation Day – Toronto
This morning, journey towards Kangerlussuaq and farewell your expedition crew as you take a Zodiac ride to shore. Here, you will board your charter flight back to Toronto, Canada. Upon arrival, transfer as a group to your post-expedition accommodation. Depending on timing, you may have the opportunity to visit Toronto at your leisure this evening.
Day 17: Toronto
Location: Toronto
With no activities planned for today, you are free to depart at any time as your tour comes to an end.
Accommodation
Expedition Cruise Ship, Comfortable Hotel
Your Peace of Mind Options
Low Deposit

Intrepid Travel requires a deposit of 200 GBP to secure a place on this tour, and the final balance is not due till 21 days before departure..

Secure payments

All payments to TourHub are deposited into an externally regulated Trust account.
---