Alexandria, Ancient Egypt & Nile Cruising - 13 days
13 Days Starting and ending in Cairo
Visiting: Cairo, Alexandria, El-Alamein, Pyramids of Giza, Saqqarah, Aswan, Kom Umbu, Luxor
Tour operator:
Age range:
Not recommended for < 10yrs. Can allow from 5 yrs on short itineraries and if not mid-summer due to the heat.
Trip Styles:
Interests:
Activities:
From:
$3245
$3154 (USD) WINTER SALE @ Tourhub Discount: $91
Tour Overview
PRIVATE TOUR:Take a 13 day tour of incredible Egypt, from Mediterranean Alexandria and the Commonwealth War Graves of El Alamein, to the legendary Pyramids of Giza, the sunny southern city of Aswan and Luxor's tomb strewn Valley of Kings. Cruising the Nile, exploring ancient wonders and more.
Highlights
Alexandria - Take in the highlights of this beautiful Mediterranean port city, including the Roman Catacombs, Pompey's Pillar, the Library of Alexandria and Quaitbay Fort, the site of the great Lighthouse of Alexandria

El Alamien - Tour the WWII battlefields, pay your respects at the Commonwealth War Graves and visit the El Alamein Military Museum

Cairo - Marvel at the legendary Pyramids of Giza, explore the Necropolis of Saqqara and see King Tut's treasures at the Grand Egyptian Museum

Luxor West Bank - Discover exquisite tombs at the Valley of the Kings, see the towering Colossi of Memnon and explore the beautiful Temple of Queen Hatshepsut

Aswan - Take a leisurely boat trip to Agilika Island to explore romantic Philae Temple and wander around the colourful souqs

Luxor - Roam around the colossal Temple of Karnak and take an optional tour of the beautifully illuminated Luxor Temple at night

Nile cruising - Spend 3 nights on board a 5 star Nile cruiser and cruise the Nile in style

Kom Ombo - Visit the Nile side Temple of Kom Ombo

El Alamein - Tour the WWII battlefields, pay your respects at the Commonwealth War Graves and visit the El Alamein Military Museum
Itinerary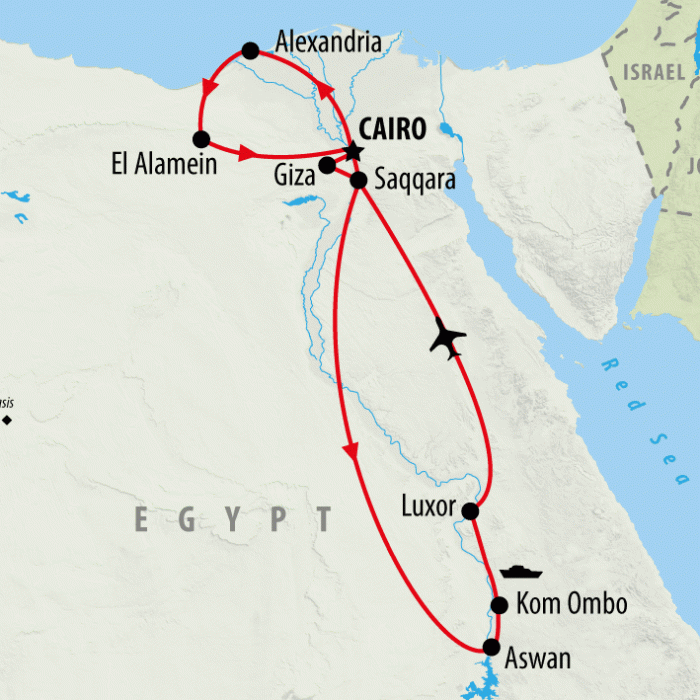 Expand All
Welcome to Egypt. Upon arrival at Cairo Airport you'll be met and transferred to your hotel. The rest of the day is free to relax or if arriving early, you can opt to pre book our optional private Backstreets of Cairo tour, which introduces you to the highlights of Egypt's bustling capital.
Location:
Alexandria
Meals Included:
Breakfast, Dinner
Bright and early this morning, drive to the port side city of Alexandria on the Mediterranean Coast. Arriving at the windswept city known for its broad beaches and seafront corniche dotted with sun loungers, amusements and cafes you'll embark on a guided tour of the Roman catacombs. Heading underground, view the largest known Roman burial site in Egypt, complete with burial chambers, labyrinth alleyways and entertaining rooms for families coming to visit the dead.



From the catacombs, visit Pompey's Pillar, a modest 25m tower, which is all that remains of an ancient column, from the ruined Temple of Serapis. Next stop is the impressive Library of Alexandria, where free time will be offered for photos of the exterior (sometimes it is open to the public - if you're interested you can go inside!). Lastly today, take a leisurely stroll along the corniche to the Citadel of Quaitbey. Explore this attractive fortress, which was built on the site of the legendary Lighthouse of Alexandria, one of the Seven Wonders of the Ancient World, which was destroyed by a powerful earthquake 1323AD.



After hotel check in and time to freshen up your guide will take you for a drive along the corniche followed by dinner (included).
Day 3: Alexandria Free Day
Location:
Alexandria
Meals Included:
Breakfast
Enjoy a free day in Alexandria, at your leisure. Why not start the morning by taking a walk by Alexandria Harbour - take in the surroundings as the seagulls fly overhead and the boats pull into port. Later, you can check out the Bibliotheca, one of the biggest and most famous libraries in the world. There's also Montazah Palace and Gardens to explore! Depending on how you want to spend your day, the possibilities are endless.

Location:
Alexandria, El-Alamein
Meals Included:
Breakfast, Lunch
Today, visit the Commonwealth War Graves of El Alamein. It is here where two extended battles were fought during World War II. The first began on the 1st July 1942 and lasted for 27 days, it ended as a stalemate. After 3 months of holding back the enemy, the Allies launched a second attack which lasted for 13 days. This saw the Allied forces (including British, Australian and New Zealand soldiers) push back the Axis powers for ultimate defeat in Tunisia. Some 13,000 Allied soldiers were killed and 70,000 were wounded in the battle.



Later, tour the compact El Alamein military museum that acts as a memorial for the battle and houses lots of original war vehicles, weapons, uniforms and records. Displays in the museum detail the complete history of World War II in North Africa from all sides and stands on the site where the actual battle took place. This afternoon return to Cairo.

Location:
Pyramids of Giza, Saqqarah
Meals Included:
Breakfast
Visit the famous pyramids and iconic Sphinx at Giza Plateau today. Sole survivors from the ancient Greek-listed Seven Wonders of the World, the pyramids are the planet's oldest tourist attraction! Gaze in awe at Cheops (Khufu) - the largest of the three great pyramids. Constructed from over 2.5 million limestone blocks it is thought to have taken more than 20 years to construct. Continuing to Saqqara, explore the myriad tombs and temples at this site and see Zhoser's step pyramid - constructed by Imhotep, the pharaoh's chief architect in 2700 BC! A visit to a government supervised Papyrus Museum will also be made at some point during today.
Location:
Cairo, Aswan
Meals Included:
Breakfast
Cairo - Aswan. Take a guided tour of the vast new Grand Egyptian Museum in Giza this morning. In this incredible 490,000 sq.m complex you'll discover a mind-boggling array of relics and antiquities from almost every period of ancient Egyptian history. Get up close and personal with ancient mummies Thuya and Yuya, King Tutankhamun's great grandparents. Marvel at the most famous exhibit, the spectacular funerary mask of King Tutankhamun. Made of solid gold and weighing 11kg, the mask was found covering the head of the mummy, where it lay inside a series of 3 sarcophagi.



Then there's time to relax back at the hotel before your guide assists you in boarding the night overnight train to Aswan this evening. Your new guide will welcome you on your arrival to Aswan tomorrow morning.




Please Note: the Grand Egyptian Museum is scheduled to open in late 2024, though an official opening date has yet to be released. If travelling prior to the opening of the new facility you'll visit the Egyptian Museum instead.
Location:
Aswan
Meals Included:
Breakfast, Lunch, Dinner
This morning you'll arrive into Aswan where you'll be welcomed by your new guide. Enjoy a short boat trip to Agilika Island for Philae Temple - dedicated to the goddess Isis. Then a brief stop will be made at a perfume oil emporium before check-in on board the Nile Cruiser which will be home for the next three nights. Later, there is free time to perhaps enjoy some shopping in the colourful souks and markets or simply relax in this attractive town which straddles the River Nile.

Location:
Aswan, Kom Umbu
Meals Included:
Breakfast, Lunch, Dinner
Aswan - Nile Cruising. Today there is an optional early morning flight excursion to Abu Simbel offered. Abu Simbel is home to the famous the rock-cut temple of King Ramses II. The Nile cruiser departs Aswan this afternoon and you'll cruise the River Nile to Kom Ombo and disembark to visit the temple which is dedicated to the crocodile headed god - Sobek before returning to the cruiser.

Location:
Kom Umbu, Luxor
Meals Included:
Breakfast, Lunch, Dinner
Nile Cruise - Luxor. Relax, enjoy a swim in the pool and chill out in the sun on deck this morning. Let your troubles melt away as you cruise the River Nile to Luxor. Home of the legendary Valley of the Kings and Temple of Karnak, 4000 year-old Luxor is ancient Egypt at its best. Arriving into Luxor this afternoon the rest of the day is free to explore the city before spending your final night aboard the cruiser.
Location:
Luxor
Meals Included:
Breakfast
Kom Ombo - Luxor. This morning, disembark and check into your 5 star Luxor hotel. Following check in, you will visit Karnak Temple, a spectacular religious complex built on a gigantic scale, where you get lost wandering around the stone papyrus columns. Later, there is an optional excursion to the Luxor Temple, which is long rumoured to be the location of Pharaoh crownings. Built by Amenophis III, Luxor Temple looks stunning at night when it's illuminated by hundreds of lights (book and pay locally).

Location:
Luxor
Meals Included:
Breakfast
Luxor. Today you'll tour the West Bank of the Nile. An early start allows you to avoid some of the fierce midday heat as you venture to the tomb strewn Valley of the Kings. Highlights of the visit include the Colossi of Memnon, a massive pair of statues that stand silent against a historic backdrop, the Valleys of the Kings with its beautifully decorated tombs, constructed to once house the regal sarcophagi enclosed mummies of the mighty pharaohs awaiting passage into the after-life and the awesome colonnaded Temple of Queen Hatshepsut.



The rest of the afternoon is at leisure.
Location:
Cairo
Meals Included:
Breakfast
Luxor - Cairo. You will be transferred to Luxor Airport where you will fly on to Cairo. Arrive back in Cairo where today is free for you to relax or explore Egypt's capital at leisure. You can opt to visit Khan el Khalili bazaar, the ideal place for some last minute souvenir shopping.
Location:
Cairo
Meals Included:
Breakfast
Hotel check out and included onward departure transfer to airport.
What's Included
Accommodation
4 - 5 star

Breakfast daily, 4 lunches and 4 dinners

7 nights 4-5 star hotels, 3 nights aboard 5 star Nile Cruiser (en suite cabin)

Escorted by an Egyptian tour guide degree qualified in Egyptology

Touring - Cairo, Giza, Saqqara, Aswan and Luxor

Touring - Alexandria and the El Alamein Battlefields and museum

Overnight train from Cairo to Aswan (Private 2 berth sleeper cabin)

Airport arrival and departure transfer on day 1 and day 13

All relevant transfer and transportation in private modern air-conditioned vehicles

Economy class flights from Luxor to Cairo

All relevant transfers and transportation in private modern air-conditioned vehicles
What's Not Included
International flights and visa

Tipping. We recommend you allow USD$20 per traveller per day of guiding for your guide, and an additional USD$10 per traveller per day for general tipping such as drivers, and bellmen, though ultimately tipping is an entirely personal gesture.

Entrance Fees: USD$130-150pp, paid in local currency
Check out our Q&As
What Ethical Travel credentials does the tour company have?

Ensuring our footprint is light and that the benefits of travelling reach the local communities you visit is paramount to us. We're proud to say that when travelling with us, the large majority of your holiday funds remain within the countries you visit, supporting local economies at a grass roots level.

How long has the tour company been trading?

Who will be my travelling companions on the tour?

With English-speaking tours, it's not a huge surprise that most on our travellers are from English-speaking countries or have English as their second language. Our group tours cater for everyone from 18 years old to 70+

Will the accommodation included meet local health and safety regulations?
Reviews of this Operator
Calvin
Wonderful experience
Jamal is our tour guide. Right from the start, he created a group chat in whatsapp and if any issues to make sure we contact him. He was on the ball with every issue thrown at him. Luggage being left behind, stragglers wondered off in a different path, hotel room etc. He explains the various site along our route to give us a better understanding of the local cultures. We had a great time, thanks to Jamal.
Trustpilot
Norma Sullivan
Land of the Northern Lights 5 day tour of Iceland
The Land of Northern Lights tour was a triumph! My tour of Southern Iceland was absolutely wonderful. The venues chosen, the timing allotted at each venue and the variety of things to experience was nearly perfect. Our guide, "Thor", was smart, amusing, full of history and anecdotal stories as well as being incredibly hospitable and helpful. This small group experience was my first, but not my last thanks to On the Go.
Xtreme Floor Care (Google Reviewer)
Traveled through Egypt with On the Go Tours, professional service, very informative and helpful tour guides. The choice of hotels was excellent... Definitely recommend this company
Gavin Harrigan
King Tutankhamun 10 day tour of Egypt
I have just returned from my tour with On The Go and it was an amazing trip! From arriving at the airport and meeting the OTG representative, everything was well organised and hassle free.  Our tour guide was Amir. He is awesome!! From the beginning he was so friendly and enthusiastic about showing us around Egypt, giving us loads of information at each place and time to explore ourselves. Learnt so much from him about this fascinating place, and he was always happy to answer more questions.   The trip itself was amazing. There's lots of travelling on this trip, but it's really not too bad, and the sights you see when you get to where you are going are worth it. I'm not a big fan of boats, but the Felluca ride across the Nile was pretty fun too.  On the first day I also did the optional tour of Cairo with Ahmed Helal - another excellent guide from OTG. It's worth doing this add on as you don't spend much time in Cairo, and you go to three very different places.  I'm so glad that I decided to do this trip. It was just ace.  If you're thinking about it too, you should probably just book it. And hopefully you get Amir as your guide.
Paul Kelly (Google Reviewer)
TOTALLY MOROCCO We booked a 9 day tour of Morocco visiting many main cities and places of interest. The coach was very comfortable and we felt safe with the driver Suliman. The guide was Hicham Touraouine and he was fantastic. He spoke perfect English as well as French, Arabic and Berber. He was so kind and considerate and made a good tour great. We particularly enjoyed 'glamming in the Sahara Desert. So much to see and do and great food and company. We would definitely use On The Go Tours again, especially if Hicham was the guide. Paul & Penny
Tina Ebrahim
Totally Morocco - 9 days
This was a great tour through Morocco! There was quite a bit of time spent on the bus but the stops to see the sites and breaks were timed perfectly. It allowed us to see so much of Morocco in a short amount of time. What really made this trip extra special was our tour guide Hicham! He was so friendly, professional, knowledgeable and had an infinite amount of patience. You could tell that he is very proud of his country - as he should be! When I arrived, I mentioned that I was sad about missing Chefchaoen and he went out of his way to make sure we could add it to our itinerary (luckily the other 2 people on the trip also wanted to go). It was a highlight for me! This was my second On The Go tour. The first tour was amazing (Pyramids, Petra and Promised Land) so the bar was set high but Hicham and Hussein made this trip just as memorable!
G Whittler
Above & Beyond
After having our honeymoon delayed due to the pandemic, On the Go really went above and beyond with their kindness, willingness to tailor tours to our requests and accommodate a change to a whole different country! Communication was great and the planning of the tour well organised. In our unusual situation they really helped make the tour special.
Trust Pilot Review
Rolly Hay hay (Google Reviewer)
Gallipoli tour. The guide was awesome. Everything went like clockwork.. My complaint is that you expect 4 people to cramp together on the back seat of the van for 4 hours. That is poverty travel. Not really acceptable for the price paid. So uncomfortable. If was to do this trip again I'd just rent a car. Although the guide was amazing, but that's 3 hours of the trip.
brandy hoffman (Google Reviewer)
I had used them once before and loved them. I decided to try them again for a Baltic tour not knowing that they put me on another Tour group- Baltic vision. Loved that tour but was not impressed they marked up the cost for me over 100%. I understand taking some for yourself because of paperwork, but over double the cost everyone else paid on the tour. Just double check before you book with them that you're not over paying.
Giovanni Guidi (Google Reviewer)
I booked three tours with this agency. While the first two experiences were very nice, with well-thought-out itineraries and knowledgeable guides, the third tour was an absolute nightmare for us. Due to the unavailability of an hotel from the trip notes, the agency opted to replace it with another they claimed was "similar." To our dismay, this alternative was nothing short of a decrepit, filthy establishment that threatened to ruin our entire safari experience in South Africa. But the fiasco didn't end there. This so-called hotel began proposing and organizing activities starkly different from what we were promised in the trip notes, together with an awful services of their guides and vehicles. And when this disaster struck and we desperately needed their support? The agency ghosted us. It took them an entire day to respond, and when they did, they simply shrugged off our concerns, asserting it was too late to fix anything, even though three nights of our trip were still ahead. The level of unprofessionalism was staggering. Forced to salvage our experience, we took matters into our own hands, leaving that awful place to book another hotel and activities for the remainder of our trip—all at my own expense. Based on my experience, I suggest travelers to think twice before considering this agency. Seek out reputable companies known for their commitment to customer service and integrity.
Book with Confidence
Transfer as credit to Future Tours

On The Go Tours allows you to transfer existing payments to a future tour to avoid cancellation fees if you can't travel and inform on the go tours, 60 days before departure.

Low Deposit

On The Go Tours requires a minimum deposit of 200 GBP per person or the full booking value, whichever is less, with the final balance not due until 60 days before departure.

Cancellation Policy

We don't charge a cancellation fee, here is a summary of on the go tours charges.

Up to 60 days before tour starts: Forfeit 100% of deposit.

At 59 days before tour starts: Forfeit 50% of booking price.

At 30 days before tour starts: Forfeit 100% of booking price.
Why book with tourhub?
Safe & Secure
Your money is protected in an external trust until you travel.
---
100% Guaranteed Refunds if your trip is cancelled.
---
The safest way to make overseas, multi-currency payments.
Guaranteed Best Value
Industry leading discounts, we won't be beaten on price.
---
No cancellation or amendment fees from tourhub.
(Operator terms may apply)
Expert Knowledge
Reliable & unbiased advice from travel experts.
---
Direct contact with the tour operator via our messaging service.
---
Inspiration & advice from a community of 6000+ real travellers, influencers & content creators.
Trusted Service
Official partners & licensed agents of 1000+ tour operators worldwide.
---
Don't just take our word for it...
"Tourhub: Friendliness, Professionalism & Integrity I would happily give tourhub a 6* review if I could..."
Similar Tours
Travel Guru Features
Our Reviews