Caffe Colombia - 8 days
Caffe Colombia - 8 days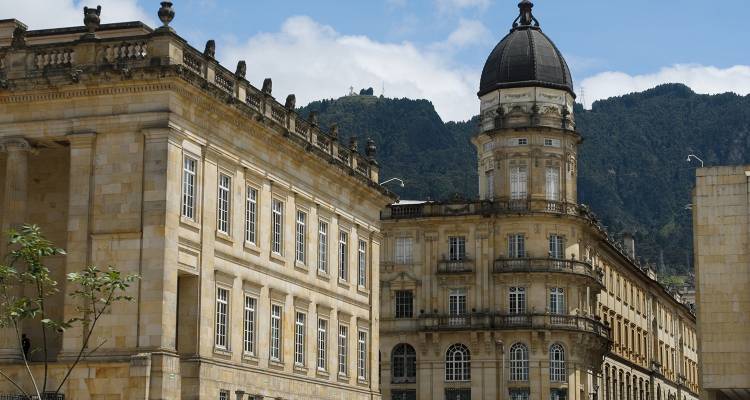 Caffe Colombia - 8 days
8 Days Starting in Bogota and ending in Goodbye Colombia
Visiting: Bogotá, City tour Bogota, Zipaquirá, Ráquira, Villa de Leyva, Zona Cafetera, Cartagena, Colombia
Tour operator:
Specialist Group:
Family/Kids
Age range:
Not recommended for under 5yrs.
Tour operated in:
English
Trip Styles:
Interests:
Tour Overview
Take in the highlights of Colombia in 8 captivating days, from the capital city of Bogota through to the charming and colourful colonial city of Cartagena. En route visit unusual and artisan towns of Zipaquira and Raquira, wander around picturesque Villa de Leyva, learn about the production of some of the world's best coffee and appreciate the spectacular beauty of Cocora Valley and much more.
Highlights
Bogota –Enjoy a tour of Colombia's capital city, taking in Paloquemao's Market, the colonial quarter of La Candelaria and the prominent Plaza de Bolivar. Also visit the Museo del Oro and Museo de Botero

Zipaquira – Marvel at the spectacular Salt Cathedral and Stations of the Cross, all hewn from the salt mine tunnels under the Halite Mountains

Sutatausa – Admire the excellently preserved paintings in the town's colonial church, dating back to the 17th century

Raquira – Visit this artist town, famous for its pottery colourful buildings and colony of artisans. Nearby is the Monasterio La Candelaria, the first convent built in Latin America

Villa de Leyva – Explore this colonial town and its beautiful architectural features, from wooden baloncies and arches to heavy wooden and brass laden doors

Filandia – Overlook the city from the Colinda Illuminada view point

Cocora Valley – Sample the local cocktail of canelazo and plant a wax palm, Colombia's national tree and the tallest variety of palm tree in the world

Salento – Visit this charming town with its preserved colonial bahareque architecture and streets lined with restaurants, bars and shops

Hacienda Combia – Join a shared tour of this coffee farm, allowing you the opportunity to learn about the elements, conditions and the technical processes needed to go Colombian coffee

Botanical & Butterfly Garden – Stroll through this garden home to over 1500 butterflies and a variety of local flora and bird species

Cartagena – Join a walking tour including stops at the Convento de la Popa, the Castillo de San Felipe and a stroll through the markets of La Bovedas

Food Tour – Join a culinary tour of Cartagena, stopping off at seven authentic food stops to sample the local cuisine
Itinerary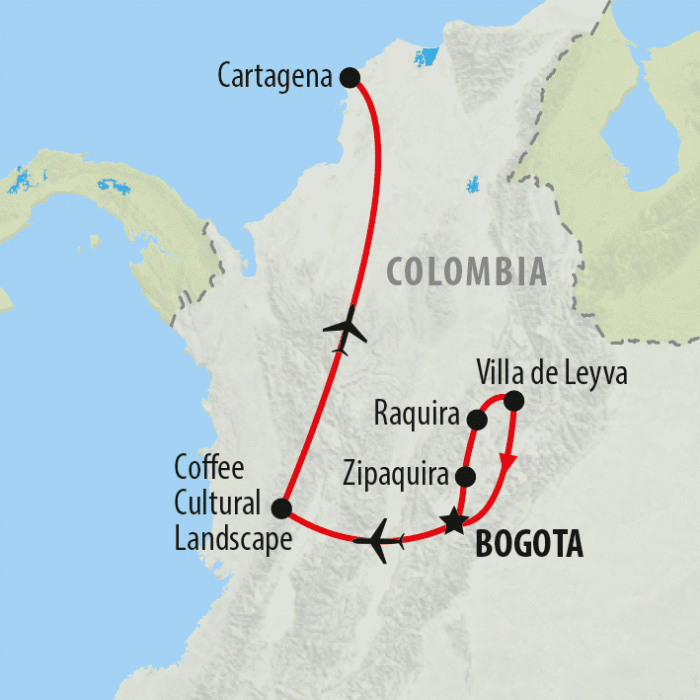 Expand All
Location:
Bogotá
Meals Included:
No Meals
Upon arrival at El Dorado International Airport you will be met and transferred to your hotel. Enjoy the rest of the day at leisure exploring Colombia's cosmopolitan capital city. There are plenty of al fresco dining options where you can sample the local cuisine, and a variety of welcoming bars to get your evening started. Overnight – Bogota.
Location:
City tour Bogota
Meals Included:
Breakfast, Lunch
Get acquainted with Bogota today with a guided sightseeing tour of the city. The morning starts early with a visit to the vibrant Paloquemao Market, one of the largest and important in the country. As you browse the variety of fruit, vegetables, cheeses and medicinal herbs on offer, you can also take this opportunity to people watch as you witness the interactions between seller and buyer. Here you'll have the opportunity to sample some exotic fruits and enjoy a small snack.
Leaving the market behind, continue on to the famous and well-preserved historical colonial quarter of La Candelaria. Wander through the streets and keep your camera handy as you'll want to capture this picturesque area on film. On your walk you'll pass such sights as the library of Luis Nagel Arango and the prominent Plaza de Bolivar, the heart of Bogota. Surrounding the square are impressive historical buildings, including the Cathedral, Congress Palace, Independence House, Palace of Justice and City Hall.
From Plaza de Bolivar you'll continue your exploration to Monserrate Hill, a forested mountain with a white catholic church sitting on its summit. On a clear day you'll enjoy a stunning view over the city below and may even see the snow-capped peak of Nevado del Tolima in the distance. Next up is a visit to the Museo del Oro - where you can learn about the history of gold in Colombia, followed by Museo de Botero - displaying a selection of artwork from a variety of world-famous artists.

Day 3 :

Zipaquira & Raquira
Location:
Zipaquirá, Ráquira
Meals Included:
Breakfast
Bogota – Villa de Leyva. Today you bid farewell to Bogota and continue your Colombian adventure, driving out through the northern residential area of the city and through the fertile plateau to the small town of Zipaquira. Here you can appreciate the extraordinary architecture of the Salt Cathedral – a local pilgrimage site, with its three naves, sculptures and cavernous pools. Your next stop will be the small town of Satatausa where you'll explore its quaint colonial church, which houses a selection of 17th century paintings by anonymous artists.
Following a stop for lunch, continue on to the artisan town of Raquira, famed for its pottery and colourful architecture. On the outskirts of town are a group of factories where the local community produces clay pots and decorations, where you'll have a chance to visit one to observe the process of creating these handicrafts. After you'll have free time to wander around the quaint and colourful town centre. Nearby is the Monasterio La Candelaria, which dates back to 1604 and was the first convent to be built in Latin America. Enjoy a short tour of this convent before continuing to Villa de Leyva in the late afternoon.

Location:
Villa de Leyva, Bogotá
Meals Included:
Breakfast
Villa de Leyva – Zona Cafetera. This morning you'll be taken on a walking tour of this attractive colonial town. Originally founded in 1572 Villa de Leyva has managed to maintain much of its original charm in its architecture, from its wooden balconies, arches and heavy wooden and brass laden doors. This quiet town has an easy going ambience that is quick to charm. After a break for lunch, drive to Bogota airport for your flight to the Zona Cafetera.
Location:
Zona Cafetera
Meals Included:
Breakfast, Lunch
Spend today getting to know the history and the culture associated with Colombia's production of coffee with a full day guided excursion. Your first stop will be the traditional small village of Filandia, which boasts colonial architecture, and the pretty and colourful Plaza de Bolivar. Stop off at a typical fonda, or restaurant-bar, to try the local liquor. Next head up to Colina Iluminada, a viewpoint set on a hilltop just outside of town overlooking the coffee triangle.
From Filandia, continue on to the spectacular Cocora Valley home to the wax palm – the country's national tree and the tallest variety of palm tree in the world. Upon arrival in Cocora Valley you'll have the chance to sample a warming local cocktail called canelazo, enjoyed across much of South America. Later embark on a guided tour of the misty forest to learn about the importance of conservation. You'll even have the chance to plant your own wax palm with the Ritual de la Palma. Here in Cocora Valley you'll also enjoy a traditional lunch of smoked trout.
Your day continues with a visit to the town of Salento. Dating back to 1842, this charming town was one of the area's first settlements and is home to centuries-old buildings housing restaurants, bars, handicraft shops and souvenir stores.

Day 6 :

Coffee Tour & Butterfly Garden
Location:
Cartagena
Meals Included:
Breakfast, Lunch
Zona Cafetera – Cartagena. After breakfast you'll be transferred to Armenia to join a shared tour of the Hacienda Combia coffee farm. Made up of nine stops, this unique tour takes you through the elements, environmental conditions and technical processes required to grow the high quality of coffee that Colombia is renowned for.
Lunch will be provided before your next stop, the Botanical & Butterfly garden.
Stretching across ten hectares of Andean forest, this garden is home to 180 species of butterfly along with 850 varieties of local flora and 126 species of bird. Enjoy a walking tour here before being transferred to the airport for your flight to Cartagena.

Location:
Cartagena
Meals Included:
Breakfast
Wake up in the colourful city of Cartagena this morning, home to beautiful colonial architecture, charming cobbled streets lined with artisan workshops and the clip-clop of horse-drawn carriages. A walking tour today starts with a visit to the Convento de la Popa, a 17th century convent set on a hilltop overlooking the city below, followed by a stop at the Castillo de San Felope – a great fortress built in the 1600s under Spanish colonisation.
Continue your tour with a walk through La Bovedas, a series of 23 vaults built for military purposes in the 18th century to store munitions and provisions, and later even used as jail cells. Today these vaults are now house colourful craft market stalls selling anything from handicrafts and souvenirs, to jewellery and clothing. Your walking tour finishes with a stroll through the colonial streets of this charming city, admiring its many old houses, stunning balconies, hidden squares, buzzing plazas and more along the way.ne by joining a walking tour taking in seven authentic food stops, each with a different delectable tasting. Escorted by a local guide you'll hear all about the city's culture, history and food in an epic culinary journey.

Location:
Colombia
Meals Included:
Breakfast
This morning your tour of Colombia comes to an end. After breakfast and hotel check-out you will be transferred to the Rafael Nunez Airport for your onward travel.
What's Included
7 breakfasts and 3 lunches

7 nights STANDARD accommodation. Upgrading to SUPERIOR or DELUXE accommodation options are also available upon request. Accommodation rating – See Trip Notes for details

Airport arrival and departure transfer on day 1 and day 8

Services of local English-speaking specialist guides

Entrance fees to all sites and activities as described in the itinerary

All relevant transfers and transportation

Private services for all included activities (excluding tour of Hacienda Combia, which may be on a shared basis)
What's Not Included
International flights and visas

Tipping – an entirely personal gesture

Laundry, drinks and items of a personal nature

Domestic flights – South American airpasses are available with LATAM and other airline carriers when booked in conjunction with international flights, offering significant savings on domestic flights. Please ask a member of the team for more information.
Check out our Q&As
What is the standard of the hotels on this tour?

Standard (superior and deluxe available on request)

Are airport transfers included in this tour?

Airport arrival and departure transfer on day 1 and day 8

Are the local guides on the tour English speaking?

What Ethical Travel credentials does the tour company have?

Ensuring our footprint is light and that the benefits of travelling reach the local communities you visit is paramount to us. We're proud to say that when travelling with us, the large majority of your holiday funds remain within the countries you visit, supporting local economies at a grass roots level.

How long has the tour company been trading?
Who will be my travelling companions on the tour?

With English-speaking tours, it's not a huge surprise that most on our travellers are from English-speaking countries or have English as their second language. Our group tours cater for everyone from 18 years old to 70+

Will the accommodation included meet local health and safety regulations?
Reviews of this Operator
Calvin
Wonderful experience
Jamal is our tour guide. Right from the start, he created a group chat in whatsapp and if any issues to make sure we contact him. He was on the ball with every issue thrown at him. Luggage being left behind, stragglers wondered off in a different path, hotel room etc. He explains the various site along our route to give us a better understanding of the local cultures. We had a great time, thanks to Jamal.
Trustpilot
Norma Sullivan
Land of the Northern Lights 5 day tour of Iceland
The Land of Northern Lights tour was a triumph! My tour of Southern Iceland was absolutely wonderful. The venues chosen, the timing allotted at each venue and the variety of things to experience was nearly perfect. Our guide, "Thor", was smart, amusing, full of history and anecdotal stories as well as being incredibly hospitable and helpful. This small group experience was my first, but not my last thanks to On the Go.
Xtreme Floor Care (Google Reviewer)
Traveled through Egypt with On the Go Tours, professional service, very informative and helpful tour guides. The choice of hotels was excellent... Definitely recommend this company
Gavin Harrigan
King Tutankhamun 10 day tour of Egypt
I have just returned from my tour with On The Go and it was an amazing trip! From arriving at the airport and meeting the OTG representative, everything was well organised and hassle free.  Our tour guide was Amir. He is awesome!! From the beginning he was so friendly and enthusiastic about showing us around Egypt, giving us loads of information at each place and time to explore ourselves. Learnt so much from him about this fascinating place, and he was always happy to answer more questions.   The trip itself was amazing. There's lots of travelling on this trip, but it's really not too bad, and the sights you see when you get to where you are going are worth it. I'm not a big fan of boats, but the Felluca ride across the Nile was pretty fun too.  On the first day I also did the optional tour of Cairo with Ahmed Helal - another excellent guide from OTG. It's worth doing this add on as you don't spend much time in Cairo, and you go to three very different places.  I'm so glad that I decided to do this trip. It was just ace.  If you're thinking about it too, you should probably just book it. And hopefully you get Amir as your guide.
Paul Kelly (Google Reviewer)
TOTALLY MOROCCO We booked a 9 day tour of Morocco visiting many main cities and places of interest. The coach was very comfortable and we felt safe with the driver Suliman. The guide was Hicham Touraouine and he was fantastic. He spoke perfect English as well as French, Arabic and Berber. He was so kind and considerate and made a good tour great. We particularly enjoyed 'glamming in the Sahara Desert. So much to see and do and great food and company. We would definitely use On The Go Tours again, especially if Hicham was the guide. Paul & Penny
Tina Ebrahim
Totally Morocco - 9 days
This was a great tour through Morocco! There was quite a bit of time spent on the bus but the stops to see the sites and breaks were timed perfectly. It allowed us to see so much of Morocco in a short amount of time. What really made this trip extra special was our tour guide Hicham! He was so friendly, professional, knowledgeable and had an infinite amount of patience. You could tell that he is very proud of his country - as he should be! When I arrived, I mentioned that I was sad about missing Chefchaoen and he went out of his way to make sure we could add it to our itinerary (luckily the other 2 people on the trip also wanted to go). It was a highlight for me! This was my second On The Go tour. The first tour was amazing (Pyramids, Petra and Promised Land) so the bar was set high but Hicham and Hussein made this trip just as memorable!
Rolly Hay hay (Google Reviewer)
Gallipoli tour. The guide was awesome. Everything went like clockwork.. My complaint is that you expect 4 people to cramp together on the back seat of the van for 4 hours. That is poverty travel. Not really acceptable for the price paid. So uncomfortable. If was to do this trip again I'd just rent a car. Although the guide was amazing, but that's 3 hours of the trip.
Jane Elson (Google Reviewer)
We booked the Land of Northern Lights and the actual trip was a wonderful experience we had a great guide and driver. The problem we had was with On the Go Tours. We accept meals are not included but did expect meals to be available. When in Hella the hotel restaurant was closed and there bistro was full, but we were told we could eat at about 7.45pm - when we asked again at 8pm we were told it would be another 15 - 30 mins. There is a street van, pizza and burger bar but all close at 8pm so we could not grab anything there - we had a Northern Lights presentation at 8.30pm so no chance of us getting meal at the only other restaurant. The next day our lunch stop was unable to provide lunch just coffee & cake! I have raised this with On the GO Tours and the bottom line is they do not include meals!!!!
brandy hoffman (Google Reviewer)
I had used them once before and loved them. I decided to try them again for a Baltic tour not knowing that they put me on another Tour group- Baltic vision. Loved that tour but was not impressed they marked up the cost for me over 100%. I understand taking some for yourself because of paperwork, but over double the cost everyone else paid on the tour. Just double check before you book with them that you're not over paying.
Giovanni Guidi (Google Reviewer)
I booked three tours with this agency. While the first two experiences were very nice, with well-thought-out itineraries and knowledgeable guides, the third tour was an absolute nightmare for us. Due to the unavailability of an hotel from the trip notes, the agency opted to replace it with another they claimed was "similar." To our dismay, this alternative was nothing short of a decrepit, filthy establishment that threatened to ruin our entire safari experience in South Africa. But the fiasco didn't end there. This so-called hotel began proposing and organizing activities starkly different from what we were promised in the trip notes, together with an awful services of their guides and vehicles. And when this disaster struck and we desperately needed their support? The agency ghosted us. It took them an entire day to respond, and when they did, they simply shrugged off our concerns, asserting it was too late to fix anything, even though three nights of our trip were still ahead. The level of unprofessionalism was staggering. Forced to salvage our experience, we took matters into our own hands, leaving that awful place to book another hotel and activities for the remainder of our trip—all at my own expense. Based on my experience, I suggest travelers to think twice before considering this agency. Seek out reputable companies known for their commitment to customer service and integrity.
Book with Confidence
Low Deposit

On The Go Tours requires a minimum deposit of 30% or the full booking value, whichever is less, with the final balance not due until 60 days before departure.
Why book with tourhub?
Safe & Secure
Your money is protected in an external trust until you travel.
---
100% Guaranteed Refunds if your trip is cancelled.
---
The safest way to make overseas, multi-currency payments.
Guaranteed Best Value
Industry leading discounts, we won't be beaten on price.
---
No cancellation or amendment fees from tourhub.
(Operator terms may apply)
Expert Knowledge
Reliable & unbiased advice from travel experts.
---
Direct contact with the tour operator via our messaging service.
---
Inspiration & advice from a community of 6000+ real travellers, influencers & content creators.
Trusted Service
Official partners & licensed agents of 1000+ tour operators worldwide.
---
Don't just take our word for it...
"Tourhub: Friendliness, Professionalism & Integrity I would happily give tourhub a 6* review if I could..."
Similar Tours
Travel Guru Features
Our Reviews