Classic Colombia - 16 days
16 Days Starting and ending in Bogota
Visiting: Bogotá, Neiva, San Agustín, Popayán, Armenia, Parque Nacional Natural Tayrona, Santa Marta, Santa Cruz de Mompox, Cartagena
Tour operator:
Specialist Group:
Family/Kids
Age range:
Minimum age 12. If booking a family please contact GH to request/check triple rooms / rooms next to each other before confirming the bookingThere is no maximum age. Those 70 or over will be required to fill out a tour suitability tour.  
Special diets catered:
Vegetarians, Please contact On The Go Tours with specific dietary requests
Tour operated in:
English
Trip Styles:
Interests:
Activities:
From:
$4075
$3961 (USD) WINTER SALE @ Tourhub Discount: $114
Tour Overview
Take in the highlights of captivating Colombia, wander around colonial cities, uncover sun-kissed beaches nestled in the wildlife-rich Tayrona national park and discover the ancient stone monuments of San Agustin on this 16 day adventure.
Highlights
Salento – stroll through this charming town with its preserved colonial bahareque architecture and streets lined with restaurants, bars and shops

Tayrona National Park – Follow tropical trails through this dazzling national park, once home to the Tayrona Indians

The Coffee Triangle – Learn about coffee farming at local ranch in Armenia

Mompos - Take a boat trip along the Magdalena River, spotting wildlife along the riverbanks

Aracataca - Learn about the famous Latin American writer Gabriel Garcia Marquez who was born in the town

Bogota - Take in the highlights of Colombia's capital city on a guided tour

Cartagena - Stroll around the beautiful Old Town and soak up the atmosphere of Colombia's most captivating coastal town

Cocora Valley – Take a hike in the home of Colombia's national tree, the wax palm, the tallest variety of palm tree in the world

San Agustin - Visit the UNESCO Listed San Agustin Archaeological Park with its fascinating statues
Itinerary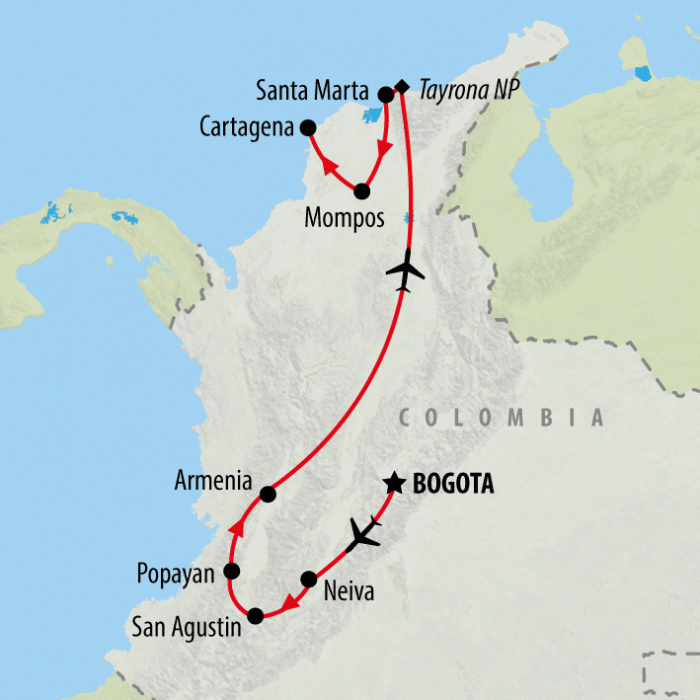 Expand All
Saturday. Hola Colombia! Upon arrival at Bogota airport you will be met and transferred to your hotel. This afternoon we embark on a guided tour through the city's cobbled streets, passing through the fascinating colonial area of Candelaria with its fine historical buildings, including churches and the presidential palace. Then we visit the Botero museum where we see the art and sculptures of Colombia's most famous artist. Our final stop is the city's famous Gold Museum which houses more than 50,000 pieces of gold.



Please note: we recommend booking flights to arrive into Bogota before midday, in order to join the city tour which usually starts at approximately 2pm. Pre tour accommodation can be arranged upon request.
Location:
Bogotá
Meals Included:
Breakfast
Today is free to spend at leisure or there are some optional excursions in and around Bogota on offer including a visit to the picturesque La Sabana countryside to the centuries-old Zipaquira salt mine - which lies 200 meters beneath the earth and houses the salt cathedral whose pillars and walls are made from the gleaming salt from the mines. The excursion continues to the Guatavita Lagoon, where there is a hike to the crater-lake's rim for amazing views of the surroundings.
Location:
Bogotá, Neiva, San Agustín
Meals Included:
Breakfast
Bogota - San Agustin. After breakfast we're transferred to the airport for a quick one-hour flight to Neiva. We then continue our journey with a 4-hour drive through emerald green hills and coffee plantations until we reach the town of San Agustin. This pretty little town, which was once the neutral ground used to trade and worship by Magdalena and Cauca indigenous cultures, is our base for the next three nights. The town is home to attractive colonial houses and churches, cobbled streets and shady plazas.
Location:
San Agustín
Meals Included:
Breakfast
We spend our day exploring the remarkable San Agustin archaeological park, which is home to over 100 statues, some of which date back to 3,300 BC. Alongside the statues are the burial houses which were used to make human sacrifices and offerings to the gods. We spend some time marveling at the beauty of the countryside and have the opportunity to hike into the surrounding area, to the Fuente de Lavapatas, a fountain set on a bed of carved rocks in the creek.
Location:
San Agustín
Meals Included:
Breakfast
Today is free to spend at leisure or there is an optional Jeep excursion to the Magdalena Canyon passing through sugar plantations and steep gorges. We have time to explore the canyon and see the huge figures caved into the rocks of the canyons walls, with some free-standing stones sculpted into animals while the river crashes below us.
Location:
San Agustín, Popayán
Meals Included:
Breakfast
San Agustin - Popayan. This morning finds us driving through rugged hills until we descend to the university town of Popayan, a stately colonial town often referred to as the 'White City' due to the abundance of white-walled buildings and cathedral in the centre. The city was founded in 1537 by the Spanish Conquistador Sebastian de Belalcazar and played an important role in colonial times as a rest stop for the miners transporting the gold between Lima, Quito and Cartagena before it was sent to Spain. In March 1983 an earthquake shook the city, caving in the cathedral roof which resulted in the deaths of hundreds of people, and despite other earthquakes since then the city has maintained its charm and character. We spend the night at leisure.
Location:
Popayán, Armenia
Meals Included:
Breakfast
Popayan - Armenia. From Popayan it's a 5-hour drive to the heart of the coffee region where we spend three days relaxing and walking along the trails of colourful flora, fauna and fresh coffee. On arrival there is a guided tour of a local farm where we gain insight into the regions agriculture and learn about fruit and coffee production including the picking, de-pulping, washing, drying and roasting of the beans.



Day 8 will be spent driving to the traditional village of Salento, where we have free time to wander through the streets and admire the houses adorned with balconies bursting with flowers, and sit back and bask in the view of the Cordillera Central mountain range emerging from behind the buildings. The afternoon finds us heading east of Salento to the beautiful nature reserve of Valle de la Cocora, home of Colombia's national tree, the wax palm which grows over 3000m. We follow the well market path to the top of the valley for views of mountains' foothills.



On the last day in the region there is an optional visit to the Botanical Gardens at Calarca and follow the series of natural trails, passing tropical flowers until we reach the insect museum and enclosed butterfly garden. Alternatively, there is the option to explore the surrounding areas on a horse-riding excursion.
Location:
Armenia, Parque Nacional Natural Tayrona, Santa Marta
Meals Included:
Breakfast
Armenia - Santa Marta. Flying via Bogota we arrive at the oldest city in Colombia and the first one settled by the Spanish, Santa Marta, which is our base for the next two nights. The city has an important historical centre and a beautiful old town, and it is most famous for being the birthplace of the great liberator Simon Bolivar. We spend the rest of the evening at leisure exploring the city.



On day 11 we embark on an excursion to the beautiful Tayrona National Park, which was once home to the indigenous Tayrona Indians and has some of the best coastline on the continent. Tayrona is perfect for a spot of escapism. We have the day here to follow the tree-covered trails through the tropical forest, with monkeys swinging above our heads, until we reach the secluded beaches where roads and cars have no access. You can snorkel in the reefs, visit some of the local villages in the nearby mountains or hike through the dense rainforest, stumbling across ancient pre-Columbian ruins reclaimed by the jungle.
Location:
Santa Marta, Santa Cruz de Mompox
Meals Included:
Breakfast
Santa Marta - Mompos. We board our bus this morning and make our way to the provincial town of Aracataca, the famous birth place of Gabriel Garcia Marquez, one of Latin America's most famous writers. Born in the town in 1927, his family home is now a museum and we take some time to follow in the footsteps of this iconic writer.



Our afternoon journey continues past banana and palm oil plantations until we reach the 16th century town of Mompos. Situated on the eastern banks of the Magdalena River the town resembles something out of one of Gabriel Garcia Marquez's novels, with the whitewashed colonial mansions and buildings which were once home to Spanish merchants, who used the town as a stopping off point on the trade route to Cartagena. The rest of the day is at leisure.



On day 13 we embark on a boat trip along the banks of the wildlife-rich Magdalena River, which is home to cormorants, white heron and iguanas. Our last night in Mompos is at leisure.
Location:
Cartagena
Meals Included:
Breakfast
Mompos - Cartagena. Today we travel back to the Caribbean coast and the famous city of Cartagena. Our final destination, is one of the most interesting colonial towns on the continent. On arrival we have the rest of the day to wander the streets of the city and soak up the mix of Caribbean and African influences. There are several interesting sites to see such as Castillo San Felipe and the fortress on San Lazaro hill. Beneath this fortress is a maze of tunnels and there are still cannons in place along the battlements. Also worthwhile is a trip up La Popa hill to visit the colourful convent with great views over the city. The Boca Grande area of Cartagena is where Colombians come for their beach holidays and it is full of shops, nightclubs and bars. Near Cartagena is the Volcan de Lodo El Totumo, a mud volcano where you can relax and wallow in the mud, which is believed to be a good treatment for the skin.
Location:
Cartagena
Meals Included:
Breakfast
Our morning is spent walking through the streets of the Caribbean's most romantic colonial city. Founded in 1533, this city quickly became the main Spanish port in the Caribbean, and a prime target for pirates when native treasure was stored in the city while waiting to be shipped back to Spain. In a bid to protect their loot the Spanish constructed walls around the city which still encircle the town. The rest of the afternoon is at leisure. Make your way to the old town square to watch some of the Cumbia dance performances or sit in one of the cafes lining the walkway to sip on a drink and look out onto the sea.
Location:
Bogotá
Meals Included:
Breakfast
Sunday. Cartagena - Bogota. Transfer back to Cartagena airport for an included flight back to Bogota.



Please provide us with your international flight details and we will book the domestic flight at a suitable time for you. Arrangements end upon arrival at the Bogota airport or we can book post tour accommodation upon request.
What's Included
15 breakfasts

15 nights 3 star hotels

3 domestic flights from Bogota - Neiva, Armenia - Santa Marta and Cartagena - Bogota

Arrival and departure transfers on days 1 and 16

Guided tour of Bogota and Gold Museum, San Augustin Archaeological Park and Cartagena

Excursion to coffee farm in Armenia, Tayrona National Park and Aracataca Marquez Museum

Mompos boat trip

Escorted by an experienced tour leader with the services of local guides

All relevant transfers and transportation
What's Not Included
Items of a personal nature, additional meals and drinks

Tipping – an entirely personal gesture

International flights and visas
Age Policy
Minimum age 12. If booking a family please contact GH to request/check triple rooms / rooms next to each other before confirming the bookingThere is no maximum age. Those 70 or over will be required to fill out a tour suitability tour.  
Check out our Q&As
What Ethical Travel credentials does the tour company have?

Ensuring our footprint is light and that the benefits of travelling reach the local communities you visit is paramount to us. We're proud to say that when travelling with us, the large majority of your holiday funds remain within the countries you visit, supporting local economies at a grass roots level.

How long has the tour company been trading?

Who will be my travelling companions on the tour?

With English-speaking tours, it's not a huge surprise that most on our travellers are from English-speaking countries or have English as their second language. Our group tours cater for everyone from 18 years old to 70+

Will the accommodation included meet local health and safety regulations?
Reviews of this Operator
Calvin
Wonderful experience
Jamal is our tour guide. Right from the start, he created a group chat in whatsapp and if any issues to make sure we contact him. He was on the ball with every issue thrown at him. Luggage being left behind, stragglers wondered off in a different path, hotel room etc. He explains the various site along our route to give us a better understanding of the local cultures. We had a great time, thanks to Jamal.
Trustpilot
Norma Sullivan
Land of the Northern Lights 5 day tour of Iceland
The Land of Northern Lights tour was a triumph! My tour of Southern Iceland was absolutely wonderful. The venues chosen, the timing allotted at each venue and the variety of things to experience was nearly perfect. Our guide, "Thor", was smart, amusing, full of history and anecdotal stories as well as being incredibly hospitable and helpful. This small group experience was my first, but not my last thanks to On the Go.
Xtreme Floor Care (Google Reviewer)
Traveled through Egypt with On the Go Tours, professional service, very informative and helpful tour guides. The choice of hotels was excellent... Definitely recommend this company
Gavin Harrigan
King Tutankhamun 10 day tour of Egypt
I have just returned from my tour with On The Go and it was an amazing trip! From arriving at the airport and meeting the OTG representative, everything was well organised and hassle free.  Our tour guide was Amir. He is awesome!! From the beginning he was so friendly and enthusiastic about showing us around Egypt, giving us loads of information at each place and time to explore ourselves. Learnt so much from him about this fascinating place, and he was always happy to answer more questions.   The trip itself was amazing. There's lots of travelling on this trip, but it's really not too bad, and the sights you see when you get to where you are going are worth it. I'm not a big fan of boats, but the Felluca ride across the Nile was pretty fun too.  On the first day I also did the optional tour of Cairo with Ahmed Helal - another excellent guide from OTG. It's worth doing this add on as you don't spend much time in Cairo, and you go to three very different places.  I'm so glad that I decided to do this trip. It was just ace.  If you're thinking about it too, you should probably just book it. And hopefully you get Amir as your guide.
Paul Kelly (Google Reviewer)
TOTALLY MOROCCO We booked a 9 day tour of Morocco visiting many main cities and places of interest. The coach was very comfortable and we felt safe with the driver Suliman. The guide was Hicham Touraouine and he was fantastic. He spoke perfect English as well as French, Arabic and Berber. He was so kind and considerate and made a good tour great. We particularly enjoyed 'glamming in the Sahara Desert. So much to see and do and great food and company. We would definitely use On The Go Tours again, especially if Hicham was the guide. Paul & Penny
Tina Ebrahim
Totally Morocco - 9 days
This was a great tour through Morocco! There was quite a bit of time spent on the bus but the stops to see the sites and breaks were timed perfectly. It allowed us to see so much of Morocco in a short amount of time. What really made this trip extra special was our tour guide Hicham! He was so friendly, professional, knowledgeable and had an infinite amount of patience. You could tell that he is very proud of his country - as he should be! When I arrived, I mentioned that I was sad about missing Chefchaoen and he went out of his way to make sure we could add it to our itinerary (luckily the other 2 people on the trip also wanted to go). It was a highlight for me! This was my second On The Go tour. The first tour was amazing (Pyramids, Petra and Promised Land) so the bar was set high but Hicham and Hussein made this trip just as memorable!
Rolly Hay hay (Google Reviewer)
Gallipoli tour. The guide was awesome. Everything went like clockwork.. My complaint is that you expect 4 people to cramp together on the back seat of the van for 4 hours. That is poverty travel. Not really acceptable for the price paid. So uncomfortable. If was to do this trip again I'd just rent a car. Although the guide was amazing, but that's 3 hours of the trip.
Jane Elson (Google Reviewer)
We booked the Land of Northern Lights and the actual trip was a wonderful experience we had a great guide and driver. The problem we had was with On the Go Tours. We accept meals are not included but did expect meals to be available. When in Hella the hotel restaurant was closed and there bistro was full, but we were told we could eat at about 7.45pm - when we asked again at 8pm we were told it would be another 15 - 30 mins. There is a street van, pizza and burger bar but all close at 8pm so we could not grab anything there - we had a Northern Lights presentation at 8.30pm so no chance of us getting meal at the only other restaurant. The next day our lunch stop was unable to provide lunch just coffee & cake! I have raised this with On the GO Tours and the bottom line is they do not include meals!!!!
brandy hoffman (Google Reviewer)
I had used them once before and loved them. I decided to try them again for a Baltic tour not knowing that they put me on another Tour group- Baltic vision. Loved that tour but was not impressed they marked up the cost for me over 100%. I understand taking some for yourself because of paperwork, but over double the cost everyone else paid on the tour. Just double check before you book with them that you're not over paying.
Giovanni Guidi (Google Reviewer)
I booked three tours with this agency. While the first two experiences were very nice, with well-thought-out itineraries and knowledgeable guides, the third tour was an absolute nightmare for us. Due to the unavailability of an hotel from the trip notes, the agency opted to replace it with another they claimed was "similar." To our dismay, this alternative was nothing short of a decrepit, filthy establishment that threatened to ruin our entire safari experience in South Africa. But the fiasco didn't end there. This so-called hotel began proposing and organizing activities starkly different from what we were promised in the trip notes, together with an awful services of their guides and vehicles. And when this disaster struck and we desperately needed their support? The agency ghosted us. It took them an entire day to respond, and when they did, they simply shrugged off our concerns, asserting it was too late to fix anything, even though three nights of our trip were still ahead. The level of unprofessionalism was staggering. Forced to salvage our experience, we took matters into our own hands, leaving that awful place to book another hotel and activities for the remainder of our trip—all at my own expense. Based on my experience, I suggest travelers to think twice before considering this agency. Seek out reputable companies known for their commitment to customer service and integrity.
Dates & Availability
Saturday - Sunday
Jan 06, 2024 - Jan 21, 2024
Instant Booking Available
Saturday - Sunday
Feb 17, 2024 - Mar 03, 2024
Instant Booking Available
Saturday - Sunday
Mar 16, 2024 - Mar 31, 2024
Instant Booking Available
Saturday - Sunday
Apr 06, 2024 - Apr 21, 2024
Instant Booking Available
Saturday - Sunday
Aug 03, 2024 - Aug 18, 2024
Instant Booking Available
Saturday - Sunday
Oct 05, 2024 - Oct 20, 2024
Instant Booking Available
Saturday - Sunday
Nov 30, 2024 - Dec 15, 2024
Book with Confidence
Low Deposit

On The Go Tours requires a minimum deposit of 30% or the full booking value, whichever is less, with the final balance not due until 60 days before departure.
Why book with tourhub?
Safe & Secure
Your money is protected in an external trust until you travel.
---
100% Guaranteed Refunds if your trip is cancelled.
---
The safest way to make overseas, multi-currency payments.
Guaranteed Best Value
Industry leading discounts, we won't be beaten on price.
---
No cancellation or amendment fees from tourhub.
(Operator terms may apply)
Expert Knowledge
Reliable & unbiased advice from travel experts.
---
Direct contact with the tour operator via our messaging service.
---
Inspiration & advice from a community of 6000+ real travellers, influencers & content creators.
Trusted Service
Official partners & licensed agents of 1000+ tour operators worldwide.
---
Don't just take our word for it...
"Tourhub: Friendliness, Professionalism & Integrity I would happily give tourhub a 6* review if I could..."
Similar Tours
Travel Guru Features
Our Reviews