Saigon and the Mekong - 4 days
4 Days Starting in Ho Chi Minh City and ending in Final day in Ho Chi Minh City
Visiting:
Ho Chi Minh City
,
Mekong River Delta
Tour operator:
Physical rating:
Low
Special diets catered:
Vegetarians
Trip Styles:
Activities:
From:
$535
$510 (USD)
tourhub discount: $25
Tour Overview
PRIVATE TOUR: Discover the best of Ho Chi Minh City, aka Saigon, from its historic landmarks to its bustling markets with a day spent cruising on the palm-fringed waterways of the Mekong Delta, visiting local cottage industries and soaking up the verdant scenery.
Highlights
Saigon - Now known as Ho Chi Minh City and a thriving metropolis in south Vietnam

Ben Thanh Market - The city's largest shopping destination and perfect for souvenirs

Reunification Palace - Important landmark that witnessed the end of the Vietnam War

Mekong Delta - Cruising the waterways on row boats and visiting cottage industries
Itinerary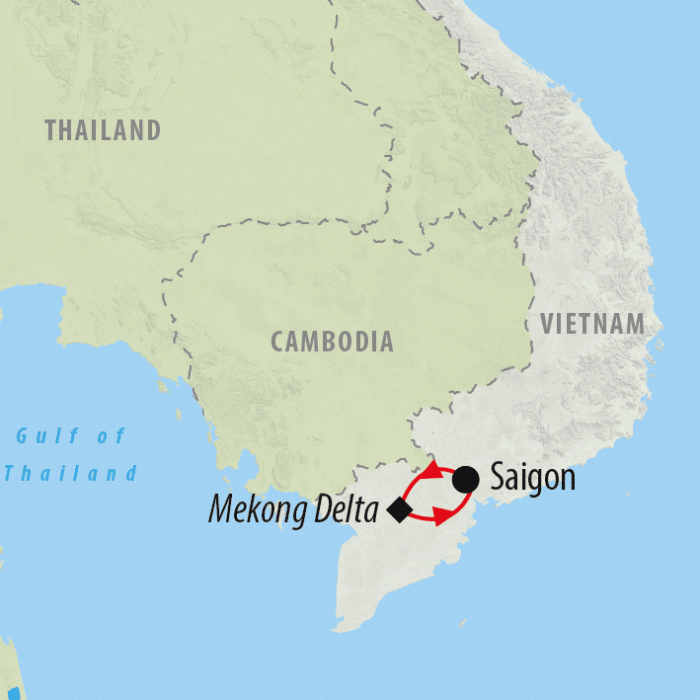 Expand All

Day 1 :

Ho Chi Minh City
Location:
Ho Chi Minh City
Meals Included:
No Meals
Welcome to Vietnam and the start of your mini adventure. Ho Chi Minh City, or Saigon as it's still commonly known, is the original 'Pearl of the Orient' is a bustling metropolis with bundles of history seen in the fascinating museums and the patchwork of buildings that line the streets.
On your arrival at Ho Chi Minh City's international airport you will be met by our local representative and transferred to your hotel for check in (available from 2pm onwards) with the remainder of the day free.


Day 2 :

Ho Chi Minh City tour
Location:
Ho Chi Minh City
Meals Included:
Breakfast
With the services of a knowledgeable English-speaking local guide, spend the day touring Ho Chi Minh City's most famous attractions, kicking off with the Reunification Palace, the home and workplace of the President of South Vietnam during the Vietnam War and now a museum and venue for official receptions. You can visit the War Room from where the South Vietnamese forces were controlled, and most poignantly, the room where the North Vietnamese army took official control in 1975. Nearby stands the 19th century Notre Dame Cathedral, a major centre of Catholicism in modern Vietnam and one of the city's major landmarks. Next to the cathedral stands the Saigon Central Post Office, a classic French colonial structure with huge ceilings that still functions as a post office today.
Finally head to Ben Thanh Market, packed to the rafters with everything from fruits to nuts, tourist kitsch to true bargains - it's the perfect place to pick up souvenirs for friends and family back home. In the evening take a walking tour of the city's popular Pho Tay ("Streets of Foreigners") area where you can sample the unique flavors of south Vietnamese gastronomy including Hu Tieu - pork noodle soup, and Banh Xeo - savory fried pancakes. End the day with a cold beverage watching the world go by from one of the many streetside cafes and bars.

Day 3 :

The Mekong Delta
Location:
Mekong River Delta
Meals Included:
Breakfast, Lunch
This morning travel to the Mekong Delta for a day exploring the many waterways and local cottage industries. Travel by road to Ben Tre where you'll embark on a river boat trip making a stop at a brickwork factory to see how bricks are traditionally made from molded clay. Next visit a coconut processing workshop located along the canal and a family workshop run by women making sleep mats. There'll be the chance to enjoy fruit and tea, and chat with the locals.

Leaving the canals behind take a motor cart (xe lôi) ride on shady roads, passing by rice fields and vegetable plains where farmers tend their crops. Enjoy a home-cooked lunch with a local family in Ben Tre before returning to the waters in a row boat leisurely cruising along palm-fringed creeks. Later return to the pier where a car will be waiting to return you back to Ho Chi Minh City.

Day 4 :

Final day in Ho Chi Minh City
Location:
Ho Chi Minh City
Meals Included:
Breakfast
Today marks the end of touring arrangements and you are free to make your own way to the airport for your onward departure flight.
What's Included
Accommodation

Superior

Breakfast daily and 1 lunch

3 nights 4 star hotel (3 and 5 star hotel options available - please enquire)

Guided sightseeing on days 2 and 3 conducted by a local English speaking specialist guide

Airport arrival transfer on day 1

Entrance fees to all included sites

All relevant transfers and transportation in private air-conditioned vehicles
What's Not Included
International flights and visa

Tipping - An entirely personal gesture

Departure airport transfer
Check out our Q&As
Are the local guides on the tour English speaking?
What is the standard of the hotels on this tour?
Are airport transfers included in this tour?
Airport arrival transfer on day 1
What Ethical Travel credentials does the tour company have?
Ensuring our footprint is light and that the benefits of travelling reach the local communities you visit is paramount to us. We're proud to say that when travelling with us, the large majority of your holiday funds remain within the countries you visit, supporting local economies at a grass roots level.
How long has the tour company been trading?
What policies are in place for Covid-19?

Please contact us for latest COVID-19 policies

Who will be my travelling companions on the tour?

With English-speaking tours, it's not a huge surprise that most on our travellers are from English-speaking countries or have English as their second language. Our group tours cater for everyone from 18 years old to 70+

Will the accommodation included meet local health and safety regulations?
Dates & Availability
Instant Booking Available
Instant Booking Available
Instant Booking Available
Instant Booking Available
Instant Booking Available
Instant Booking Available
Instant Booking Available
Instant Booking Available
Instant Booking Available
Instant Booking Available
Instant Booking Available
Instant Booking Available
Instant Booking Available
Instant Booking Available
Instant Booking Available
Instant Booking Available
Instant Booking Available
Instant Booking Available
Instant Booking Available
Instant Booking Available
Instant Booking Available
Instant Booking Available
Instant Booking Available
Instant Booking Available
Instant Booking Available
Instant Booking Available
Instant Booking Available
Instant Booking Available
Instant Booking Available
Instant Booking Available
Instant Booking Available
Instant Booking Available
Instant Booking Available
Instant Booking Available
Instant Booking Available
Instant Booking Available
Instant Booking Available
Instant Booking Available
Instant Booking Available
Instant Booking Available
Instant Booking Available
Instant Booking Available
Instant Booking Available
Instant Booking Available
Instant Booking Available
Instant Booking Available
Instant Booking Available
Instant Booking Available
Instant Booking Available
Instant Booking Available
Instant Booking Available
Instant Booking Available
Instant Booking Available
Instant Booking Available
Instant Booking Available
Instant Booking Available
Instant Booking Available
Instant Booking Available
Instant Booking Available
Instant Booking Available
Instant Booking Available
Instant Booking Available
Instant Booking Available
Instant Booking Available
Instant Booking Available
Instant Booking Available
Instant Booking Available
Instant Booking Available
Instant Booking Available
Instant Booking Available
Instant Booking Available
Instant Booking Available
Instant Booking Available
Instant Booking Available
Instant Booking Available
Instant Booking Available
Instant Booking Available
Instant Booking Available
Instant Booking Available
Instant Booking Available
Instant Booking Available
Instant Booking Available
Instant Booking Available
Instant Booking Available
Instant Booking Available
Instant Booking Available
Instant Booking Available
Instant Booking Available
Instant Booking Available
Instant Booking Available
Instant Booking Available
Instant Booking Available
Instant Booking Available
Instant Booking Available
Instant Booking Available
Instant Booking Available
Instant Booking Available
Instant Booking Available
Instant Booking Available
Instant Booking Available
Instant Booking Available
Instant Booking Available
Instant Booking Available
Instant Booking Available
Instant Booking Available
Instant Booking Available
Instant Booking Available
Instant Booking Available
Instant Booking Available
Instant Booking Available
Instant Booking Available
Instant Booking Available
Instant Booking Available
Instant Booking Available
Instant Booking Available
Instant Booking Available
Instant Booking Available
Instant Booking Available
Instant Booking Available
Instant Booking Available
Instant Booking Available
Instant Booking Available
Instant Booking Available
Instant Booking Available
Instant Booking Available
Instant Booking Available
Instant Booking Available
Instant Booking Available
Instant Booking Available
Instant Booking Available
Instant Booking Available
Instant Booking Available
Instant Booking Available
Instant Booking Available
Instant Booking Available
Instant Booking Available
Instant Booking Available
Instant Booking Available
Instant Booking Available
Instant Booking Available
Instant Booking Available
Instant Booking Available
Instant Booking Available
Instant Booking Available
Instant Booking Available
Instant Booking Available
Instant Booking Available
Instant Booking Available
Instant Booking Available
Instant Booking Available
Instant Booking Available
Instant Booking Available
Instant Booking Available
Instant Booking Available
Instant Booking Available
Instant Booking Available
Instant Booking Available
Instant Booking Available
Instant Booking Available
Instant Booking Available
Instant Booking Available
Instant Booking Available
Instant Booking Available
Instant Booking Available
Instant Booking Available
Instant Booking Available
Instant Booking Available
Instant Booking Available
Instant Booking Available
Instant Booking Available
Instant Booking Available
Instant Booking Available
Instant Booking Available
Instant Booking Available
Instant Booking Available
Instant Booking Available
Instant Booking Available
Instant Booking Available
Instant Booking Available
Instant Booking Available
Instant Booking Available
Instant Booking Available
Instant Booking Available
Instant Booking Available
Instant Booking Available
Instant Booking Available
Instant Booking Available
Instant Booking Available
Instant Booking Available
Instant Booking Available
Instant Booking Available
Instant Booking Available
Instant Booking Available
Instant Booking Available
Instant Booking Available
Instant Booking Available
Instant Booking Available
Instant Booking Available
Instant Booking Available
Instant Booking Available
Instant Booking Available
Instant Booking Available
Instant Booking Available
Instant Booking Available
Instant Booking Available
Instant Booking Available
Instant Booking Available
Instant Booking Available
Instant Booking Available
Instant Booking Available
Instant Booking Available
Instant Booking Available
Instant Booking Available
Instant Booking Available
Instant Booking Available
Instant Booking Available
Instant Booking Available
Instant Booking Available
Instant Booking Available
Instant Booking Available