South Iceland Summer Explorer - 6 days
6 Days Starting and ending in Reykjavik
Visiting:
Reykjavík
,
Heimaey
,
Seljalandsfoss
,
Landmannalaugar
Tour operator:
Physical rating:
Low
Trip Styles:
Activities:
From:
$2375
$2262 (USD)
tourhub discount: $113
Tour Overview
See southern Iceland at its scenic best with this six-day summer tour. Explore the charming capital of Reykjavik and head out to sea on a whale-watching cruise. Enjoy a therapeutic dip in the brand new Sky Lagoon, explore the island of Heimaey on the Westman archipelago, and admire the plunging waterfalls of Seljalandsfoss and Skogafoss. Watch the world-famous lava show at Vik, sample local beer at a microbrewery, and hike amongst the colourful rhyolite mountains of Landmannalaugar.
Highlights
Reykjavik - See the sights of Iceland's capital on a city tour and enjoy a dip in the brand new Sky Lagoon, set to rival the famous Blue Lagoon

Faxafloi Bay - Enjoy a 3-hour whale-watching cruise off the coast of Iceland; look out for blue whales, orca, dolphins, humpback whales and more

The Westman Islands - Explore the island of Heimaey, which was hit by a devastating volcanic eruption in 1973

Seljalandsfoss - Walk behind the tumbling waterfall and visit nearby Skogafoss, which plunges for more than 60 metres

Vik - Attend the famous lava show to see molten lava flowing in a recreation of one of nature's most powerful forces

Solheimajokull glacier - Marvel at this giant sheet of ice and opt to take a hike out onto the glacier itself

Landmannalaugar - Hike amongst the colourful rhyolite mountains and take a relaxing dip in a natural geothermal stream

Olvisholt - Try some local Icelandic beers and learn all about the brewing process in Iceland
Show all
Itinerary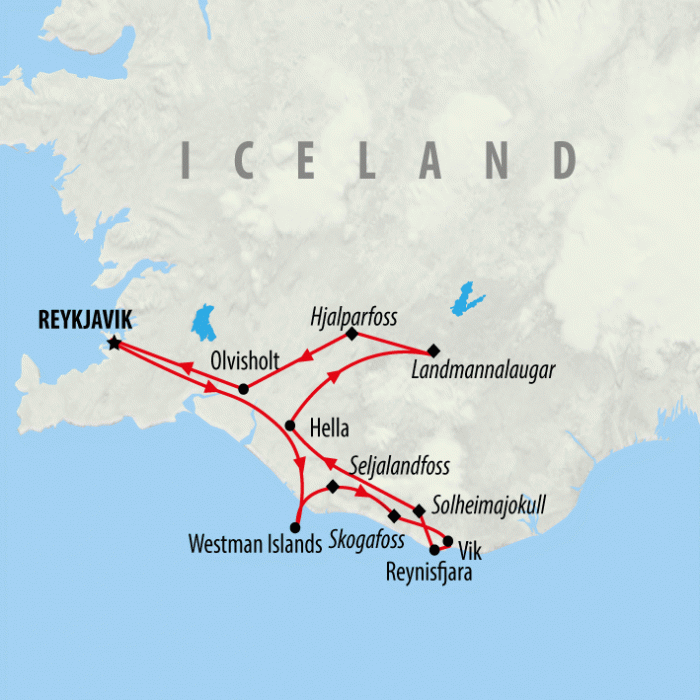 Expand All

Day 1 :

Reykjavik
Location:
Reykjavík
Meals Included:
No Meals
Welcome to Iceland! Board the Flybus Shuttle and transfer from Keflavik Airport to your hotel in Reykjavik. The rest of the day is free to head out and explore Iceland's charming capital.

Day 2 :

Reykjavik
Location:
Reykjavík
Meals Included:
Breakfast
This morning we embark on a city tour of Reykjavik. Take in sights including the famous Hallgrimskirkja church, National Museum, City Hall, and Houses of Parliament.
Later, we enjoy a 3-hour whale-watching cruise. All manner of species come to the food-rich waters of Iceland to feed in summer, and you may be able to spot dolphins, humpback whales, blue whales, orca, and more during the cruise. We then visit the Whales of Iceland exhibition, home to many life-sized whale models and a virtual reality experience.
Then we enjoy a visit to the Sky Lagoon, Iceland's latest attraction, set to rival the famous Blue Lagoon. The Sky Lagoon is man-made, but filled with Iceland's natural geothermal water and looks out over the harbour of Reykjavik. Relax in the warm waters and perhaps enjoy a glass of champagne as you let the lagoon rejuvenate you.

Day 3 :

The Westman Islands
Location:
Heimaey
Meals Included:
Breakfast
Reykjavik - The Westman Islands - Hella. Leaving Reykjavik, we travel to the coast and board a ferry to Heimaey, the only inhabited island in the Westman archipelago. In 1973, half of the island's settlements were destroyed by a volcanic eruption, triggering a huge evacuation effort. Residents managed to save the harbour from destruction by pouring cold seawater on the lava to direct it away from this important infrastructure. We'll take a bus and walking tour of the island, including a visit to the "Pompeii of the North", a volcanic excavation project. We'll also have the chance to walk up the volcano crater.
As well as the 4,500 residents who still live on Heimaey, approximately 8 million puffins make the island their summer home, and you'll be able to see these beautiful birds by the hundred. Many other migratory species also visit the Westman Islands in summer to feed and breed, so who knows which species you may spot!
You'll have plenty of time to explore Heimaey town and its surrounding areas independently before we return to the mainland and head to our overnight accommodation in Hella.

Day 4 :

Seljalandsfoss
Location:
Seljalandsfoss
Meals Included:
Breakfast
Today we experience the true forces of nature which make Iceland so special. Firstly, we'll see the plunging Seljalandsfoss waterfall, and take a walk behind the cascade. We also take in Skogafoss waterfall, which tumbles 62 metres.
We visit the Skogar Folk Museum to admire the traditional turf houses, before stopping at the Myrdalsjokull glacier. We also pass the Eyjafjallajokull volcano, which wreaked havoc on European air travel when it erupted in 2010.
In the village of Vik we attend the famous lava show. We see lava flowing along the ice, and feel the immense heat radiating from it. We then travel to the black lava beach of Reynisfjara. Our walk along the beach will allow us to spot yet more of Iceland's birdlife, as well as impressive rock formations and basalt columns.
The last stop of today is the Solheimajokull glacier. Marvel at this sheet of ice and join an optional hike on the glacier. We return to Hella for the night.

Day 5 :

Landmannalaugar
Location:
Landmannalaugar
Meals Included:
Breakfast, Lunch
Hella - Landmannalaugar - Reykjavik. Leaving our hotel in Hella, we transfer to a highland vehicle and drive along the unpaved road to Landmannalaugar. These incredible mountains were formed by rhyolite lava, which is of a different sort to many volcanic formations. The effect is a series of "rainbow" mountains, with lots of interspersing colours, including reds, yellows, and browns. Sizzling sulfur springs are still visible and steamy vapour rises from the land. We'll enjoy a picnic lunch in the area and there is free time to explore and take a dip in a natural geothermal stream.
We'll stop to see the beautiful Hjalparfoss waterfall before arriving at the Olvisholt microbrewery. Here you'll learn about the brewing process in Iceland and, most importantly, sample a selection of proper Icelandic beer. We then return to Reykjavik where the evening is at leisure.

Day 6 :

Reykjavik
Location:
Reykjavík
Meals Included:
Breakfast
Our tour comes to an end today. Enjoy breakfast in the hotel before an included Flybus Shuttle transfer to Keflavik Airport for your onward flight.
What's Included
Accommodation

3-star hotels

5 breakfasts & 1 lunch

5 nights 3-star hotels

Keflavik Airport arrival and departure transfer (FlyBus shuttle)

Escorted by an English-speaking guide/driver-guide

Transportation in heated coaches, with free Wi-Fi & return transport in a highland vehicle to Landmannalaugar

Return ferry trip to the Westman Islands

Entrance to the Eldheimar exhibition in Heimaey

Guided whale-watching cruise from Reykjavik

Entrance to the Whales of Iceland exhibition

Entrance to the Sky Lagoon including towel rental
What's Not Included
International flights

Visas

Tips for your guide - this is an entirely personal gesture
Check out our Q&As
What is the maximum group size?
What is the standard of the hotels on this tour?
Are airport transfers included in this tour?
Keflavik Airport arrival and departure transfer (FlyBus shuttle)
Are the local guides on the tour English speaking?
What Ethical Travel credentials does the tour company have?
Ensuring our footprint is light and that the benefits of travelling reach the local communities you visit is paramount to us. We're proud to say that when travelling with us, the large majority of your holiday funds remain within the countries you visit, supporting local economies at a grass roots level.
How long has the tour company been trading?

What policies are in place for Covid-19?

Please contact us for latest COVID-19 policies

Who will be my travelling companions on the tour?

With English-speaking tours, it's not a huge surprise that most on our travellers are from English-speaking countries or have English as their second language. Our group tours cater for everyone from 18 years old to 70+

Will the accommodation included meet local health and safety regulations?
Dates & Availability
Instant Booking Available
Instant Booking Available
Instant Booking Available
Instant Booking Available
Instant Booking Available
Instant Booking Available
Book with Confidence
Free Date Changes

On The Go Tours allows you to make 1 free date changes, as long as the change is made at least 60 days before the start of the tour.

Transfer as credit to Future Tours

On The Go Tours allows you to transfer existing payments to a future tour to avoid cancellation fees if you can't travel and inform on the go tours, 60 days before departure.

Low Deposit

On The Go Tours requires a minimum deposit of 20% or the full booking value, whichever is less, with the final balance not due until 60 days before departure.

Cancellation Policy

We don't charge a cancellation fee, here is a summary of on the go tours charges.

Up to 60 days before tour starts: 100% of deposit.

At 59 days before tour starts: 50% of booking price.

At 30 days before tour starts: 100% of booking price.

SAFE TOURING

Health and safety protocols have been reviewed in all destinations, and increased hygiene policies are being implemented locally in accordance with new national regulations and recommendations from the World Travel & Tourism Council's (WTTC) Safe Travel Protocols for tour operators.

COVID-19 Vaccination requirements:
To travel with On The Go Tours all travellers over the age of 18 must provide proof of COVID-19 vaccination, unless travelling to the following destinations: Croatia, Estonia, Finland, Greece, Greenland, Iceland, Lithuania, Norway, Poland and Turkey. We recognise any vaccine that has been authorised for use?in the country where the vaccine was administered.?This includes vaccines such as AstraZeneca, Pfizer-BioNtech, Sinopharm, Sinovac, Sputnik, Johnson & Johnson, Moderna, and?Covaxin.

In all cases, you?must be fully inoculated. This means you must receive the full dosage of the COVID-19 vaccine and allow a minimum of 14 days before travelling in order for immunity to take effect. ?Each COVID-19 vaccine has different dosages and time frames for inoculation, so please check the related medical advice associated with your vaccine. We will not accept?travellers?on trips?who have received only a partial dose (for example, one part of a two-dose vaccination) of?a?vaccine.

Children?under 18 years of age are not currently required to provide any COVID-related documentation to travel with On The Go Tours.

If you are unwilling or unable to be vaccinated for medical reasons, you may apply for an exemption. Exemptions will be assessed on an individual basis. To apply, you must provide supporting documentation from a medical professional. In addition, those who qualify for a medical exemption are still required to produce proof of a negative test in the form of written documentation (in English) conducted no more than 72 hours before day 1 of their trip, the details of which need to be emailed to info@onthegotours.com prior to the commencement of your trip.

Traveller health information will be kept securely and only retained in compliance with the retention schedules of privacy laws and regulations. Proof of COVID-19 immunisation must be provided to us no less than 4 weeks prior to travel. We accept COVID-19 digital certificates, vaccination record cards, or COVID passes. Alternatively, vaccination history can be uploaded by travellers directly via our traveller login. The information you will need to upload includes: Administering national authority or government, document No, name of Vaccine, date/s of vaccination.

Failure to provide proof of vaccination 4 weeks prior to travel could result in the cancellation of your booking with no recourse for refund or compensation. The pertinent documentation may also be checked at the welcome meeting on Day 1 of the Tour, and at various intervals during your stay. Our highest priority is the health and safety of our travellers, leaders, crew, suppliers, and local communities. We have a duty of care to ensure our travellers safety. By making the decision that travellers with an elevated risk of serious disease from COVID-19 must be fully vaccinated prior to travel with us, we are reducing the risk of harm to those travellers. In addition, as an ethical tour operator, we have a responsibility to ensure that we are not adding additional and avoidable strain to any country's healthcare system.
South Iceland Summer Explorer - 6 days
6 Days Starting and ending in Reykjavik
Visiting:
Reykjavík
,
Heimaey
,
Seljalandsfoss
,
Landmannalaugar
Tour operator:
Physical rating:
Low
Trip Styles:
Activities:
From:
$2375
$2262 (USD)
tourhub discount: $113
Why book with tourhub?
Safe & Secure
Your money is protected in an external trust until you travel.
---
100% Guaranteed Refunds if your trip is cancelled.
---
The safest way to make overseas, multi-currency payments.
Guaranteed Best Value
Industry leading discounts, we won't be beaten on price.
---
No cancellation or amendment fees from tourhub.
(Operator terms may apply)
Expert Knowledge
Reliable & unbiased advice from travel experts.
---
Direct contact with the tour operator via our messaging service.
---
Inspiration & advice from a community of 6000+ real travellers, influencers & content creators.
Trusted Service
Official partners & licensed agents of 1000+ tour operators worldwide.
---
Don't just take our word for it...
"Tourhub: Friendliness, Professionalism & Integrity I would happily give tourhub a 6* review if I could..."