Avignon & the Flavour of Provence
Start: St Pancras International Finish: St Pancras International
Visiting: France
---
---
Tour Operator: Rail Discoveries
---
Tour Overview
Discover Provence through its pretty hilltop towns. Savour Les Halles' gastronomic charms, marvel at Arles and take in the beauty of the Camargue.
Highlights
Explore Provence, including the villages of L'Isle-sur-la-Sorgue, Gordes and Roussillon
Visit to Arles
See the Pont du Gard
Free time in Avignon
Excursion to the Camargue
Tour of Les Halles Food Market with a local guide
Places You'll See
Countries:
Itinerary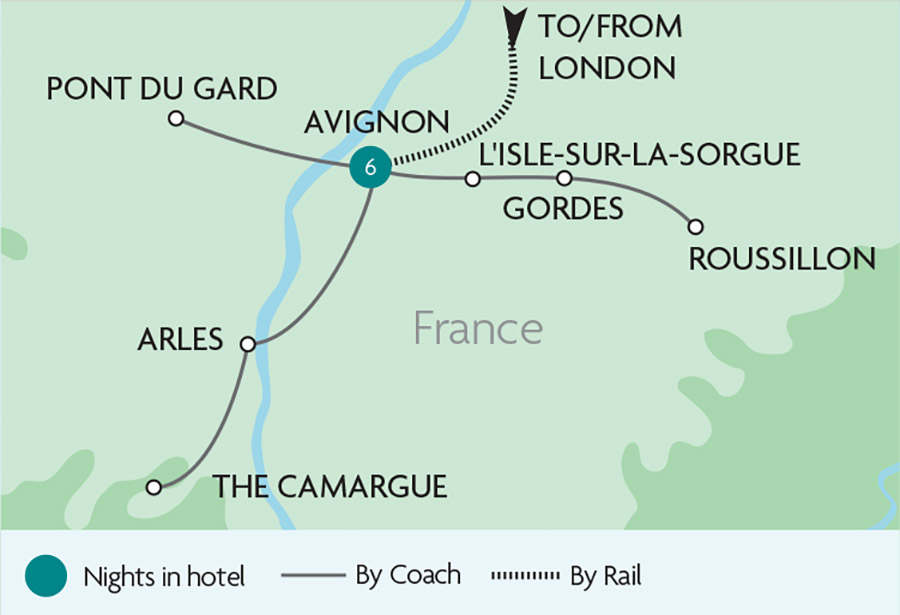 Day 1 - London to Avignon
Depart London St Pancras early this morning, after meeting your group at our Departure Office. Take the direct Eurostar service to Avignon, then transfer to your hotel.
Day 2 - Les Halles Food Market
Today begins with a guided tour of Avignon, and includes visits to its most famous attractions. Afterwards, you enjoy some local culinary specialties in 2 renowned establishments, as well as a tour of Avignon's Les Halles Food Market, which impressively features over 40 different stands of seasonal produce.
Day 3 - The Camargue and Arles
Set out on a full-day excursion by coach to 2 of Provence's picturesque towns. Begin in the Camargue, 140,000 hectares of natural wetlands that play host to some unexpected wildlife, including white horses and flamingos. This is a paradise for nature lovers as the region is also home to some unusual paddy fields which produce red rice - a fascinating sight.
Continue to Arles, a centre of Provençal tradition and culture. With a long history dating back to Celtic times, over the years Arles has been left with a rich variety of architecture, which you can explore during your visit. Take in the stunning Roman amphitheatre and enjoy the myriad of Romanesque architecture and sun-baked houses. Arles was the inspiration for some of Van Gogh's art and its heritage harks back to the glory days of Julius Caesar. Once a major Roman port, the town rose to prominence after Caesar plundered Marseille for backing his political opponent, and evidence of that prosperity is preserved wonderfully for all to see.
Day 4 - Pont du Gard
Travel by coach to the remarkable Pont du Gard, built in about 50AD, using solid blocks hewn from the nearby rock - with no mortar to hold them together.
One of France's most recognisable landmarks, this impressive structure stands 161 feet above the Gardon River, and spans 902 feet across it. Originally the mighty aqueduct was part of a 30-mile waterway, used to transport 4.4 million gallons of water from the River Eure to Nîmes every day. The mineral deposits on the aqueduct indicate that it was still being used in the 9th century, long after the fall of the Roman Empire.
In the Middle Ages the structure survived in its secondary function as a toll bridge. Despite of all the interventions of time, the Pont du Gard has remained in such good condition that, as late as the 19th century, it was even proposed that the aqueduct could again be part of an active water network. The bridge even survived severe flooding in 2002 and suffered no damage. This miracle of Roman architecture is a UNESCO World Heritage site which now attracts thousands of visitors every year.

Day 5 :

Days 5-6 - Exploring Provence
Embark on a discovery of the villages of Provence and the Luberon Valley today, a picturesque region, known for its olive groves, vineyards, and fascinating hilltop villages. Driving through the idyllic countryside, arrive in L'Isle-sur-la-Sorgue, also known as the 'Venice of Provence' for the canals which criss cross the town. Relax in one of the delightful waterside cafés and see the attractive waterwheels located throughout the town, all of which are in good working order.
After your explorations, continue to Gordes, a beautiful old village built on and around an outcrop of rocky cliffs. The buildings are packed tightly together, including the 12th-century castle, with narrow alleyways and stone staircases acting as the village streets. The views of the surrounding fields and forests are spectacular from any vantage point in Gordes, which is listed as one of 'Les Plus Beaux Villages de France' - 'the Most Beautiful Villages in France'. Another village in that prestigious list is Roussillon, located only a short distance away. Set on the ridge of a steep red cliff, it is surrounded by a pine forest, its superb setting outdone only by the beauty of the village itself. The small centre is filled with colourful old buildings and a spiralling network of medieval streets.
On Day 6, enjoy time at leisure to explore. Avignon is well known for its famous broken bridge, Pont St Bénezet. All but 4 of its arches were washed away in a devastating flood in 1668, while those that survived have become an iconic symbol of the city, even featuring in the famous children's song. Avignon is also home to the Palais des Papes - Palace of the Popes - which was the seat of the Papacy for 6 successive Popes during the 14th century after Pope Clement V escaped the violent chaos and corruption of Rome. These landmarks now form the heart of a UNESCO World Heritage site - one that is surrounded by broad space tree-lined avenues as well as an intriguing network of alleyways, each connected to open squares and pretty churches.
Day 7 - Return to London
After a morning at leisure, transfer to the station for the direct Eurostar service back to London.

Day 7 :

Please note
Please note that while every departure of this tour features the same excursions, they may not necessarily be in the order listed above.
What's Included
The services of a professional UK Tour Manager from start to finish
Your Peace of Mind Options
Low Deposit

Rail Discoveries requires a deposit of 20% to secure a place on this tour, and the final balance is not due till 60 days before departure..

Secure payments

All payments to TourHub are deposited into an externally regulated Trust account.
---