Best of South Korea Tours
15 Days
Tour operator:
Tour operated in:
English
Trip Styles:
From:
$6324
$6118 (USD) BLACK FRIDAY SALE @ Tourhub: $206
Tour Overview
Embark on an adventure of a lifetime through South Korea, where history, culture, nature, and cuisine intertwine in a captivating journey. Our meticulously crafted 15-day tour promises an unforgettable experience that will leave an indelible mark on your soul. A seasoned guide will accompany you, sharing captivating insights and stories at every step.
From the electric energy of Seoul to the awe-inspiring beauty of Jeju Island, you'll uncover the very essence of South Korea. Traverse UNESCO World Heritage Sites, wander through enchanting parks and gardens, savor the tantalizing flavors of local cuisine, and delve deep into the captivating history and culture of this remarkable land.
Unveil hidden gems and iconic landmarks alike as you join a select group of fellow adventurers. Led by expert guides, this small-group tour ensures an intimate and immersive exploration of one of the world's most enthralling countries. Embrace this extraordinary opportunity to unlock the secrets of South Korea, a truly mesmerizing destination.
Highlights
Visit Seoul, the vibrant and dynamic capital city of South Korea, and explore its historic palaces, bustling markets, and vibrant neighborhoods.

Discover the natural wonders of Jeju Island, from the majestic Sungsan Sunrise Peak to the breathtaking Jeongbang Waterfall

Learn about the rich history and culture of South Korea as you visit UNESCO World Heritage Sites, such as the Bulguksa Temple, Seokguram Grotto, and Hwaseong Fortress

Explore the stunning mountain landscapes of Mt. Seorak National Park and take in the panoramic views from the Gwongeumseong Fortress.

Indulge in delicious local cuisine, including Jeju black pork, fresh seafood, and traditional Korean dishes.

Immerse yourself in the traditional art of tea-making at the O Sulloc Tea Museum

Relax on the beautiful beaches of Busan and Jeju Island, and take in the stunning views of the sea

Experience the unique and fascinating culture of South Korea, from the traditional hanok villages to the modern art and fashion scenes in Seou
Itinerary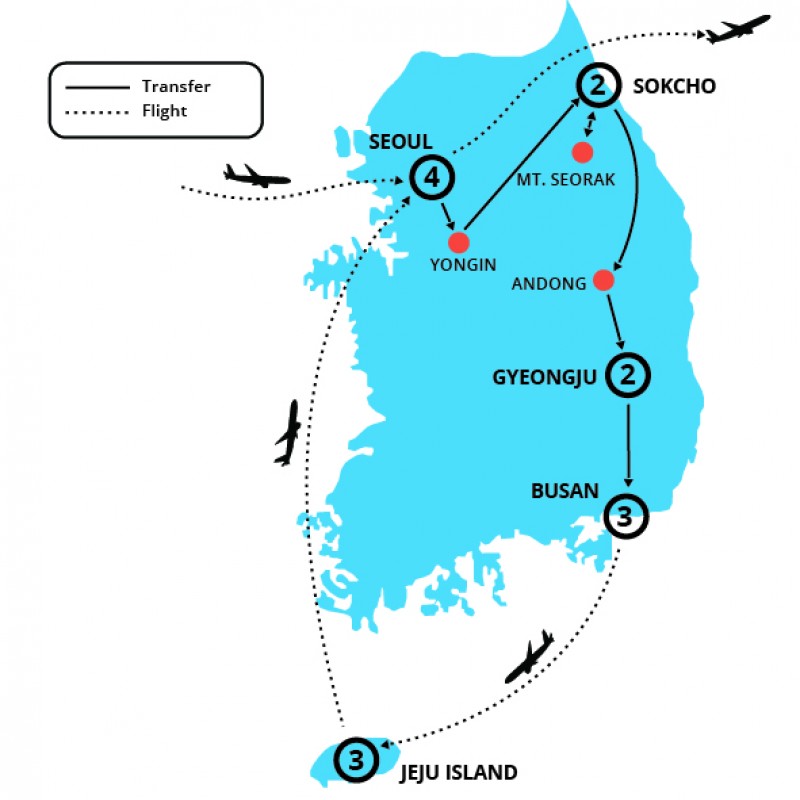 Expand All
Day 1 :

Seoul Arrival (D)
Welcome to Seoul, South Korea! As you land at the airport, your tour guide eagerly awaits to extend a warm greeting and swiftly transport you to your hotel in Seoul. Note: Hotel check-in is available after 2:00 pm. Later in the evening, an exciting gathering awaits as you meet up with your fellow travelers for a delightful Welcome Dinner at a local restaurant. Prepare your taste buds to savor the exquisite flavors of Korean cuisine while forging connections with your newfound companions. During this gathering, your guide will provide an orientation about the country and conduct a tour briefing for this unforgettable trip. Overnight in Seoul
Day 2 :

Seoul -Dmz - Seoul (B,L)
Venture into the heart of the DMZ, where the echoes of history and the yearning for unity reverberate. Today, we will embark on an immersive journey through time and conflict. Delve into the hallowed grounds of Imjingak Park, feel the weight of the past as we traverse the Freedom Bridge, retracing the steps of those who sought solace and freedom. Witness the audacious 3rd Infiltration Tunnel, a chilling testament to a divided land. Immerse in the DMZ Theater and Exhibition Hall, where tales of valor and strife paint an indelible portrait. From the Dora Observatory, glimpse the enigmatic North Korea, a realm shrouded in enigma and potential. Then, at Dorasan Station, bask in the symbolism of hope, the last frontier before unity. Return to Seoul, where the Yongsan War Memorial Museum awaits, a sanctuary honoring the heroes who etched their valor into the annals of time.Overnight in Seoul
Day 3 :

Seoul City Tour (B,L)
Embark on an extraordinary journey through time as we explore in the historic tapestry of Seoul's iconic landmarks. Step into a realm of splendor at the majestic Gyeongbokgung Palace, where resplendent architecture whispers tales of a regal past. Witness the mesmerizing Changing of the Guard Ceremony, a symphony of colors and melodies that reverberate through centuries. Pass through the magnificent Gwanghwamun Gate, a gateway to Seoul's heritage and a testament to its unwavering spirit. Then explore the enchanting Insadong Street, a haven of artistic treasures and cultural delights. Traverse the bustling Gwangjang Market, a sensory feast of flavors and traditions. Seek solace at the sacred Jogyesa Temple, where tranquility and enlightenment converge.Finally, we will wander the timeless alleys of Bukchon Hanok Village, where whispers of ancient wisdom grace every corner. Overnight in Seoul
Day 4 :

Seoul - Yongin - Sokcho (B,L)
Embark on a captivating journey beyond Seoul. We will travel to Yongin to discover the Korea Folk Village and immerse in the vibrant traditions of Korea. Then, Suwon awaits with the magnificent Hwaseong Fortress, an architectural marvel. Marvel at the breathtaking views. Continue to Sokcho, a coastal haven. Explore the serene Naksansa Temple, nestled amidst mountains overlooking the sea. Afterwards, indulge in Sokcho's charms during your free time, whether it's the bustling markets, succulent seafood, or the soothing beach. Overnight in Sokcho
Day 5 :

Mt. Seorak & Sokcho (B,L)
Embrace the allure of Korea's natural wonders in Sokcho. Our journey begins with a cable car ascent to Mt. Seorak's summit, where panoramic vistas reveal nature's majestic artistry. Explore the ancient Gwongeumseong Fortress,  tracing its origins back to the 6th century, and its historic ruins resonating with tales of valor. Seek tranquility at Shinheungsa Temple, a testament to the enduring legacy of Korean Buddhism nestled harmoniously amidst the slopes of Mt. Seorak. Return to Sokcho and visit the lively Sokcho Fish Market, indulging in a culinary feast of fresh seafood. Overnight in Sokcho
Day 6 :

Sokcho - Andong - Gyeongju (B,L)
Leave Sokcho and head to the culturally rich city of Andong in southeastern Korea. Our day starts at the revered Andong Hahoe Folk Village, a UNESCO World Heritage Site showcasing the vibrant traditions and lifestyle of Korea. Be charmed by the traditional houses, witness captivating performances, and delve into the region's rich history.

Next, marvel at the breathtaking views from Buyongdae Peak, a scenic overlook offering panoramic vistas of the surrounding countryside. Take a leisurely stroll along the ridge, savoring the invigorating mountain air.
Conclude our day in Gyeongju, the ancient capital of the Silla Kingdom. Check in to hotel and enjoy our free time to explore the city's local markets, relish traditional Korean delicacies, or simply unwind while absorbing the scenic beauty.Overnight in Gyeongju.
Day 7 :

Gyeongju Historic Sites Tour (B,L)
Explore Gyeongju, the ancient capital of the Silla Kingdom, renowned for its rich historical heritage.We will visit Daereungwon King's Tomb (Tumuli Park), where the burial mounds of Silla monarchs stand in solemn testament. Gain insights into their historical significance and their profound role in Korean culture.
Next, venture to the Cheonseongdae Observatory, an iconic celestial observatory from the Silla Kingdom. Discover the secrets of its ancient origins and its contributions to the study of astronomy.
Continue our journey at the esteemed Gyeongju National Museum, where a treasure trove of artifacts and relics from the Silla Kingdom awaits. Immerse yourself in the cultural heritage and traditions of this esteemed dynasty.
In the afternoon, explore the timeless charm of the Gyeongju Hanok Village (Hwangridan gil), with its well-preserved traditional houses and narrow alleyways that exude the essence of Korean architecture.
Our day ends at the picturesque Anapji Pond, and savor the serenity of its beautiful surroundings.Overnight in Gyeongju.
Day 8 :

Gyeongju - Busan (B,L)
Travel to Busan, Korea's dynamic second-largest city. Before departing Gyeongju, immerse in the cultural marvels of the revered Bulguksa Temple and the awe-inspiring Seokgulam Grotto, both honored as UNESCO World Heritage Sites. Delve into the history and spiritual significance of Buddhism in Korea as we explore their captivating architecture.
Afterwards, enjoy a picturesque drive to Busan, a bustling city that awaits your arrival. Begin our exploration at the distinguished APEC House, a testament to Korea's pivotal role in international politics during the landmark APEC Summit of 2005.
Next, unwind at the renowned Haeundae Beach, where we can walk leisurely along the shoreline or bask in the sun's warmth. Conclude our day with a self-exploration of Busan's vibrant cityscape.
Overnight in Busan.
Day 9 :

Busan City Tour (B,L)
Explore Busan, a vibrant metropolis pulsating with cultural treasures and bustling markets. Begin your journey at the renowned Gamcheon Cultural Village, a kaleidoscope of color often likened to the "Machu Picchu of Busan." Next, ascend to the summit of the iconic Busan Tower Observatory, where breathtaking panoramas of the cityscape and its picturesque surroundings await. Engage with the tower's rich history and significance as you embrace the awe-inspiring vistas.
Continue your discovery with visits to the bustling Jagalchi Fish Market and the vibrant Gukje Market, both brimming with enticing flavors and local delights. Savor the freshest seafood delicacies and immerse yourself in the vibrant tapestry of local commerce.
Enjoy your free time in the afternoon to delve deeper into Busan's rich tapestry. Overnight in Busan.
Day 10 :

Busan Nature Tour (B,L)
Uncover the exquisite natural wonders of Busan on a nature tour. Our first destination on this journey is Taejongdae Park, a picturesque park renowned for its awe-inspiring vistas of the sea and the surrounding terrain. Hop aboard the Danubi train, a delightful locomotive that will transport us through the park, granting us magnificent views of the cliffs and the sea.
Then, we will venture to the Orukdo Skywalk, a mesmerizing glass pathway that gracefully extends over the ocean, offering unparalleled panoramas of the coastline. Walking upon the skywalk, suspended high above the sea, will undoubtedly provide an exhilarating experience that captivates the senses.
Continuing our exploration, we shall then proceed to Igidae Park, a captivating coastal sanctuary that unveils breathtaking vistas of the sea and the surrounding landscape. Delighting in the invigorating sea breeze, we can embark on a hike along the park's trails, revelling in the unspoiled beauty of the area.
In the afternoon, enjoy our own leisure time to venture into the city at our own pace. Overnight in Busan.
Day 11 :

Busan - Jeju (B,L)
Bid farewell to Busan and fly to the scenic Jeju Island, a beloved destination renowned for its natural beauty. Begin your exploration at the Sungsan Sunrise Peak, a UNESCO World Heritage Site that unveils breathtaking views of the sunrise over the sea. Hike to the peak and immerse yourself in the awe-inspiring surroundings.
Continue our adventure along the scenic Jongdalri Shore Road, where we can revel in the picturesque coastal vistas and feel the refreshing sea breeze. Then, delve into the remarkable Manjanggul Cave, a UNESCO World Heritage Site boasting impressive lava tubes and captivating rock formations.
The afternoon offers free time to discover Jeju Island at our own pace. Take leisurely walks along the beach, embracing the island's tranquil beauty.
Overnight in Jeju
Day 12 :

Jeju Island Nature & Culture Tour (B,L)
Enjoy a full day exploring Jeju Island.  Begin our journey at the captivating Hanlim Park, a botanical paradise showcasing the island's unique flora and fauna, and meander through its serene gardens. Next, bask in the tranquility of Hyupjae Beach, renowned for its pristine sands and breathtaking vistas. Dive into the refreshing sea, unwind on the sun-kissed shore, or simply revel in the picturesque surroundings.
Discover the serenity of Yakcheonsa Temple, an architectural masterpiece steeped in Buddhist traditions. Immerse yourself in its tranquil ambience and gain insight into the rich history of Korean Buddhism.
Indulge in the art and culture of tea at the O Sulloc Tea Museum, where the fascinating history of tea unfolds. Savor exquisite tea samples and delve into the intricate world of tea-making.
Marvel at the natural wonder of Jusangjeolli Cliff, a breathtaking sight featuring unique hexagonal basalt columns formed by volcanic activity. Stand in awe of nature's grandeur as you soak in the mesmerizing rock formations.
Conclude your day at the magnificent Jeongbang Waterfall, where cascading waters gracefully plunge into the azure sea. Witness this extraordinary phenomenon and immerse yourself in the untamed beauty of the surroundings.
Overnight in Jeju
Day 14 :

Jeju - Seoul (B,D)
In the morning, we will take a domestic flight back to Seoul.
Upon arrival, reconvene with our guide and commence the trip with a visit to the picturesque Han River Park. Take a leisure stroll through the park.Next, embark on a captivating Han River Cruise, delighting in the panoramic cityscape that unfolds before your eyes. Relax aboard the vessel, savoring the breathtaking views of Seoul's iconic skyline.
As evening descends, savor a farewell dinner at Korea House, a venue renowned for its traditional Korean Table D'hote. Indulge in a delectable array of authentic Korean delicacies.Overnight in Seoul
Day 15 :

Departure Day (B)
Today is our departure day. Meet your driver at the hotel lobby and transfer to Incheon International Airport for your flight home. Safe travels!
What's Included
Meals

Welcome & Farewell Dinner

Sightseeing

Comprehensive sightseeing as per itinerary in each destination

Flights

Domestic flights with the tour

Accommodation

4- star plus accommodation with daily breakfast

Transportation

Arrival and Departure Airport Transfers in Private Air-conditioned Vehicles

First-Class Service

24/7 local assistance and travel guidance
Dates & Availability
Instant Booking Available
Monday - Monday
Apr 01, 2024 - Apr 15, 2024
Instant Booking Available
Saturday - Saturday
May 04, 2024 - May 18, 2024
Instant Booking Available
Saturday - Saturday
Jun 01, 2024 - Jun 15, 2024
Instant Booking Available
Wednesday - Wednesday
Jul 31, 2024 - Aug 14, 2024
Instant Booking Available
Thursday - Thursday
Aug 29, 2024 - Sep 12, 2024
Instant Booking Available
Friday - Friday
Sep 13, 2024 - Sep 27, 2024
Instant Booking Available
Tuesday - Tuesday
Apr 01, 2025 - Apr 15, 2025
Instant Booking Available
Sunday - Sunday
May 04, 2025 - May 18, 2025
Instant Booking Available
Sunday - Sunday
Jun 01, 2025 - Jun 15, 2025
Instant Booking Available
Thursday - Thursday
Jul 31, 2025 - Aug 14, 2025
Instant Booking Available
Friday - Friday
Aug 29, 2025 - Sep 12, 2025
Instant Booking Available
Saturday - Saturday
Sep 13, 2025 - Sep 27, 2025
Instant Booking Available
Wednesday - Wednesday
Oct 15, 2025 - Oct 29, 2025
Book with Confidence
Low Deposit

Tweet World Travel requires a minimum deposit of 30% or the full booking value, whichever is less, with the final balance not due until 65 days before departure.

Cancellation Policy

We don't charge a cancellation fee, here is a summary of tweet world travel charges.

Up to 65 days before tour starts: Forfeit 100% of deposit.

At 64 days before tour starts: Forfeit 55% of booking price.

At 39 days before tour starts: Forfeit 75% of booking price.

At 30 days before tour starts: Forfeit 100% of booking price.
Why book with tourhub?
Safe & Secure
Your money is protected in an external trust until you travel.
---
100% Guaranteed Refunds if your trip is cancelled.
---
The safest way to make overseas, multi-currency payments.
Guaranteed Best Value
Industry leading discounts, we won't be beaten on price.
---
No cancellation or amendment fees from tourhub.
(Operator terms may apply)
Expert Knowledge
Reliable & unbiased advice from travel experts.
---
Direct contact with the tour operator via our messaging service.
---
Inspiration & advice from a community of 6000+ real travellers, influencers & content creators.
Trusted Service
Official partners & licensed agents of 1000+ tour operators worldwide.
---
Don't just take our word for it...
"Tourhub: Friendliness, Professionalism & Integrity I would happily give tourhub a 6* review if I could..."
Similar Tours
Travel Guru Features
Our Reviews