BORNEO DISCOVERY Escorted Tour
10 Days
Tour operator:
Tour operated in:
English
From:
$4332
$4211 (USD) WINTER SALE @ Tourhub Discount: $121
Tour Overview
Home to critically endangered rhino, elephant, leopard, and orangutan – to name but a few – Borneo's wildlife is its top draw along with its magnificent scenery.
This escorted small group tour, of max 16 people, explores Malaysian Borneo's Sabah and Sarawak in 2023.
The Malaysian state of Sarawak on the island of Borneo offers a mix of historic, cultural and natural attractions. Sabah, in the norh of Borneo, has attractions focused on abundant and relatively accessible wildlife, unique national parks and picturesque islands and beaches. Our Sarawak and Sabah combo tours are designed to get the best out of both Malaysian Borneo states. For example, you can travel to Sarawak and enjoy the charms of historic Kuching, the capital of Sarawak, visit an Iban longhouse and explore the cave systems of Mulu before heading to Sabah to visit Kinabalu Park, view Mt Kinabalu its highest peak, discover the rainforest at Danum Valley and cruise the Kinabatangan River.
Highlights
Get close and personal with Orang Utans at the Sepilok Rehabilitation Centre

Watch beautiful Sun Bears at the Sun Bear Conservation Centre

Stay at a jungle lodge wake up by the calls of gibbons and hornbills

Discover Kota Kinabalu's culture and cuisine

Explore rivers, mangroves and ox bow lakes

Enjoy the sophisticated city of Kuching from Chinese temples to carpenter shops
Itinerary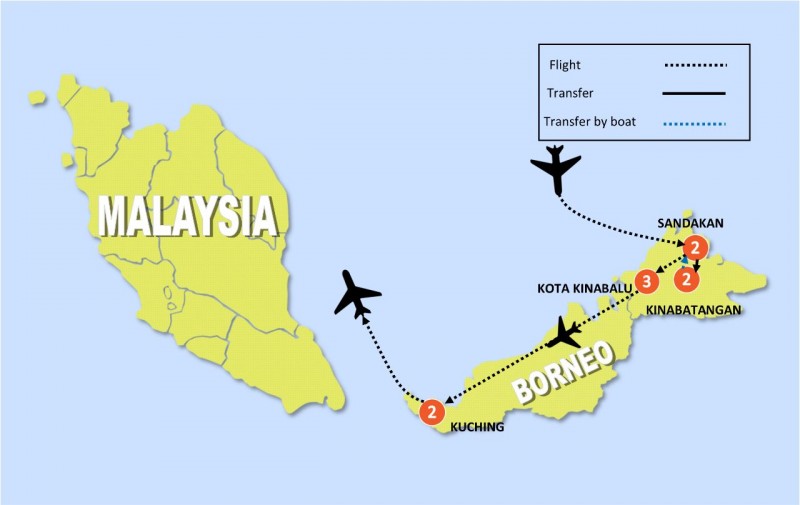 Not what you're looking for?
People that have booked this tour have also searched for the following:
Tours in Borneo
Expand All
What's Included
Meals

Welcome & Farewell Dinner

Sightseeing

Entrance fees at monuments

Accommodation

Stay at excellent hand-selected high-quality 4-star accommodation in central location or adjacent to monuments or strategically at the edge of a wilderness.

First-Class Service

24/7 local assistance and travel guidance

Transportation

Internal flights within the tour in the economy cabin

Tour Guide & Tour Leader

English-speaking local tour guides who live and breathe the destination – they will bring your itinerary to life
Reviews of this Operator
Giang Vu (Google Reviewer)
Outstanding services in Asia Tours and Worldwide river cruises, specialising in Mekong cruises and Croisi Europe cruises.
Frank O'Reilly (Google Reviewer)
I was SOOOO fortunate to pick Tweet World Travel to organise my Vietnam holiday last October . I travelled with my wife and 5 friends for three weeks taking in Ho Chi Minh city , Hoi An , Da Nang , Hue and Hanoi/Halong Bay. The trip was just so well prepared , with private transport and English speaking guides for the whole trip . So many excursions ( all paid for ) included in the holiday . we saw so many wonderful historic places , stayed in beautiful hotels and had some fantastic meals in great restaurants all over Vietnam. We saw so much more because Twee prepared the whole trip for us. We would have missed so much otherwise. All in the very best holiday ever..Frank O'Reilly. ...
Rundle Group (Google Reviewer)
We have just had 3 wonderful weeks in Vietnam, visiting Mekong Delta, Ho Chi Minh City, Danang/Hoi An, Hanoi, SaPa & Halong Bay & can highly recommend Tweet World Travel. We had already booked some accommodation ourselves at a beachside resort but wanted to extend our holiday to travel around & see more of Vietnam. Twee did a fantastic job at organising our itinerary around what we had already booked & suggested activities & sightseeing trips to us that we had not considered. We certainly enjoyed all the activities & experienced much more than if we had tried to organise it ourselves. It was also very reassuring to know that I could easily contact Twee if I needed advice on anything at all while we were away. The guides on all our day trips were fantastic - very friendly & looked after us all very well. They were all happy to share information about their lives with us which made the trip more memorable & enjoyable with some unique experiences. Highlights of our trip were Hoi An (especially the Hoi An Food Tour - lots of fun, on the back of motorbikes), SaPa (especially sightseeing by motor bike, although wouldn't recommend the noisy train trip to get there), Cycling around villages in the Mekong Delta (away from tourist areas), Halong Bay cruise & the gorgeous Apricot Hotel.
Annette Magee (Google Reviewer)
Twee World Travel, what can I say ! You organised such a wonderful trip, you catered to our every need, just knowing we had your support if we needed it was so reassuring. You Twee, and your amazing staff should be very proud of what you do and how you make people like me have such an enjoyable world experience. Thankyou 😊
Reema sharma (Google Reviewer)
Tweet world travel group is really worse and have face a very bad experience I don't recommend anyone to go with them if you want to loose your money its your choice
Dates & Availability
Instant Booking Available
Thursday - Saturday
Oct 10, 2024 - Oct 19, 2024
Book with Confidence
Low Deposit

Tweet World Travel requires a minimum deposit of 30% or the full booking value, whichever is less, with the final balance not due until 65 days before departure.

Cancellation Policy

We don't charge a cancellation fee, here is a summary of tweet world travel charges.

Up to 65 days before tour starts: Forfeit 100% of deposit.

At 64 days before tour starts: Forfeit 55% of booking price.

At 39 days before tour starts: Forfeit 75% of booking price.

At 30 days before tour starts: Forfeit 100% of booking price.
Why book with tourhub?
Safe & Secure
Your money is protected in an external trust until you travel.
---
100% Guaranteed Refunds if your trip is cancelled.
---
The safest way to make overseas, multi-currency payments.
Guaranteed Best Value
Industry leading discounts, we won't be beaten on price.
---
No cancellation or amendment fees from tourhub.
(Operator terms may apply)
Expert Knowledge
Reliable & unbiased advice from travel experts.
---
Direct contact with the tour operator via our messaging service.
---
Inspiration & advice from a community of 6000+ real travellers, influencers & content creators.
Trusted Service
Official partners & licensed agents of 1000+ tour operators worldwide.
---
Don't just take our word for it...
"Tourhub: Friendliness, Professionalism & Integrity I would happily give tourhub a 6* review if I could..."
Not what you're looking for?
People that have booked this tour have also searched for the following:
Tours in Borneo
Similar Tours
Travel Guru Features
Our Reviews