China Delights
China Delights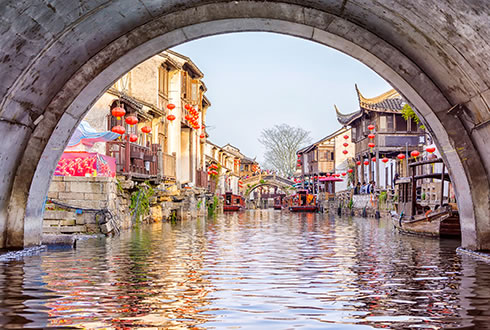 China Delights
18 Days Starting in UK and ending in UK
Visiting: Shanghai, ሀመር።, Suzhou, Wuzhen, Hangzhou, Meijiawu, Guilin, Li River, Yangshuo County, Chengdu, Leshan, Xi'an, Beijing, Great Wall of China
Tour operator:
Physical rating:
Low, Reasonable level of fitness required. A lot of time spent on your feet rather than covering long distances. Some step climbing.
Special diets catered:
Vegetarians, Meat
Tour operated in:
English
Trip Styles:
Activities:
Tour Overview
From international Shanghai and the pandas of Chengdu to the imperial highlights of Beijing and all the dramatic landscapes in between, relish the historical, cultural and natural delights of China on this comprehensive trip.
Highlights
Discover the natural beauty of Suzhou and Hangzhou.

Walk the parameters of Xian's 14th century ancient city wall.

Dine on sumptuous Peking Duck, a favourite of the emperors.

Take a relaxing cruise down the Li River.

Stand in awe in front of the Grand Buddha of Leshan.

Admire the colonial architecture with a walk along the Bund.
Itinerary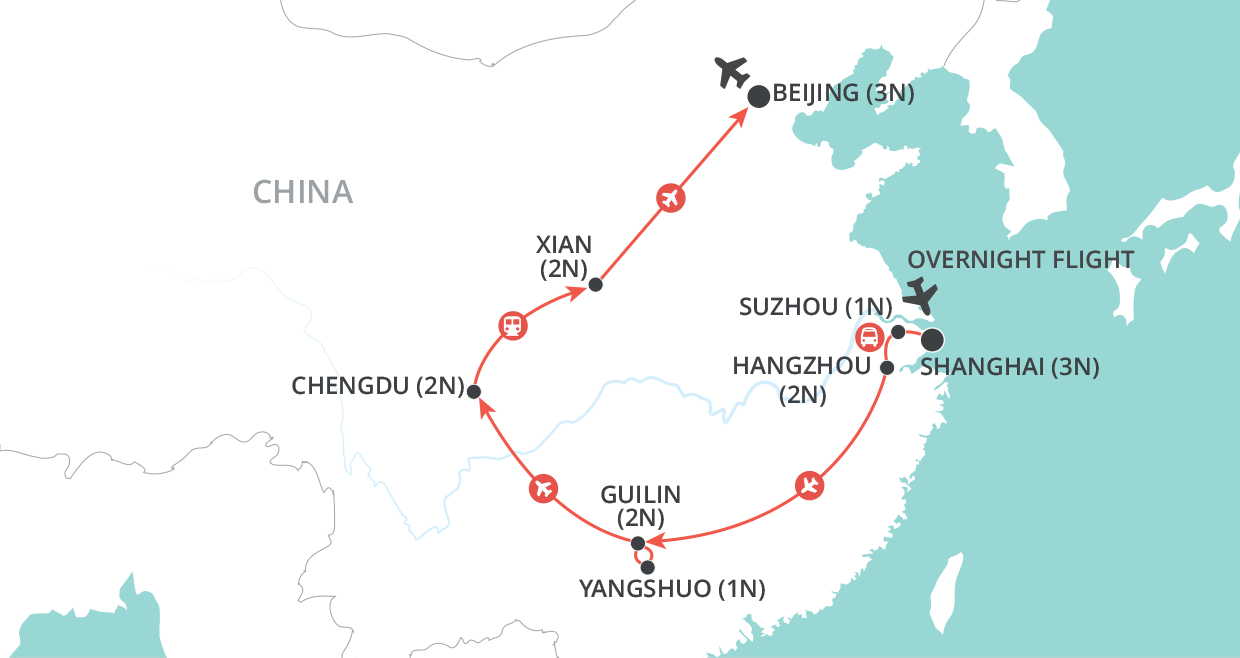 Expand All
Day 1

-

2 : Fly Overnight To Shanghai
Location:
Shanghai
Accommodation:
Hotel
Meals Included:
Dinner
Fly overnight to the cosmopolitan city of Shanghai, also known as the 'Paris of the East'. Depending on your time of arrival, the rest of the day is yours to start soaking up the local culture.
Location:
Shanghai
Accommodation:
Hotel
Meals Included:
Breakfast, Lunch, Dinner
Shanghai is China's great metropolis, where east and west collide on streets lined with futuristic skyscrapers and 10th century temples. Sightseeing today begins with a visit to the classical Yu Garden and a stop in the old town before admiring the colonial architecture with a stroll along the Bund. Round off the day with a delicious meal of traditional Shanghainese cuisine.
Day 4 :

Even More Shanghai
Location:
Shanghai
Accommodation:
Hotel
Meals Included:
Breakfast, Lunch, Dinner
Explore ultra-modern Pudong followed by a visit to a silk factory and the Shanghai Museum to see the collection of fine arts and antiquities. This evening, view the city from the Huangpu River on a panoramic cruise.


Location:
Suzhou
Accommodation:
Hotel
Meals Included:
Breakfast, Lunch, Dinner
Suzhou's centre has managed to retain a sense of quaint charm even as the city has grown up around it. Renowned for its traditional gardens, visit the Humble Administrator's Garden, typical of the Chinese appreciation of balance and harmony. Later, cruise on the thousand-year-old Grand Canal.
Day 6 :

Wuzhen Water Town
Location:
Wuzhen, Hangzhou
Accommodation:
Hotel
Meals Included:
Breakfast, Lunch, Dinner
Travel to the water town of Wuzhen. A charming place of old-world timber buildings, cobbled streets and narrow waterways, it is an easy place to while away the day. Later, continue to the garden city of Hangzhou.
Day 7 :

Historic Hangzhou
Location:
Hangzhou
Accommodation:
Hotel
Meals Included:
Breakfast, Lunch, Dinner
A restful morning is spent wandering around the Temple of Inspired Seclusion, one of China's most renowned Buddhist temples. Later, enjoy a cruise on Hangzhou's West Lake, admiring the gardens, pagodas and old bridges on its shores.


Day 8 :

Lush Tea Plantations
Location:
Meijiawu, Guilin
Accommodation:
Hotel
Meals Included:
Breakfast, Lunch, Dinner
Browse the bustling local markets and visit the plantations of Meijiawu to learn the tea-making process, from bush to brew. Enjoy a cup of organic green tea and decide which of the locally produced teas you might like to purchase. Later, fly to the beautiful city of Guilin and enjoy the rest of the day at leisure.
Location:
Li River
Accommodation:
Hotel
Meals Included:
Breakfast, Lunch, Dinner
Begin today with a relaxing cruise along the Li River to the charming town of Yangshuo. Around every river bend is a view to take your breath away as jagged karst peaks loom over rural scenes of lush greenery and grazing buffalo. Wander through the cobbled streets and visit the local market, then stop on the banks of the Li River for a photo opportunity with a cormorant fisherman.
Location:
Yangshuo County, Guilin
Accommodation:
Hotel
Meals Included:
Breakfast, Lunch, Dinner
Yangshuo sits in an exquisite rural location, surrounded by landscapes of emerald-green paddy fields and dramatic limestone karsts. Start the day with a relaxing and invigorating session of Tai Chi, taking a class with a master to learn this ancient martial art. Spend the rest of the morning exploring the countryside and enjoy some time at leisure. Later, travel through the countryside as you return by road to Guilin.
Location:
Chengdu
Accommodation:
Hotel
Meals Included:
Breakfast, Lunch, Dinner
Visit Reed Flute Cave to admire the colourful stalagmites and stalactites. Continue to the pearl factory, then fly to Chengdu, the capital of Sichuan Province. This evening, enjoy an optional performance of Sichuan opera for the actors' famous 'face-changing'.
Day 12 :

Leshan Grand Buddha
Location:
Leshan
Accommodation:
Hotel
Meals Included:
Breakfast, Lunch, Dinner
Travel to Leshan to visit the UNESCO-listed Grand Buddha which, at 71 metres, is the world's largest stone-carved Buddhist monument. Get a bird's eye view of the Buddha from the adjacent park, then a short boat trip will give excellent views from the river. Return to Chengdu and in the evening, sample a delicious Sichuanese meal.
Day 13 :

Chengdu Panda Reserve
Location:
Chengdu, Xi'an
Accommodation:
Hotel
Meals Included:
Breakfast, Lunch, Dinner
Visit Chengdu's famous giant panda reserve to see and learn about China's celebrated bears up close in surroundings that mirror their natural habitat. Later, take the bullet train to Xian, the ancient former capital.
Day 14 :

Terracotta Warriors
Location:
Xi'an
Accommodation:
Hotel
Meals Included:
Breakfast, Lunch, Dinner
After their fortuitous discovery in the 1970s, the Terracotta Army of China's first emperor, Qin Shi Huang, has intrigued visitors ever since. Spend the morning viewing the enigmatic ranks of life-sized warriors and horses. Also visit the workshop of the craftsmen to see where the warriors are intricately recreated in the style of their ancient counterparts. Later, stroll along the beautifully preserved 14th-century city walls that enclose Xian's old town. This evening, sit down to a delicious feast of traditional Shui Jiao dumplings followed by a performance of Tang Dynasty dancing.
Location:
Beijing
Accommodation:
Hotel
Meals Included:
Breakfast, Lunch, Dinner
Visit the fascinating Little Wild Goose Pagoda. Later, fly to Beijing, the capital of China.
Day 16 :

Imperial Beijing
Location:
Beijing
Accommodation:
Hotel
Meals Included:
Breakfast, Lunch, Dinner
Spend the morning soaking up the harmonious ambience of the Temple of Heaven, an orderly oasis in a bustling urban landscape. Here, mingle with the locals and watch or participate as they practise Tai Chi, dance or play cards. Next, head to Beijing's symbolic heart, Tiananmen Square and stroll into the sprawling magnificence of the Forbidden City. Entering through the Gate of Supreme Harmony, you will find a complex full of imperial riches. A Chinese acrobatic show rounds off the day.
Location:
Great Wall of China
Accommodation:
Hotel
Meals Included:
Breakfast, Lunch, Dinner
This morning is dedicated to China's most iconic sight – the Great Wall. Taking a walk on this incredible structure is the best way to appreciate both the sheer magnificence of the wall itself and the dramatic scenery that surrounds it. Visit a jade factory before spending the afternoon enjoying the idyllic landscapes of the Summer Palace, wandering through traditional Chinese gardens and seeing the exquisite architecture. In the evening, enjoy a traditional dinner of Peking duck followed by an optional kung fu show.


Day 18 :

Fly Beijing To Uk
Location:
Beijing
Meals Included:
Breakfast
Fly to the UK, arriving home the same or following day.


What's Included
Accommodation

16 nights in 4 star

Cruise

Li River Cruise, Huangpu River Cruise

Fully Inclusive

Touring with Guides and entrance fees

Airport Transfers at Destination

All Domestic Transportation (including internal flights)

Country Entry Visas

Entrance Fees

Fully Guided

International Travel

Local Taxes
Check out our Q&As
Are all entrance fees included in the price?

Are children permitted to take part in the tour?

Are airport transfers included in this tour?

Are the local guides on the tour English speaking?

Are flights included in this tour?
Are all the relevant entry visa's included in the price of the tour?

What happens if I need to change my holiday date once I've booked?

If, after our confirmation invoice has been issued, you wish to change your travel arrangements in any way, we will endeavour to make these changes, but it may not always be possible. Any changes to confirmed bookings need to be sent to us in writing via your travel agent. Please refer to our booking conditions for further information and fees.

Do you operate a "single share" option and how does it work?

Customers booking to travel solo can choose our 'Happy to Share' option, which may enable them to share a twin room with other solo customers of the same gender who also request Happy to Share, thus avoiding the need to pay single room supplements. Note that 'Happy to Share' requests can be received when you make your booking with us but will not be confirmed until your final payment due date.

What documents will I receive before I travel?

Your Final Travel Documents are usually sent to you 2-3 weeks prior to your departure. Your travel pack will include your tour itinerary, hotel details, flight e-tickets and a travel guide. If you have booked with a travel agent, your tickets will be dispatched to your travel agent unless we have been otherwise informed.

Will I be travelling with passengers from other countries?

Our passengers generally enjoy the mixture of British, Australian and American clients on tour. Occasionally we are joined by English-speaking passengers from other countries.

Do you allow children on your tours?

We allow children 12 years and over on our group tours. We recommend that families with children of any age take advantage of our private or tailormade tours. This will give you more flexibility while on tour.
Reviews of this Operator
Feefo Rated Customer
Colours of Costa Rica
This was our first tour with you and from start to finish we were guided by Isaac who made sure everything went smoothly. He was laid back - but on the ball - always available and very informative.
Excellent
Feefo Rated Customer
Ultimate South America
We were hoping this tour would be the holiday of a lifetime and it certainly was. Our guide, Corina, was fantastic and evry country we visited had something special. FANTASTIC
Excellent
William
Japan Uncovered
A superb trip which ticked all our boxes and covered all the main experiences you would wish for on a trip to Japan! We were looked after by excellent local guides. All of our accommodation was very good. With all meals included we got the chance to experience the local cuisine
Alastair
Christmas in Vietnam
Vietnam at Christmas, Excellent Experience From start to finish Vietnam at Christmas was amazing, The tour group, Local Guide Loc, we must have been blessed as the weather was excellent only one day of rain. Tour Group 11/10 Guide 11/10 Hotels 8/10 Food 8/10 Itineary10/10 Faboulous experience on Christmas in Vietnam
Feefo Rated Customer
Highlights of Sri Lanka
Great Country. Good range of different things to do and places to see - temples to beaches to wildlife. Hotels ranged from adequate to excellent. Food quality and variety was better than we expected A really good tour guide and our fellow travellers were excellent company. Would recommend despite the impact of Corona Virus cutting out a few later trips but that was beyond anyone's ability to control..
Excellent
Dates & Availability
Instant Booking Available
Monday - Friday
Apr 08, 2024 - Apr 26, 2024
Instant Booking Available
Monday - Friday
May 06, 2024 - May 24, 2024
Instant Booking Available
Monday - Friday
Sep 09, 2024 - Sep 27, 2024
Instant Booking Available
Monday - Friday
Oct 07, 2024 - Oct 25, 2024
Instant Booking Available
Monday - Friday
Apr 07, 2025 - Apr 25, 2025
Instant Booking Available
Monday - Friday
May 05, 2025 - May 23, 2025
Instant Booking Available
Monday - Friday
Sep 08, 2025 - Sep 26, 2025
Instant Booking Available
Monday - Friday
Oct 06, 2025 - Oct 24, 2025
Book with Confidence
Free Date Changes

Wendy Wu allows you to make 1 free date changes, as long as the change is made at least 0 days before the start of the tour.

Low Deposit

Wendy Wu requires a minimum deposit of 350 GBP per person or the full booking value, whichever is less, with the final balance not due until 75 days before departure.

Cancellation Policy

We don't charge a cancellation fee, here is a summary of wendy wu charges.

Up to 75 days before tour starts: Forfeit 100% of deposit.

At 74 days before tour starts: Forfeit 30% of booking price.

At 41 days before tour starts: Forfeit 60% of booking price.

At 27 days before tour starts: Forfeit 90% of booking price.

At 14 days before tour starts: Forfeit 100% of booking price.

How we Keep you safe on our Tours

Your safety and well-being will always be our Number 1 priority which is why we've instituted the most stringent COVID health and safety protocols on all of our tours. Here is a brief summary of the steps we are taking to ensure you will be safe, secure and satisfied when you travel with us.


Guides and National Escorts
Our National Escorts and guides will conduct a Health and Safety briefing with you before the tour begins and will help everyone ensure they adhere to social distancing, hygiene practises and local regulations. They will carry a supply of face masks and hand sanitiser for you to use free of charge and will, of course, observe the highest level of personal hygiene at all times.

Should anyone on the group fall ill your National Escort will ensure the individual receives swift medical attention and can only return to the group once cleared to do so.


Transport & Sightseeing
Vehicles will be thoroughly cleaned with disinfectant after each excursion service, overnight and between different groups.

You will always have at least one seat between you and your fellow tourers, hand sanitiser will be given to the group on each embarkation and vehicles will be thoroughly ventilated prior to passengers boarding.

Drivers will always embark vehicles after clients, disembark the group vehicle prior to clients disembarking, and maintain social distancing and a high level of personal hygiene at all times.

Your guides will assess the situation on the ground avoiding large crowds – where possible, alter timings and splitting the group into smaller sizes.


Accommodation
Wendy Wu Tours will only offer hotels that have undergone a detailed hygiene assessment, have specific COVID-19 protocols in place and comply with government standards.

We will ensure these protocols include staff practising social distancing and wearing appropriate PPI, regular cleaning and disinfection of high frequency touch points in all areas and food safety.


Dining
All the restaurants we visit will be researched and inspected regularly to ensure that they follow the strictest health, cleanliness and safety guidelines.

All waiting staff will wear face masks and gloves and we will arrange à la carte dining, waiter-served meals or waiter-assisted buffets throughout the tour. We will not share open-buffet meals with other hotel or restaurant guests.

Hand sanitiser will be provided to the group before and after every food and beverage service.
Why book with tourhub?
Safe & Secure
Your money is protected in an external trust until you travel.
---
100% Guaranteed Refunds if your trip is cancelled.
---
The safest way to make overseas, multi-currency payments.
Guaranteed Best Value
Industry leading discounts, we won't be beaten on price.
---
No cancellation or amendment fees from tourhub.
(Operator terms may apply)
Expert Knowledge
Reliable & unbiased advice from travel experts.
---
Direct contact with the tour operator via our messaging service.
---
Inspiration & advice from a community of 6000+ real travellers, influencers & content creators.
Trusted Service
Official partners & licensed agents of 1000+ tour operators worldwide.
---
Don't just take our word for it...
"Tourhub: Friendliness, Professionalism & Integrity I would happily give tourhub a 6* review if I could..."
Similar Tours
Travel Guru Features
Our Reviews