Armenia: Heartland of The Caucasus (New Tour)
Armenia: Heartland of The Caucasus (New Tour)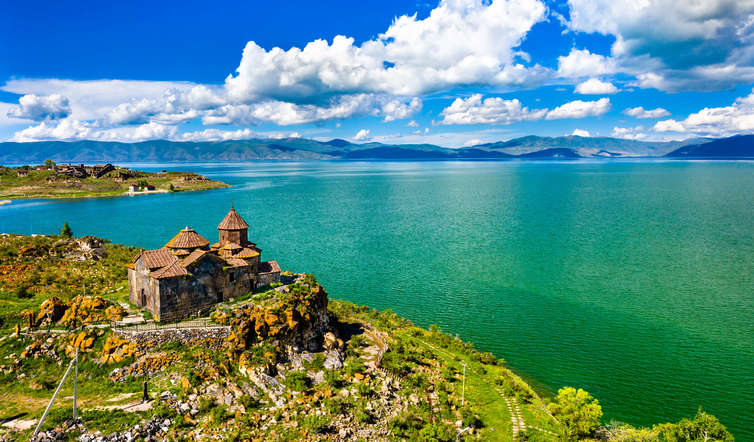 Armenia: Heartland of The Caucasus (New Tour)
8 Days Starting and ending in YEREVAN
Visiting: Yerevan, Khor Virab, Noravank Monastery, Areni, Karahunj, Goris, Orbelian Caravanserai, Lake Sevan, Dilijan, Dilijan National Park, Garni
Tour operator:
Physical rating:
Low, Low / Moderate
Special diets catered:
Vegetarians, Please contact Wild Frontiers with any specific dietary requirements
Tour operated in:
English
Trip Styles:
Interests:
Activities:
Private Available:
Request A Private Tour
From:
$2200
$2138 (USD) WINTER SALE @ Tourhub Discount: $62
Tour Overview
Spanning cultures and continents, Armenia lies at the heart of the Caucasus, its ancient monasteries and candlelit churches standing silent sentinel over centuries of conflict and religious devotion. Watched over by the biblical heights of Mount Ararat, its mountains and forests play host to a stunning collection of ecclesiastical treasures, from the beautiful cathedral at Echmiadzin, to the serene majesty of the Khor Virap and Tatev Monasteries. This incredible journey takes us into the heart of this remarkable country, offering us a chance to discover the very soul of Armenia as we travel from its bustling capital and into the remote fortresses, ancient caravanserais and breathe in the spectacular landscapes of the Dilijan National Park and Transcaucasian Trail. Deeply religious, staunchly traditional and steeped in the bloody passage of history, Armenia is emerging as one of Europe's most fascinating destinations.
Highlights
Observe Sunday mass at Echmiadzin, Armenia's spiritual heart, and explore Khor Virap monastery, set in the shadow of Mount Ararat

Learn to make the traditional Armenian dish 'tolma' and bread 'lavash', and go winetasting in Areni

Hike part of the Transcaucasian Trail in Dilijan National Park, known as Armenia's Switzerland

Soak up the atmospheric views of Lake Sevan

Visit the ancient cave village of Khndzoresk and Silk Road caravanserai of Selim

Ride the world's longest reversable cable car to Tatev Monastery
Itinerary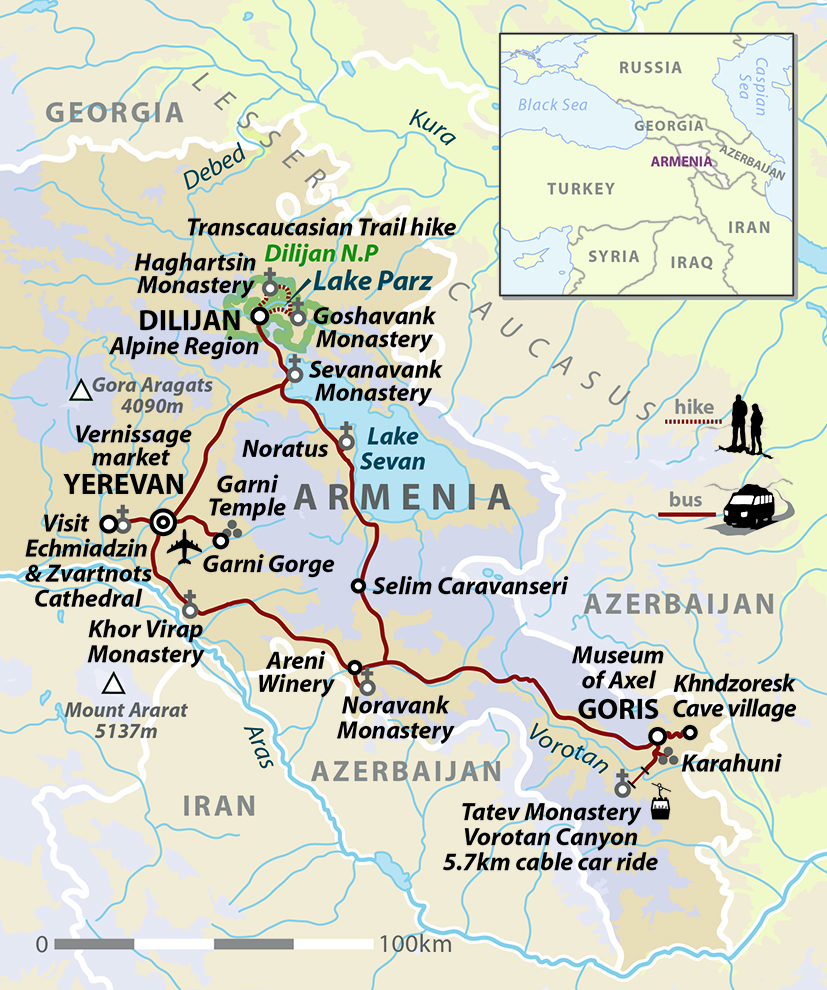 Expand All
Day 1 :

Tour Starts In Yerevan
Location:
Yerevan
Accommodation:
Hotel
Accommodation Name:
Imperial Palace (or similar)
Meals Included:
No Meals
Our journey begins in Yerevan, one of the world's oldest continuously inhabited cities, which can date its origins back to the 8th century BC and the founding of the Erebuni Fortress by King Argisthi in 782. Sitting on the banks of the Hrazdan River, against the impressive backdrop of Mount Ararat, the Armenian capital has been at the heart of the staunch and traditional Armenian Highlands for centuries. Rooms will be available in Yerevan from this afternoon. Those arriving on the group flights will arrive late this evening.
Day 2 :

In & Around Yerevan
Location:
Yerevan
Accommodation:
Hotel
Accommodation Name:
Imperial Palace (or similar)
Meals Included:
Breakfast, Lunch, Dinner,
This morning we drive a short distance to the UNESCO site of Echmiadzin, the spiritual centre of the country and the home of the head of the Holy Armenian Apostolic Church. We'll visit the city's stunning cathedral, one of the oldest churches anywhere in the world and purportedly home to a number of sacred relics, including a piece of Noah's Ark and the Holy Lance from Geghard. After a chance to observe Sunday mass - a remarkable sight in itself - in this most revered of places, we will visit the 7th century archaeological site of Zvartnots, also UNESCO. We will then return to Yerevan where there will be time to visit the colourful Vernissage Market and the city's Matenadaran Museum, one of the world's richest repositories of medieval manuscripts and books.
Day 3 :

Yerevan – Khor Virap - Norovank – Areni - Karahunj – Goris
Location:
Yerevan, Khor Virab, Noravank Monastery, Areni, Karahunj, Goris
Accommodation:
Hotel
Accommodation Name:
Mirhav (or similar)
Meals Included:
Breakfast, Lunch, Dinner,
Today's journey takes us by way of the pilgrimage site of Khor Virap, one of Armenia's most spectacularly sited monasteries. Credited with bringing Christianity to Armenia, St Gregory is the patron saint and the first official head of the Armenian Apostolic Church, so this, the site of his incarceration, is held in great respect by the Armenian Christians. This is also the closest point in Armenia to the biblical slopes of Mount Ararat and the majestic views across to the holy mountain add a certain reverence to the setting. From here we then head on to the 13th century monastery of Noravank to view its beautiful stone crosses. Afterwards we will continue to the wine producing region of Areni Village where we will enjoy a short visit to one of the local wineries to sample a variety of wines and discover how they are produced. We will finally take a short walk to and around the site of Karahunj, the Armenian equivalent to Stonehenge, before ending our journey in the traditional town of Goris, set amongst the winding mountain roads of Southern Armenia.
Day 4 :

In & Around Goris
Location:
Goris
Accommodation:
Hotel
Accommodation Name:
Mirhav (or similar)
Meals Included:
Breakfast, Lunch, Dinner,
This morning we will visit the magnificently situated Tatev Monastery, taking the cable car across the Vorotan Canyon (at 5.7km, the longest cable car in the world). A former centre for the arts and sciences, Tatev Monastery has been a bastion of culture and learning for centuries and today its extensive grounds hold three churches, a refectory, a library, vault and several residences. We will then travel to explore by foot the fascinating cave village of Khndzoresk whose 400 dwellings were still lived in up to a couple of decades ago. Next we will visit the museum of Axel, an Armenian writer and public activist who was tragically murdered during Stalin's 1937 assassinations.
Day 5 :

Goris – Selim Caravanserai – Lake Sevan – Dilijan
Location:
Goris, Orbelian Caravanserai, Lake Sevan, Dilijan
Accommodation:
Hotel
Accommodation Name:
Old Dilijan (or similar)
Meals Included:
Breakfast, Lunch, Dinner,
Departing Goris we will head north for the shores of Lake Sevan, stopping on route at the well preserved and atmospheric Selim Caravanserai, an important staging point in the 14th century built in 1332 by Chesan Orbelian. We will visit Noratus, the largest cemetery of khachkars in Armenia, and the medieval Sevanavank Monastery located on the shore of Lake Sevan. Next we will drive to the 'Armenian Switzerland' region of Dilijan where we will enjoy a cookery masterclass on 'tolma' - the traditional Armenian dish combining minced meat, rice, various herbs and spices, rolled in grape leaves. We will spend the next two nights in this beautiful alpine town.
Day 6 :

Dilijan - Transcaucasian Trail In Dilijan National Park – Dilijan
Location:
Dilijan, Dilijan National Park, Dilijan
Accommodation:
Hotel
Accommodation Name:
Old Dilijan (or similar)
Meals Included:
Breakfast, Lunch, Dinner,
Today there is the option to set out on a full day's hike, using the ongoing Transcaucasian trail project. The terrain will vary today from well beaten paths to grassland and scree underfoot. As this is an alpine area, much of the walking will be forested but there will be break points to enjoy some wonderful vistas. On route you will visit Lake Parz, one of Dilijan's most attractive natural sites and the medieval Haghartsin Monastery. The refectory of Hagahrtsin is unique and there are a number of very interesting khachkars (cross stones) in the Monastery. From here you will reach Goshavank Monastery. The Monastery was established by Mkhitar Gosh, the famous scientist and author of medieval Armenia. Approx. 4 hrs walking (Total distance 6kms)
Day 7 :

Dilijan - Garni - Yerevan
Location:
Dilijan, Garni, Yerevan
Accommodation:
Hotel
Accommodation Name:
Imperial Palace (or similar)
Meals Included:
Breakfast, Lunch, Dinner,
This morning we will head back towards the capital, stopping to visit the 1st Century Garni Temple, Garni Gorge and the Symphony of Stones. We will then head to a local Armenian restaurant where you can tuck into a delicious home cooked meal and can learn how to bake the national Armenian bread, lavash. On arrival into Yerevan we will visit the Memorial to the 1915 Genocide, before heading out for our final dinner.
Day 8 :

Tour Ends In Yerevan
Location:
Yerevan
Meals Included:
Breakfast
Those on the suggested group flights will have an early transfer to the airport. For all other clients, the tour will end after breakfast.
What's Included
MEALS

7 x Breakfasts, 6 x Lunches, 6 x Dinners

TRANSPORT

On this tour we will use minibuses.

CARBON CONTRIBUTIONS

Contributions to carbon offset & tree planting projects for all bookings

EXPERT TEAM

The full services of a Wild Frontiers Tour Leader with local guides where appropriate

ACCOMMODATION

3 nights x Premium4 nights x Superior

ENTRANCE FEES

All entrance fees for sights mentioned in the itinerary

FITNESS RATING

Low / Moderate
What's Not Included
We believe in a completely transparent approach to pricing with no hidden extras. As such, please note that the following are not included in the cost of the tour.Visas & Travel Insurance: Visas will always be tour/nationality dependent but travel insurance is mandatoryTips: Always optional but some guidance will be given in the pre-departure information documentsInternational .Flights: Please ask us for an obligation-free quote for flights which originate in the UKAirport .Transfers: We include complimentary transfers if arriving/departing on the suggested group flights.Beverages & any costs of a personal nature: This will include items such as laundry and souvenirs
Visas
Visas are necessary for many of the destinations we travel to and while we aim to provide you with the most up-to-date information, requirements frequently change and as such for the latest advice we advise that you check with the relevant embassies or contact our recommended visa agency, Travcour www.travcour.com For this tour UK passport holders currently do not require a visa for Armenia. Non-UK passport holders or non-UK residents should contact the relevant embassies for individual requirements.
Key Aspects to Consider
Anyone in a reasonable state of health, with an open mind and a sense of adventure should be perfectly able to cope with this tour, as much of the walking is optional.
Check out our Q&As
Do you require a visa for this holiday?

For this tour UK passport holders currently do not require a visa for Armenia. Non-UK passport holders or non-UK residents should contact the relevant embassies for individual requirements.

Are the local guides on the tour English speaking?

Are airport transfers included in this tour?

We include complimentary transfers if arriving/departing on the suggested group flights

What is the maximum group size?

What policies are in place for Covid-19?

We have a complete Covid-19 hub here: https://www.wildfrontierstravel.com/en_GB/covid-hub
Do you operate a "single share" option and how does it work?

Over 70% of passengers on our group tours are solo adventurers. Unlike many tour operators, we don't believe in charging solo travellers a premium, so if you are happy to share a room with a fellow traveller of the same sex, you will pay exactly the same as a couple..Occasionally you may even end up with your own room. You can travel as a single traveller on any of our holidays, from our escorte

Will the accommodation included meet local health and safety regulations?

How long has the tour company been trading?

Do I need to be double-vaccinated against Covid-19 to travel with you?

In most cases, yes. Not only are many destinations making double-vaccination a requirement of entry to the country and/or access to restaurants, museums etc., but additionally on all our group tours for the foreseeable future, for everyone's peace of mind, we are asking that all clients be double vaccinated.
Reviews from Travellers on this Tour
Susan Homes
Susan Homes
Great mixture of rural countryside, mountains towns and cities plus ancient monasteries and churches to experience.
Want a private tour?
Dates & Availability
Instant Booking Available
Saturday - Saturday
May 18, 2024 - May 25, 2024
Instant Booking Available
Saturday - Saturday
Sep 14, 2024 - Sep 21, 2024
Book with Confidence
Free Date Changes

Wild Frontiers allows you to make 2 free date changes, as long as the change is made at least 90 days before the start of the tour.

Low Deposit

Wild Frontiers requires a minimum deposit of 200 GBP per person or the full booking value, whichever is less, with the final balance not due until 70 days before departure.

Cancellation Policy

We don't charge a cancellation fee, here is a summary of wild frontiers charges.

Up to 71 days before tour starts: Forfeit 100% of deposit.

At 51 days before tour starts: Forfeit 50% of booking price.

At 30 days before tour starts: Forfeit 100% of booking price.

Wild Frontiers' COVID Promise

You will have the right to transfer without any transfer fee, from any of our trips at ANY time if your trip is not Covid Viable (see below).*
We will not ask you to pay your final balance if your trip is not yet Covid Viable.
If your trip is not Covid Viable, by 30 days prior to departure at the latest, we will cancel your holiday and you can either transfer your funds to another departure or have a refund.**


We will only consider a trip Covid Viable*** if pre-departure it meets all of the following criteria:

There is no national lockdown or ban on foreign travel for the period when your trip is due to depart.
Destinations on the tour must not be on the UK's Red List. ****
No destinations visited on the tour have in place any significant COVID-19 restrictions for travellers.
Tourist visas (if required) are available.
There is reliable airline access to/from the start/end of the trip.
Following an assessment by both Wild Frontiers and our local partners we are confident that your trip is able to run in both a safe and enjoyable manner.*****




** If you were originally booked to travel before 30 April 2020 and transferred to a later date, or if you have a tailor-made booking, there may be some irrecoverable costs which we cannot refund. Please speak to us and we will be able to advise you if this is the case for your booking.
***Since our HQ is in London, Covid Viable status for our Group Tours will be assessed on UK-based travellers. However we are fully aware that many of our clients live in the US, Canada, Australia, New Zealand and beyond. As such, when we deem a trip to now be Covid Viable, everyone booked will have a chance to review their own personal situation before deciding whether or not to remain booked on the trip. Anyone wishing to, will have the option to transfer without fees to another trip at this time. For tailor made bookings, we may also able to consider additional countries' travel advice when deciding if a trip is Viable. Please discuss this with us at the time of booking.
**** This relates to bookings from UK clients only. We may operate trips to destinations which the British FCDO advise against travel for Covid reasons. If this is the case, anyone wishing to will have the option to cancel with a refund or transfer to another trip. In some cases we may choose to offer a tour to a Red destination but these will be at both clients' and Wild Frontiers' discretion and will be subject to alternative conditions to be discussed on an ad hoc basis.
*****If a destination, that we have deemed to be Covid Viable, subsequently fails any aspect of the criteria for two consecutive weeks, you will have the right under our Covid Promise to transfer without any fees.
Why book with tourhub?
Safe & Secure
Your money is protected in an external trust until you travel.
---
100% Guaranteed Refunds if your trip is cancelled.
---
The safest way to make overseas, multi-currency payments.
Guaranteed Best Value
Industry leading discounts, we won't be beaten on price.
---
No cancellation or amendment fees from tourhub.
(Operator terms may apply)
Expert Knowledge
Reliable & unbiased advice from travel experts.
---
Direct contact with the tour operator via our messaging service.
---
Inspiration & advice from a community of 6000+ real travellers, influencers & content creators.
Trusted Service
Official partners & licensed agents of 1000+ tour operators worldwide.
---
Don't just take our word for it...
"Tourhub: Friendliness, Professionalism & Integrity I would happily give tourhub a 6* review if I could..."
Similar Tours
Travel Guru Features
Our Reviews