Beneath the Sands of Sudan
Beneath the Sands of Sudan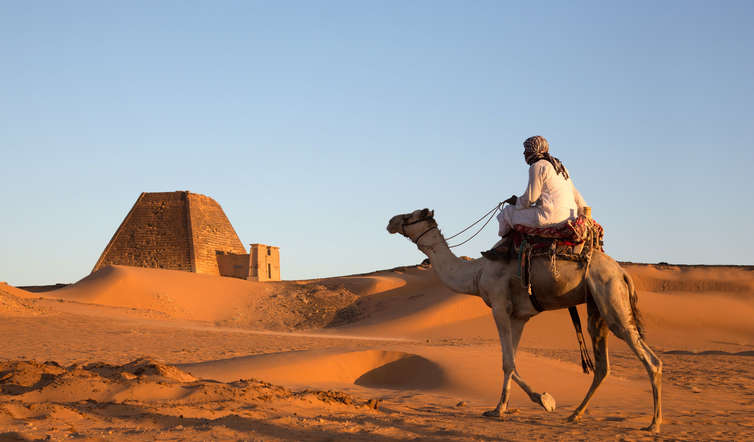 Beneath the Sands of Sudan
8 Days Starting and ending in KHARTOUM
Visiting: Khartoum, Al-Musawwarat as-Safra, Naqa `Umm Rimt, Naq'a, Shendi, Meroë, Atbara, Bayuda Volcanic Field, Nuri, Karima, Old Dongola, Dongola
Tour operator:
Physical rating:
Low, Low / Moderate
Special diets catered:
Vegetarians, Please contact Wild Frontiers with any specific dietary requirements
Tour operated in:
English
Trip Styles:
Interests:
Activities:
Private Available:
Request A Private Tour
From:
$4588
$4460 (USD) WINTER SALE @ Tourhub Discount: $128
Tour Overview
This exciting trip offers an amazing insight into the rarely visited and often misunderstood country of Sudan. Located in the magnificent desert scenery lie some of the most important and visually stunning monuments from the ancient world - including more ancient pyramids than can be found in the whole of Egypt.This is the ancient land of Kush, the old kingdom of the Meroitic kings, lost in the heart of the Sahara for centuries to the south of the great cataracts. Here we find the lands of Nubia where the desert plains are strewn with an astounding collection of archaeological sites. From the bustling streets and souks of Khartoum, where the blue and white Niles meet in Sudan's capital, we'll follow the mighty Nile river north discovering some of the desert's best kept secrets.However this trip is not just about visiting the UNESCO archaeological sites of Jebel Barkal and Meroe and enjoying the desert wilderness – it also offers the chance to get beneath the skin of the country and meet the Sudanese people, whose hospitality and kindness are long remembered by those who have travelled to this fascinating country.
Highlights
Wild camp along the famous river Nile and in the Sudanese desert

Visit the ancient Sudanese sites of Meroe, Jebel Barkal, Naqa and Mussawarat

Be amazed by the whirling dervish's ceremony and traditional Nuba wrestling event in Khartoum

Travel down this less-visited section of the river Nile, meeting friendly Nubian villagers on the way

Cross the Bayuda Desert and encounter isolated Bisharin nomads

Travel by 4WD through incredible landscapes to uncover relics of ancient civilisations
Itinerary
Expand All
Day 1 :

Tour Starts In Khartoum
Location:
Khartoum
Accommodation:
Hotel
Accommodation Name:
The Grand Holiday Villa or similar
Meals Included:
Lunch, Dinner,
The tour begins this afternoon in Khartoum, Sudan's fascinating capital. On arrival we'll check into our hotel before heading out for a boat cruise on the mighty river Nile. From here we'll attend a traditional Nuba wrestling event, a popular activity for Sudanese men and quite a spectacle as they kick up the dust in an attempt to come out on top! Tonight we'll enjoy our first group dinner and take the chance to talk about the exciting trip ahead.
Day 2 :

Khartoum - Mussawarat - Naqa
Location:
Khartoum, Al-Musawwarat as-Safra, Naqa `Umm Rimt
Accommodation:
Camp
Meals Included:
Breakfast, Lunch, Dinner,
Today we begin the journey northward and make for Al Sabalouga (Sabaloka Gorge), a pretty spot by the sixth cataract of the river Nile where we'll take a short boat ride towards the rapids. After a bit of time to stretch our legs and look around, we'll continue north along the Nile and turn off the highway for the 'Great Enclosure' at Mussawarat, whose numerous depictions of elephants imply that these great animals once played an important role in this region. Beyond the big wadi there is another temple - restored by a German archaeological mission - dedicated to the god Apedemak. We'll then drive to Naqa where we'll find a beautiful spot to wild camp and spend our first night in tents under the desert sky.
Day 3 :

Naqa - Shendi - Meroe
Location:
Naq'a, Shendi, Meroë
Accommodation:
Camp
Accommodation Name:
Meroe
Meals Included:
Breakfast, Lunch, Dinner,
This morning we'll visit the archaeological site of Naqa, one of two centres that developed during the Meroitic period. Set in typical Saharan surroundings of rock and sand, we'll find a temple dedicated to Apedemak (1st century AD), a wonderful building with bas-relief decorations. A few metres away there is a small and odd construction with arches and columns, named 'kiosk', in which we can see Egyptian, Roman and Greek styles together, as well as another temple dedicated to Amon with many statues of rams, and beautiful gates decorated with bas-reliefs. From here we'll continue to the royal necropolis of Meroe. Here we'll see the pyramids of the ancient city for the first time, visible amongst the dunes in the distance. Remote and mysterious, Meroe was the cultural core of a Kushite civilisation that flourished for a thousand years until it suddenly vanished. Today this remarkable site is littered with pyramids and funerary temples, some of them very well preserved, their walls decorated with bas-reliefs showing the life of the kings and the gods. Tonight we will stay in a comfortable fixed camp offering amazing views of the pyramids. Please note that the 'Royal Baths' at Meroe may be closed to the public when we visit due to planned restoration work.
Day 4 :

Meroe - Atbara - Atrun Crater
Location:
Meroë, Atbara
Accommodation:
Camp
Meals Included:
Breakfast, Lunch, Dinner,
Today we continue our journey along the Nile as we follow the river downstream and make for the town of Atbara, located on the confluence between the Nile and the Atbara river. Here we will cross the Nile and visit the Railway Museum to learn something of Sudan's history during colonial times. We'll then drive away from the river and start our crossing of the Bayuda desert, making for the Atrun Crater, a very special place where nomads gather salt. We spend the night nearby at our desert wild camp.
Day 5 :

Atrun Crater – Bayuda Desert - - Karima
Location:
Bayuda Volcanic Field, Nuri, Karima
Accommodation:
Resort
Accommodation Name:
Maraweeland Resort or similar
Meals Included:
Breakfast, Lunch, Dinner,
Today we continue our crossing of the Bayuda Desert, an area bound by the loop that the Nile forms between the 4th and 6th cataract and characterised by sharp, black basalt mountains, most of them volcanic and typically cone-shaped. They alternate with level pebble stretches and large valleys crossed by dry wadis, where little vegetation can be seen. We're likely to meet isolated groups of Bisharin nomads here, who live in family groups in small huts made of intertwined branches. These huts are located close to water wells for their herds of camels and donkeys. Meeting the river Nile again we'll visit the Pyramids of Nuri before continuing to the small town of Karima, set before the imposing base of Jebel Barkal, Nubia's holy mountain of legend.
Day 6 :

Karima - Old Dongola
Location:
Karima, Old Dongola
Accommodation:
Camp
Meals Included:
Breakfast, Lunch, Dinner,
After breakfast we'll visit Jebel Barkal, a red sandstone monolith that acts like a beacon amongst the vast open landscapes of the Nubian Desert. The mountain lay at the centre of Nubian religious worship for centuries, and the large temple that adorns its foot is filled with dedications to the Pharaohs and their gods, and now listed as a World Heritage Site. We'll also visit nearby El Kurru, where one of the necropolises of the ancient capital of Napata lies. We'll visit the excavated tombs here, lying under collapsed pyramids, before crossing the desert once more and heading for Old Dongola.
Day 7 :

Old Dongola - Khartoum
Location:
Dongola, Khartoum
Accommodation:
Hotel
Accommodation Name:
The Grand Holiday Villa or similar
Meals Included:
Breakfast, Lunch, Dinner,
This morning we'll explore the archaeological site of Old Dongola where we'll find ruins of Christian Coptic churches. We'll then journey through the Western desert, stopping for lunch en route at Wadi Muqaddam with its many acacia trees. From here we'll continue to Omdurman for the rest of the afternoon, where we will get to see the impressive whirling dervishes ceremony. Performed in front of the Hamed an-Nil tomb this frenzied sufi tradition is sure to leave a lasting impression you! Tonight we will head out for dinner before returning to our hotel.
Day 8: Tour Ends In Khartoum
Meals Included:
Breakfast, Lunch
After breakfast we'll cross the confluence between the Blue and White Nile to reach Omdurman, the old capital of Sudan. Here we'll look at the outside of Mahdi's tomb and then visit Khalifa's House, containing a small museum. We'll also visit Omdurman market before having an early lunch. In the afternoon we'll visit the impressive Archaeological Museum, containing many beautiful objects including two full temples rescued by UNESCO from the Lake Nasser area when it was flooded after construction of the Aswan dam. We'll then return to our hotel for the chance to freshen up. Those on the suggested group flights will be transferred to Khartoum airport in time for their return flight.
What's Included
MEALS

7 x Breakfasts, 8 x Lunches, 7 x Dinners

TRANSPORT

On this tour we will be in 4WD vehicles outside of Khartoum, and a coaster bus whilst in Khartoum.

CARBON CONTRIBUTIONS

Contributions to carbon offset & tree planting projects for all bookings

EXPERT TEAM

The full services of a Wild Frontiers Tour Leader with local guides where appropriate

ACCOMMODATION

All accommodation as outlined in the itinerary

ENTRANCE FEES

All entrance fees for sights mentioned in the itinerary

FITNESS RATING

Low / Moderate
What's Not Included
We believe in a completely transparent approach to pricing with no hidden extras. As such, please note that the following are not included in the cost of the tour.Visas & Travel Insurance: Visas will always be tour/nationality dependent but travel insurance is mandatoryTips: Always optional but some guidance will be given in the pre-departure information documentsInternational .Flights: Please ask us for an obligation-free quote for flights which originate in the UKAirport .Transfers: We include complimentary transfers if arriving/departing on the suggested group flights.Beverages & any costs of a personal nature: This will include items such as laundry and souvenirs
Visas
Visas are necessary for many of the destinations we travel to and while we aim to provide you with the most up-to-date information, requirements frequently change and as such for the latest advice we advise that you check with the relevant embassies or contact our recommended visa agency, Travcour www.travcour.com For this tour, UK passport holders currently require a visa for Sudan. Non-UK passport holders or non-UK residents should contact the relevant embassies for individual requirements. NB. It should also be noted that anyone with a passport showing evidence of having visited Israel (including having entered or left Jordan/Egypt from posts which are known to border Israel) are likely to be denied a visa for Sudan. Moreover as of January 2016 US policy (subject to change) has stated that anyone wishing to travel to or via the USA is required to apply for a US visa (rather than an ESTA) if they have travelled to Sudan since March 2011. The process is fairly straightforward and you can read more about it here – www.wildfrontierstravel.com/us-visa - but this is just something you will need to aware of if you have future plans to travel to or via the US. In April 2019, The British FCO noted that visitors to Sudan on a single-entry visa were sometimes being asked to purchase an exit visa to leave the country. If you are asked for an exit visa they can be processed at the airport. If requested, you should be ready to show your letter on invitation (which we will send to you before you apply for your actual visa) and pay an exit visa fee of 50 US Dollars. Further details will be sent out to you on booking, however ensuring that correct and valid visas are obtained remains the sole responsibility of the client.
Key Aspects to Consider
Please be advised that on this trip vegetarians can be catered for but the selection and variety may be limited. Anyone in a reasonable state of health, with an open mind and a sense of adventure should be perfectly able to cope with this tour, though please note that desert travel can be tiring at times and you should come prepared for some unexpected challenges. Please note there are a number of nights spent wilderness camping on this tour. It is worth pointing out that Sudan is a 'dry' country and it is forbidden to take alcohol in to the country. Please note that sometimes we operate this itinerary in reverse, but when we are forced to do this there is no change to any of the sites visited or itinerary inclusions.
Check out our Q&As
Are the local guides on the tour English speaking?

Are airport transfers included in this tour?

We include complimentary transfers if arriving/departing on the suggested group flights

Do you require a visa for this holiday?

For this tour, UK passport holders currently require a visa for Sudan. Non-UK passport holders or non-UK residents should contact the relevant embassies for individual requirements.

What is the maximum group size?

What policies are in place for Covid-19?

We have a complete Covid-19 hub here: https://www.wildfrontierstravel.com/en_GB/covid-hub
Do you operate a "single share" option and how does it work?

Over 70% of passengers on our group tours are solo adventurers. Unlike many tour operators, we don't believe in charging solo travellers a premium, so if you are happy to share a room with a fellow traveller of the same sex, you will pay exactly the same as a couple..Occasionally you may even end up with your own room. You can travel as a single traveller on any of our holidays, from our escorte

Will the accommodation included meet local health and safety regulations?

How long has the tour company been trading?

Do I need to be double-vaccinated against Covid-19 to travel with you?

In most cases, yes. Not only are many destinations making double-vaccination a requirement of entry to the country and/or access to restaurants, museums etc., but additionally on all our group tours for the foreseeable future, for everyone's peace of mind, we are asking that all clients be double vaccinated.
Reviews from Travellers on this Tour
Anne Kiernan
Anne Kiernan
Sudan is as yet an unspoilt tourist destination. The locals are friendly and make you feel very welcome. You can totally immerse yourself at the ancient sites.
Benjamin Porter
Benjamin Porter
The tour seemed to fit a huge amount in within the time whilst also allowing time for things to sink in. Obvious highlights like Meroe and Jebel Barkal lived up to expectations but the other less obvious sites and interactions with locals were also fascinating.
Robert Hackford
Robert Hackford
I just loved this trip: it was up there among my top favourites. The itinerary itself was excellent
Jolene Moore
Jolene Moore
Fantastic tour. Sudan is a really interesting destination with lots of sights and stunning desert scenery.
Want a private tour?
Dates & Availability
Instant Booking Available
Saturday - Saturday
Nov 09, 2024 - Nov 16, 2024
Instant Booking Available
Saturday - Saturday
Dec 28, 2024 - Jan 04, 2025
Instant Booking Available
Saturday - Saturday
Feb 08, 2025 - Feb 15, 2025
Instant Booking Available
Saturday - Saturday
Dec 27, 2025 - Jan 03, 2026
Book with Confidence
Free Date Changes

Wild Frontiers allows you to make 2 free date changes, as long as the change is made at least 90 days before the start of the tour.

Low Deposit

Wild Frontiers requires a minimum deposit of 200 GBP per person or the full booking value, whichever is less, with the final balance not due until 70 days before departure.

Cancellation Policy

We don't charge a cancellation fee, here is a summary of wild frontiers charges.

Up to 71 days before tour starts: Forfeit 100% of deposit.

At 51 days before tour starts: Forfeit 50% of booking price.

At 30 days before tour starts: Forfeit 100% of booking price.

Wild Frontiers' COVID Promise

You will have the right to transfer without any transfer fee, from any of our trips at ANY time if your trip is not Covid Viable (see below).*
We will not ask you to pay your final balance if your trip is not yet Covid Viable.
If your trip is not Covid Viable, by 30 days prior to departure at the latest, we will cancel your holiday and you can either transfer your funds to another departure or have a refund.**


We will only consider a trip Covid Viable*** if pre-departure it meets all of the following criteria:

There is no national lockdown or ban on foreign travel for the period when your trip is due to depart.
Destinations on the tour must not be on the UK's Red List. ****
No destinations visited on the tour have in place any significant COVID-19 restrictions for travellers.
Tourist visas (if required) are available.
There is reliable airline access to/from the start/end of the trip.
Following an assessment by both Wild Frontiers and our local partners we are confident that your trip is able to run in both a safe and enjoyable manner.*****




** If you were originally booked to travel before 30 April 2020 and transferred to a later date, or if you have a tailor-made booking, there may be some irrecoverable costs which we cannot refund. Please speak to us and we will be able to advise you if this is the case for your booking.
***Since our HQ is in London, Covid Viable status for our Group Tours will be assessed on UK-based travellers. However we are fully aware that many of our clients live in the US, Canada, Australia, New Zealand and beyond. As such, when we deem a trip to now be Covid Viable, everyone booked will have a chance to review their own personal situation before deciding whether or not to remain booked on the trip. Anyone wishing to, will have the option to transfer without fees to another trip at this time. For tailor made bookings, we may also able to consider additional countries' travel advice when deciding if a trip is Viable. Please discuss this with us at the time of booking.
**** This relates to bookings from UK clients only. We may operate trips to destinations which the British FCDO advise against travel for Covid reasons. If this is the case, anyone wishing to will have the option to cancel with a refund or transfer to another trip. In some cases we may choose to offer a tour to a Red destination but these will be at both clients' and Wild Frontiers' discretion and will be subject to alternative conditions to be discussed on an ad hoc basis.
*****If a destination, that we have deemed to be Covid Viable, subsequently fails any aspect of the criteria for two consecutive weeks, you will have the right under our Covid Promise to transfer without any fees.
Why book with tourhub?
Safe & Secure
Your money is protected in an external trust until you travel.
---
100% Guaranteed Refunds if your trip is cancelled.
---
The safest way to make overseas, multi-currency payments.
Guaranteed Best Value
Industry leading discounts, we won't be beaten on price.
---
No cancellation or amendment fees from tourhub.
(Operator terms may apply)
Expert Knowledge
Reliable & unbiased advice from travel experts.
---
Direct contact with the tour operator via our messaging service.
---
Inspiration & advice from a community of 6000+ real travellers, influencers & content creators.
Trusted Service
Official partners & licensed agents of 1000+ tour operators worldwide.
---
Don't just take our word for it...
"Tourhub: Friendliness, Professionalism & Integrity I would happily give tourhub a 6* review if I could..."
Similar Tours
Travel Guru Features
Our Reviews