Alpine Climbing Course
Alpine Climbing Course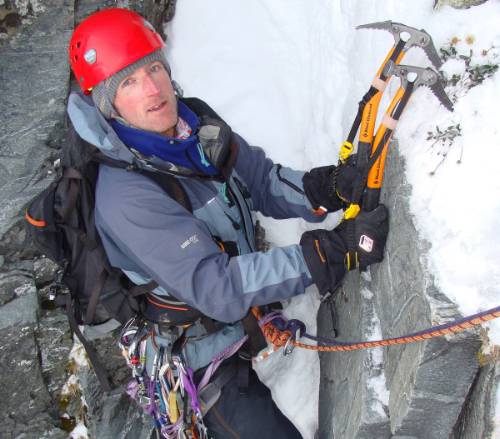 Alpine Climbing Course
7 Days Starting and ending in Aoraki Mount Cook Village
Tour operator:
Physical rating:
Intermediate Mountaineering Expedition
From:
$2748
$2671 (USD) WINTER SALE @ Tourhub Discount: $77
Tour Overview
Experience is imperative before tackling any major mountaineering ascent. This comprehensive climbing course has been designed specifically for fit and motivated people who want to learn modern-day alpine climbing techniques and improve their basic mountaineering knowledge. The seven day course focuses on advancing your technical skills and developing a climbing strategy pertinent to alpine style mountaineering. In the company of professional NZMGA/IFMGA mountain guides you will gain valuable experience through climbing a variety of alpine routes as well as develop skills in mountain navigation, weather training, glacier travel and crevasse rescue training. Upon the successful completion of this course you will have learnt safe climbing practices and be capable of utilising your skills to attempt ascents of many of the major peaks within New Zealand and beyond.
Highlights
A 7 day fly in, fly out alpine based learning environment - high mountain hut based with the potential for planned bivouacs

Learn new mountain skills and brush up on techniques

Instructed by fully qualified IFMGA/NZMGA (NZ Mountain Guide Association) guides

Receive a detailed instruction manual

Join like minded companions and potentially find your next rope mate on tomorrows objectives

Gain valuable experience through climbing a variety of alpine routes

An ideal introduction to the world of climbing snow and ice
Itinerary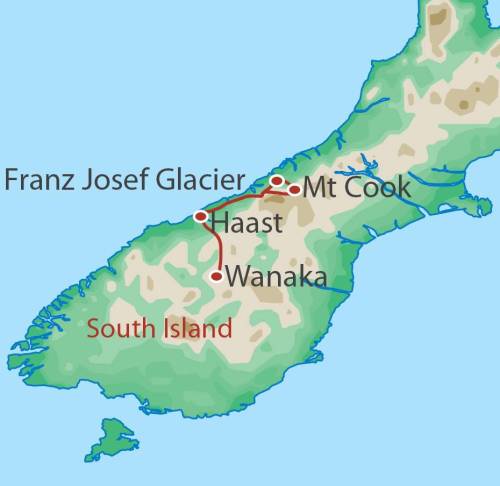 Not what you're looking for?
People that have booked this tour have also searched for the following:
Tours in New Zealand
Expand All
Day 1 :

Meet At Aoraki Mount Cook Village, Fly To The Mountains
Today you'll meet your guide and other group participants at 8.30am in Aoraki Mount Cook Village for a briefing. After everyone is introduced, your guide will outline the course syllabus and confirm the actual venue where course will take place, which will depend on conditions. There will be time together to discuss and then organise our personal and group equipment (bring all your gear with you, including those items you are not sure whether to include or not). Equipment pertinent to the course will be discussed and you can get all the advice you need concerning equipment from the guides. Anyone requiring rental equipment will be fitted at this time (but please advise in advance of your requirements to ensure you are catered to) and final purchases can be made. Food is pre-sorted for the trip by the guides to save time. It's very important to ration food effectively, too much and your packs become overly heavy, too little and you starve! Basic rope skills and tying in are covered to ensure consistency and revision for those who already have rope skills. This enables us to get right into it when we reach the mountains. Trip planning is covered followed by rescue first aid and decision-making. Once all this is completed we pack up for the trip. Excess items can be left at our office for storage. You will then take your helicopter or ski plane flight into the mountains, taking in the awesome peaks of the region you will be soon scaling. The fly in is generally planned for late morning, or early afternoon. After landing, it may be a short stroll across to your hut - or you may need to rope up for glacier travel and haul your gear and food for up to 30 minutes to the hut. Our guide will welcome you to your mountain home for the week and introduce you to "hut etiquette'. An initial familiarisation talk to clarify nomenclature and identify the peaks will help you absorb this wonderful environment before moving into the more practical elements of the trip. We utilise the hut system in the region when they are not too full and we move our gear in before we sort ourselves to get out onto the snow. The group ropes up for crevasse travel training and we go for a walk on the glacier. Our other mountaineering gear is introduced as we go along with the rudimentary techniques needed for mountaineering - use of an ice axe, learning to crampon and to self-arrest. The first day out in the mountains is always exciting and eventually we will retire to the hut for a team cook-up and maybe a lesson on weather forecasting while watching the sunset.
*Please note you will need to arrive in Aoraki Mount Cook Village the day before the trip starts as day 1 will be an early start.
Day 2 :

Mountaineering, Alpine Climbing Course
Your course will be based from one of several mountain huts across Aoraki Mount Cook National Park. The venue used for each course is selected by your guide, based on upcoming weather and general snow conditions. Some of the options include Barron saddle, Grand Plateau or Tasman saddle. The itinerary is flexible and strikes a balance between instruction and climbing, with building core competencies and skill development at the core. Once the key self arrest and crampon skills are instilled, the focus moves to climbing, rope and anchor skills, glacier travel and mountain weather, fostering the confidence to undertake climbing trips in glaciated alpine zones. Expect early mornings with 'alpine starts' if a longer ascent is planned for the day and to be active for at least 8-10 hours a day. There will be time in crevasses to practice rescue skills, where we each take turns to jump into the crevasse while our climbing partners hold our falls. They then carefully pull us up out of the crevasse then we swap around. There will be time spent ice climbing, with the chance to hang onto those tools and find the balance point on the crampons. Navigation is a crucial skill and can mean the difference between comfort and concern in the mountains. By knowing these skills one can actually avoid ever getting (completely) lost. Weather lessons, avalanche awareness lectures, time to practice placing and equalising snow, ice and rock anchors and discussions on crevasse rescue theory is all included, with a balance between theory and practical skills. There will be opportunities for the course participants to consolidate the skills acquired under the watchful eyes of the guides. Mountain weather conditions will govern our activities for the day, with instruction closer to the hut in poor weather. A welcome cup-a-tea greets you at the hut after each challenging yet rewarding day out, expect to return to the hut tired and elated, then it's time for a game of cards before dinner. The time in the mountains provides the perfect introduction to the world of alpine climbing in glaciated terrain.
Day 7 :

Navigation, Climbing And Return Aoraki Mount Cook Village
There are opportunities to utilise our navigation skills and it's a good chance for the course members to practise these skills. Generally we will hike down the Tasman Glacier for about 8 km to be picked up by the aircraft from the White Ice area (weather permitting). You must always be prepared and fit enough to walk out if weather conditions will not allow for aircraft pick-up. Weather must also be suitable to allow safe travel on foot. Depending on the hut used, the walk may take anywhere from 4-9 hours. Depending on our return timing, there may be a chance to practice some rock climbing on the local crags. By mid-afternoon everyone is rather tired, it's been an action packed 7 days so it's back to the office to sort out the equipment and debrief the course, after which our trip will conclude at around 5pm.
What's Included
Accommodation
6 nights mountain hut/camping

NZMGA and / or IFMGA qualified mountain guide

All meals and snack foods whilst on the trip

helicopter or ski plane access and egress flights

Mountain hut accommodation on a multishare basis or camping

Course manual

Group equipment such as ropes, tents and stoves

Department of Conservation fees

NZ Goods and Services Tax (GST)

Use of climbing gear including climbing harness with adjustable leg loops, carabiners, belay device/descender, prussics & slings, helmet, ice axe, ice hammer, crampons
What's Not Included
Travel to/from Aoraki Mount Cook Village

Personal expenses

Travel insurance

Personal mountaineering equipment not mentioned in inclusions (can be hired)

Any accommodation and meals not mentioned in the itinerary
Accommodation
6 nights mountain hut/camping
We will provide your accommodation while the course is running which is from 8.30am on Day 1 until 5.00pm on Day 7. When in the mountains you will stay in mountain huts with shared bunkrooms and basic facilities. There are no single rooms available. Alpine huts are fitted with a water supply, bunks, mattresses, blankets, benches, cooking utensils and VHF radios. Most huts have solar powered lighting. Some huts have LPG gas, however most alpine huts in New Zealand are not heated. Warm jackets are recommended even in summer for the evenings, and be prepared for cool conditions during winter. Plates and cooking utensils are supplied, as is cooking equipment. It is a good idea to bring along your own drinking mug. Most huts have a small library of magazines and books, and you are welcome to bring along a book or lightweight reading device (with a dry-bag container). All participants are expected to assist with basic cooking and hut cleaning duties. Some mountain nights may be spent in tents or bivvies where you will be more exposed to the elements but the final decision on this will be made by the guides after weighing up all the factors.
What You Carry
A high level of aerobic fitness and tramping/hiking/bushwalking experience is expected. You will carry a 5-8 kg backpack each day and a heavier pack on longer days.
Grading
To make the most of your climbing experience we encourage you to work on your fitness prior to the trip. You will find that training with a 15kg + pack on is the best preparation for the mountains, with the aim of getting 'pack fit' and building your endurance. Your guide places special focus on fitness levels and will regulate the pace accordingly. Building up your upper body strength is imperative for ice climbing and some training beforehand will really help you make the most of you time on the course. Progressing to doing pull ups in the gym is what you need to aim for, and good overall conditioning will help you climb for longer each day on the course. Our registration form requests that you advise us of any medical problems you may have and if you are on any medication. Any information you supply will be treated as confidential.
Check out our Q&As
Who will be my travelling companions on the tour?

We have offices on three continents which means your travelling companions will be just that – international and wonderfully eclectic. Part of small group travel means that although travellers come from various locations and backgrounds, you will be travelling with like-minded companions who, like you, are keen to share the experience and forge lifelong friendships.

What about environmental impact?

We believe that adventure travel revolves around establishing a strong relationship with the people and environments in which we operate. Our responsible travel policies have been carefully developed to ensure that we minimise the impact of our presence and help to protect the regions we visit while contributing positively to the local community.

What should I pack?

Your pre-departure documents include a detailed packing list with items that you need to bring. While most of the equipment for daily activities is included in your tour cost, some items like helmets and hiking boots are best brought from home. The pre-departure documents also include information on layering and recommended brands for various items to ensure you are fully prepared for your trip.

Do you operate a "single share" option and how does it work?

Yes. World Expeditions does not require single travellers to pay a surcharge for travelling alone on the vast majority of our trips. Our holidays are primarily on a twin share basis, so if you are joining the group as a solo traveller, we will match you with someone of your own gender. The choice is yours however; if you prefer not to share, we do offer single supplements for private occupancy.

Are tips included in my trip price?

Tips are not included in the tour cost. Tipping is a personal thing, do not worry about how much, or when, to tip. Tipping guidelines are provided for certain destinations in our pre departure information upon booking, however the best advice will be provided by your tour leader.
Am I suited to small-group travel?

We recognise that many of our travellers have not been on a 'group trip' before. Yet what our departures provide is both structure and flexibility, allowing you plenty of freedom within the framework of the itinerary. You'll find that with our maximum group size at 16, you'll travel in a minimal impact style with a great group of like-minded travellers.

Can you advise which vaccinations are recommended?

While our pre-departure kit provides information on vaccinations, we suggest that you consult your doctor, local government inoculation centre or a travel medical specialist in order to get the most current advice regarding vaccination requirements.
Reviews from Travellers on this Tour
Roger Moir(Brisbane, QLD New Zealand)
Alpine Climbing Course
I was very happy with my week on the MEC at Mt Cook.I can find no fault at all in the 5 days experience, even the weather played the game by raining at the start when we did classroom stuff. Then the flight up to the tarn to camp and play and learn. Our guide was the best. He knew the terrain, kept us informed and most importantly was very experienced. I came away knowing that there are mountains out there that I could and will climb. Just the best. Thanks. Roger
Dates & Availability
Instant Booking Available
Friday - Thursday
Dec 15, 2023 - Dec 21, 2023
Instant Booking Available
Friday - Thursday
Dec 29, 2023 - Jan 04, 2024
Instant Booking Available
Friday - Thursday
Jan 05, 2024 - Jan 11, 2024
Instant Booking Available
Friday - Thursday
Jan 19, 2024 - Jan 25, 2024
Instant Booking Available
Friday - Thursday
Feb 02, 2024 - Feb 08, 2024
Instant Booking Available
Friday - Thursday
Feb 16, 2024 - Feb 22, 2024
Instant Booking Available
Friday - Thursday
Mar 01, 2024 - Mar 07, 2024
Instant Booking Available
Friday - Thursday
Mar 15, 2024 - Mar 21, 2024
Instant Booking Available
Friday - Thursday
Apr 05, 2024 - Apr 11, 2024
Instant Booking Available
Friday - Thursday
Apr 19, 2024 - Apr 25, 2024
Book with Confidence
Transfer as credit to Future Tours

World Expeditions allows you to transfer existing payments to a future tour to avoid cancellation fees if you can't travel and inform world expeditions, 70 days before departure.

Low Deposit

World Expeditions requires a minimum deposit of 250 GBP per person or the full booking value, whichever is less, with the final balance not due until 70 days before departure.

Cancellation Policy

We don't charge a cancellation fee, here is a summary of world expeditions charges.

Up to 70 days before tour starts: Forfeit 100% of deposit.

At 69 days before tour starts: Forfeit 50% of booking price.

At 35 days before tour starts: Forfeit 100% of booking price.
Why book with tourhub?
Safe & Secure
Your money is protected in an external trust until you travel.
---
100% Guaranteed Refunds if your trip is cancelled.
---
The safest way to make overseas, multi-currency payments.
Guaranteed Best Value
Industry leading discounts, we won't be beaten on price.
---
No cancellation or amendment fees from tourhub.
(Operator terms may apply)
Expert Knowledge
Reliable & unbiased advice from travel experts.
---
Direct contact with the tour operator via our messaging service.
---
Inspiration & advice from a community of 6000+ real travellers, influencers & content creators.
Trusted Service
Official partners & licensed agents of 1000+ tour operators worldwide.
---
Don't just take our word for it...
"Tourhub: Friendliness, Professionalism & Integrity I would happily give tourhub a 6* review if I could..."
Not what you're looking for?
People that have booked this tour have also searched for the following:
Tours in New Zealand
Similar Tours
Travel Guru Features
Our Reviews