Annapurna Base Camp Trek in Comfort
Annapurna Base Camp Trek in Comfort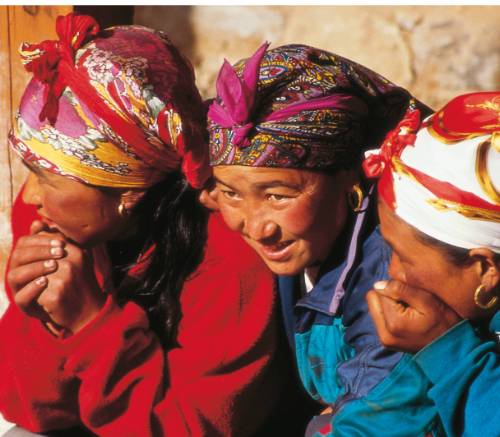 Annapurna Base Camp Trek in Comfort
16 Days Starting in Kathmandu and ending in
Tour operator:
Physical rating:
Introductory to Moderate
Tour Overview
Annapurna is the 10th highest peak in the world. It was the first 8000 metre peak ever summitted, in June 1950 by a French expedition led by Maurice Herzog. The tale of this epic climb is told in one of the most fascinating narrations of mountaineering adventure in the book 'Annapurna' also written by Maurice Herzog. Our trek to Annapurna Base Camp is by comparison a far more tame proposition, however the big mountain views are still the same as we ascend through villages and terraced farmland to the alpine environments found at the higher elevations around base camp. This is a stunning trek in the heart of the Annapurna range.
Highlights
Revel in breathtaking vistas trekking amongst the Annapurna Range

Journey into the heart of the Annapurna Sanctuary for sublime panoramic views

Immerse yourself in Nepali life as you trek through Gurung Villages

Experience two spectacular Himalayan mountain flights between Kathmandu and Pokhara
Itinerary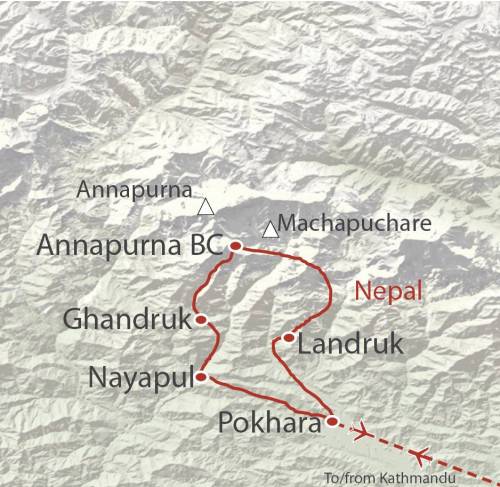 Not what you're looking for?
People that have booked this tour have also searched for the following:
Tours in Nepal
Expand All
Day 1 :

Arrive In Kathmandu (1330M).
You will be met by a representative of World Expeditions and transferred to the Radisson hotel. Remainder of the afternoon at leisure. A pre-trek briefing will be given around 4.30-5pm where arrangements will be made for the distribution of your kit bag, sleeping bag and down/fibrefill jacket. This evening we will head out for dinner, this is a great opportunity to get acquainted with your fellow group members.
Overnight: Radisson Hotel
Day 2 :

Free Day In Kathmandu
Today you have a full day to explore Kathmandu's bustling streets and significant landmarks. You may wish to start by exploring the city's two most important World Heritage Listed spiritual sites: Pashupatinath, Nepal's most sacred Hindu temple and an important cremation site; and Boudhanath, the largest Buddhist stupa in Nepal and the most sacred Tibetan Buddhist shrine outside of Tibet. Alternatively you could wander through the markets and shops of the busy Thamel precinct or explore some more of the city's significant sites such as Swayambhunath (Monkey Temple) or the World Heritage Listed plazas of Patan, Bhaktapur or Durbar Square.
Overnight: Radisson Hotel
Day 3 :

Fly To Pokhara, Commence Trek To Dhampus (1990M) - Walk Approx 3 Hours
This morning we take a flight west to Pokhara, Nepal's second largest town (820m). In good weather we are greeted with sights of the entire Annapurna Range. From here we drive for an hour to a pass between two river valleys to the village of Phedi, where we commence our trek. There is no need to rush as this is a short day with plenty of time to reach our overnight stop. The trail ascends for the first hour, following a ridge through fields of bamboo clusters to magnificent rhododendron forest. Villagers greet us with "Namaste", the traditional Nepalese greeting, as we pass their homes and continue to the ridge top where at the crest the scale of the mountains astounds us. Machapuchare (6993m), Hiunchuli (6441m) and Annapurna South (7219m) can be seen from our immediate viewpoint.
Overnight: Eco lodge
Day 4 :

To Landruk (1640M) - Walk Approx. 5 Hours
After a glorious mountain sunrise we follow the trail through rhododendron forest before continuing through a series of Gurung villages where lifestyles have not changed substantially over the centuries. After lunch we follow a well-marked trail to the prosperous village of Landruk.
Overnight: Exclusive eco-comfort camp or Eco lodge
Day 5 :

Trek To Chhomrong (2170M) - Walk Approx. 6-7 Hours
High on the opposite side of the river, you can explore the village of Ghandruk. From this point, the trial descends along terraced slopes & forest down to the river. After crossing the river at New Bridge, the trail ascends steeply 500m to join with the trail from Ghandruk. From here it is a short walk via a stone staircase to Chhomrong (2170m). Chhomrong is a village which offers spectacular views of Annapurna South & Machapuchare.
Overnight: Eco lodge
Day 6 :

Trek To Bamboo (2310M), Walk Approx. 4 Hours
Here, the trail descends via a stone staircase, eventually crossing the Chhomrong Khola. We climb high above the Modi Khola, traveling its west bank, and pass through forests of bamboo, rhododendron and oak. This portion of the day's trek is followed by yet another ascent to Kuldighar before finally descending a long, steep, stone staircase to the village of Bamboo.
Overnight: Eco lodge
Day 7 :

Trek To Deurali (3200M),Walk Approx. 5-6 Hours
Today's destination is Deurali via the impressive limestone Hinku Caves. The path is undulating with well defined paths, including a significant amount of stone steps. We climb steeply on zig- zagging stone paths to eventually reach Deurali and our accommodation for the night.
Overnight: Eco lodge
Day 8 :

Machapuchare Base Camp (3900M), Walk Approx. 3-4 Hours
After walking for 2 to 3 hours, we enter the Annapurna Sanctuary. Finally, we reach Machapuchare Base Camp, a grassy moraine platform within a huge amphitheater enclosed by a solid wall of snow-capped peaks which include Annapurna I, Annapurna III and the impressive fish tail spire of Machapuchare.
Overnight: Eco lodge
Day 9 :

Annapurna South Base Camp (4131M), Walk Approx. 2-3 Hours
As you reach Annapurna South Base Camp, witness awesome picturesque landscapes, majestic panoramic view of snow-capped mountainous peaks and varied Himalayan cultural settings tucked beneath the southern slopes of the Annapurna South.
Overnight: Eco lodge
Day 10 :

Rest Day, Side Walks
Today is set aside to relax and enjoy the surrounds. If you are feeling fit and acclimatised, you may wish to enjoy some sidewalks.
Overnight: Eco lodge
Day 11 :

Return To Derauli (3200M), Walk Approx. 3-4 Hours
The return journey is no less spectacular and generally a bit more downhill. The descent offers a different perspective of the mountain scenery we enjoyed on the ascent.
Overnight: Eco lodge
Day 12 :

To Chhomrong (2170M), Walk Approx. 5-6 Hours
We descend a long, stone staircase through bamboo and rhododendrons forests through Kuldighar continuing through beautiful rhododendron forests and down to Sinuwa. From Sinuwa, the trail leads downhill to the Modi Khola, closing the day with a steep climb to Chhomrong.
Overnight: Eco lodge
Day 13 :

To Ghandruk (1740M), Walk Approx. 5-6 Hours
From Chhomrong, the trek heads back to Ghandruk – descending gently through forests to Kummu. We camp overnight with views offering, yet another, picturesque, panoramic view of Annapurna South.
Overnight: Exclusive eco-comfort camp or Eco lodge
Day 14 :

Trek To Syauli Bazaar And Drive Pokhara, Walk Approx. 2-3 Hours, Drive 3 Hours
Trek downhill through villages and terraced fields to Syauli Bazaar, then onto Nayapul before being transported back to Pokhara for an overnight stay at a hotel.
*It is important to us that this trek follows few of the commercial tea-house trails. Accordingly the route may be varied at the discretion of the group leader. Note that the approximate walking hours include rest stops and can vary due to trail or weather conditions.
Day 15 :

Fly Pokhara To Kathmandu
After breakfast we transfer to the airport for our fight to Kathmandu, a spectacular mountain flight along the face of the Himalaya. On arrival we transfer to the hotel. Afternoon at leisure.
Overnight: Radisson Hotel
Day 16 :

Trip Concludes Kathmandu.
After breakfast arrangements cease unless further arrangements have been made. Those people travelling by aircraft to further destinations will be transferred to the airport.
What's Included
15 breakfasts, 12 lunches and 12 dinners, including all meals on trek valued at US$600

Flight Kathmandu/Pokhara return valued at US$266

Airport transfers if arriving on day 1 and 16 or if you booked pre/post tour accommodation at the Radisson through World Expeditions

Expert bilingual guide

Group medical kit

Good quality accommodation in Kathmandu and Pokhara on a twinshare basis

Accommodation in eco lodges (non-private) or exclusive eco-comfort camps

The use of a World Expeditions trek pack including sleeping bag, down or fibre filled jacket and insulated mat valued at $500

Souvenir World Expeditions kit bag

Private vehicle transportation
What's Not Included
Lunch & dinner in Kathmandu

Items of a personal nature such as phone calls, laundry, etc

Bottled water, aerated & alcoholic drinks

Tips

International flights

Airport and departure taxes

Visa

Travel Insurance
Grading
These adventures involve trekking for up to 6 or 7 hours a day at a steady pace. These trips may spend successive days at altitudes not generally exceeding 4,500m and are usually between 10 and 15 days in duration. You will need a good level of fitness and be in good health. * Suggested preparation: 45 minutes of aerobic type exercise, three to five times a week for the three months leading up to your trip. Hill walking with a pack in variable weather conditions or road cycling is also recommended depending upon the activity you plan to undertake.
Accommodation
4 nights hotel
In Kathmandu we stay at the comfortable, well located Radisson Hotel. The Radisson Hotel is situated in Lazimpat, a quiet and central area of Kathmandu. Only a short 12 minute walk to the main tourist district of Thamel, the Radisson acts as a base for World Expeditions travellers. The hotel has a World Expeditions tour desk in the foyer, free WIFI, a pool and bar, gymnasium, restaurants, room service, currency exchange and free luggage storage whilst you are on trip. A hearty buffet breakfast is included with every night stay in the Radisson. The Tranquility Spa, within the Radisson offers massage, reflexology, steam room and sauna, plus many beauty treatments for your enjoyment as a World Expeditions client you will receive a 30% discount off the retail prices on any treatment at the Spa. You can book these services through the Radisson while you are in Nepal.
What You Carry
In your daypack you will need to carry extra warm clothing (depending on the altitude, location and weather), a rainjacket, water bottle, camera gear, valuables and personal items such as sunscreen, lip balm etc. Porters carry all group gear and your trek pack.
Check out our Q&As
Who will be my travelling companions on the tour?

We have offices on three continents which means your travelling companions will be just that – international and wonderfully eclectic. Part of small group travel means that although travellers come from various locations and backgrounds, you will be travelling with like-minded companions who, like you, are keen to share the experience and forge lifelong friendships.

What about environmental impact?

We believe that adventure travel revolves around establishing a strong relationship with the people and environments in which we operate. Our responsible travel policies have been carefully developed to ensure that we minimise the impact of our presence and help to protect the regions we visit while contributing positively to the local community.

What should I pack?

Your pre-departure documents include a detailed packing list with items that you need to bring. While most of the equipment for daily activities is included in your tour cost, some items like helmets and hiking boots are best brought from home. The pre-departure documents also include information on layering and recommended brands for various items to ensure you are fully prepared for your trip.

Do you operate a "single share" option and how does it work?

Yes. World Expeditions does not require single travellers to pay a surcharge for travelling alone on the vast majority of our trips. Our holidays are primarily on a twin share basis, so if you are joining the group as a solo traveller, we will match you with someone of your own gender. The choice is yours however; if you prefer not to share, we do offer single supplements for private occupancy.

Are tips included in my trip price?

Tips are not included in the tour cost. Tipping is a personal thing, do not worry about how much, or when, to tip. Tipping guidelines are provided for certain destinations in our pre departure information upon booking, however the best advice will be provided by your tour leader.
Am I suited to small-group travel?

We recognise that many of our travellers have not been on a 'group trip' before. Yet what our departures provide is both structure and flexibility, allowing you plenty of freedom within the framework of the itinerary. You'll find that with our maximum group size at 16, you'll travel in a minimal impact style with a great group of like-minded travellers.

Can you advise which vaccinations are recommended?

While our pre-departure kit provides information on vaccinations, we suggest that you consult your doctor, local government inoculation centre or a travel medical specialist in order to get the most current advice regarding vaccination requirements.
Reviews From Travellers On This Tour
Ulla Wallner(Hessen, Germany)
Annapurna Base Camp Trek in Comfort
I wonderfull,magic trip, amazing Annapurna Sanctuary- well and professional organised, great to meet such wonderfull and knowledgeable Nepalese People, who made this trip possible...Britta
P. Hall(Wilsons Creek, NSW)
Annapurna Base Camp Trek in Comfort
PROFESSIONAL, PERSONABLE AND PRACTICAL! WHAT A TRIP!
Geoffrey Rose(Benowa, Gold Coast, QLD)
Annapurna Base Camp Trek in Comfort
The trip was excellent but we had concerns about some accommodation. It seems that some bookings had not been made for the single supplement rooms and we were told we might have to camp in single man tents. Fortunately suitable accommodation was arranged but had this not been possible it would have been very unsatisfactory as the weather was very bad as well
P. Bucca(Boise, ID, USA)
Annapurna Base Camp Trek in Comfort
3rd trip with WE. Very satisfied
Gail Burke(East Tamworth, NSW Australia)
Annapurna Base Camp Trek in Comfort
Our trip was brilliant.Trekking for 12 days was something new to me. Thanks to the perfect organisation and planning I was so proud to achieve such a trek. The leadership of Bir Singh Gurung was exceptional. He was supportive, reassuring and made the whole trip a wonderful success. His immediate team where brilliant. I could not recommend this team more! Thank you for an amazing experience.
E. Wuelfing(Boise, ID, USA)
Annapurna Base Camp Trek in Comfort
This was my 6th trip with WE and the crew on this trip was superior. Sanjay was the best leader to date. Great trip!
Kerrie Robinson(Werrington, NSW Australia)
Annapurna Base Camp Trek in Comfort
I had a wonderful time with a fantastic leader and crew. Our guide was amazing and could answer all the questions as well as helping us all. Finish the trek
Liz C.(Newcastle, UK)
Annapurna Base Camp Trek in Comfort
Absolutely wonderful trip! My first time trekking in Nepal and I was anxious about managing ABC but the porters and guide Binod, especially, were very supportive and well organised and we had wonderful meals prepared by Tika and so it was very manageable. An unforgettable experience! I would recommend WE and would use them again.
Tomas Plodr(Mosman, NSW Australia)
Annapurna Base Camp Trek in Comfort
1. We camped at Landruk & Gandruk and I thought it was unnecessary given the amount of nice accommodation in both towns. Instead the WE tents were placed on donkey grazing grounds behind dead hotels. 2. My partner suffered AMS at 3,300m and the group leader was outstanding at sorting out the problem. 3. The tips required have effectively doubled from the WE guidelines as inflation is rampant. We paid A$260pp in tips for a 12 day trek.
S. Coates(Singapore)
Annapurna Base Camp Trek in Comfort
Had the most amazing experience trekking up to Annapurna Base Camp via Poon Hill with a group of 8 friends, supported by 23 terrific porters, sherpas and cooks, led by a wonderful man, 'Meet'. Trip very satisfying from a cultural, social and physical viewpoint and left me wanting more. Would fully recommend- in fact, planning our next adventure!
Book with Confidence
Transfer as credit to Future Tours

World Expeditions allows you to transfer existing payments to a future tour to avoid cancellation fees if you can't travel and inform world expeditions, 70 days before departure.

Low Deposit

World Expeditions requires a minimum deposit of 250 GBP per person or the full booking value, whichever is less, with the final balance not due until 70 days before departure.

Cancellation Policy

We don't charge a cancellation fee, here is a summary of world expeditions charges.

Up to 70 days before tour starts: Forfeit 100% of deposit.

At 69 days before tour starts: Forfeit 50% of booking price.

At 35 days before tour starts: Forfeit 100% of booking price.
Why book with tourhub?
Safe & Secure
Your money is protected in an external trust until you travel.
---
100% Guaranteed Refunds if your trip is cancelled.
---
The safest way to make overseas, multi-currency payments.
Guaranteed Best Value
Industry leading discounts, we won't be beaten on price.
---
No cancellation or amendment fees from tourhub.
(Operator terms may apply)
Expert Knowledge
Reliable & unbiased advice from travel experts.
---
Direct contact with the tour operator via our messaging service.
---
Inspiration & advice from a community of 6000+ real travellers, influencers & content creators.
Trusted Service
Official partners & licensed agents of 1000+ tour operators worldwide.
---
Don't just take our word for it...
"Tourhub: Friendliness, Professionalism & Integrity I would happily give tourhub a 6* review if I could..."
Not what you're looking for?
People that have booked this tour have also searched for the following:
Tours in Nepal
Similar Tours
Travel Guru Features
Our Reviews