Best of Uganda
Best of Uganda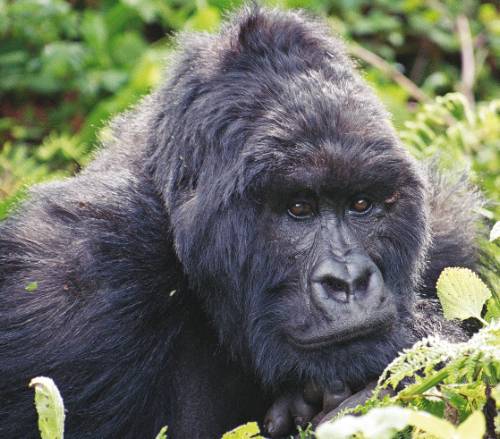 Best of Uganda
10 Days Starting in Entebbe and ending in Entebe
Tour operator:
Physical rating:
Adventure touring
Tour Overview
This comprehensive tour encompasses the best wildlife encounters in Uganda along with wonderful hospitality and superb lodge accommodation. Tracking the mountain gorillas in the Bwindi Impenetrable Forest is an incredible bucket list experience culminating in the thrill of standing within metres of a male silverback and his family. With an opportunity to view prolific wildlife in its natural environment such as chimpanzees and other primates, a walking safari to spot reintroduced white rhinos, some of the best bird watching in Africa with over 1000 different species, a large variety of plains game and big cats to rival any Kenya or Tanzania game reserve, and the famous tree-climbing lions of Queen Elizabeth National Park; there are too many highlights to name. Coupled with its diverse habitats, lush forests, mountainous scenery, beautiful lakes and spectacular waterfalls; this exceptional itinerary showcases the best of Uganda and is the perfect addition to any Africa itinerary.
Highlights
Track the Mountain Gorillas in the Bwindi Impenetrable Forest National Park

View chimpanzees and other primate species in their natural habitat

Search for tree-climbing lions and other wildlife in the Queen Elizabeth National Park

Indulge in some of the best bird watching in Africa with over 1000 different species on a Kazinga Channel boat cruise

Cruise along the River Nile to spectacular Murchison Falls

Spot reintroduced white rhinos on a walking safari at Ziwa Rhino Sanctuary

Experience a nature walk in Lake Mburo National Park
Itinerary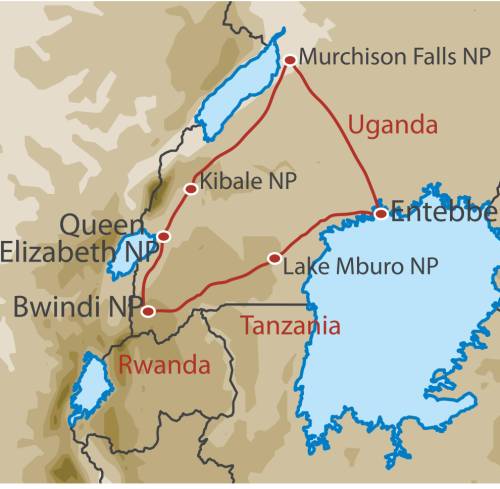 Not what you're looking for?
People that have booked this tour have also searched for the following:
Tours in Uganda
Expand All
On arrival at Entebbe International Airport in Uganda, you shall be welcomed by your guide and transferred to the group hotel for overnight.
Accommodation: Boma Guest House or similar
Day 2 :

Drive To Ziwa Rhino Sanctuary And Murchison Falls National Park
After breakfast, you will drive to Ziwa Rhino Sanctuary where you will undertake a walking safari to view the Southern White Rhinos that have been re-introduced in Uganda. In the afternoon you will drive to the legendary Murchison Falls National Park - Uganda's largest national park.
Accommodation: Murchison River Lodge or similar
Approx. distance 364 km
Approx. driving time 6 hours
Day 3 :

Morning Game Drive, Afternoon River Nile Boat Cruise To Murchison Falls
After an early breakfast, we will undertake a morning game drive. This is a beautiful drive across savannah, Borassus Palm Forest and grassland down to Lake Albert where the Albert Nile River heads north. We drive in the open African savannah in search of Lions, Leopard, Hyena, Buffalo, Elephant, Jackson Hartebeest, Oribi, Waterbucks, Uganda Kobs, in addition to spotting various bird species such as the Secretary Bird, Black Chested Snake Eagle, Tawny and Marshal Eagles, Carmine and Swallow Tailed Bee-Eaters, and many more.
In the afternoon, we enjoy a boat ride up the Nile River to the spectacular Murchison Falls. We hike to the top of the falls and marvel as the Nile squeezes through a 7 metre gap, with enormous Nile Crocodiles basking at the bottom.
Accommodation: Murchison River Lodge or similar
Approx. distance 65 km
Approx. driving time 3-4 hours game drive
Day 4 :

Drive To Kibale National Park
This morning you will drive to Kibale National Park. Along the way you will pass many tea plantations and have an opportunity to visit a tea plantation. We will also stop in Fort Portal and visit the Toro Palace. In the afternoon you will arrive at your accommodation.
Accommodation: Kibale Forest Camp or Isunga Lodge or similar
Approx. distance 370 km
Approx. driving time 8 hours
Day 5 :

Morning Chimp Trek, Drive To Queen Elizabeth National Park
After an early morning breakfast, you will undertake a chimp trek. Note: the chimp permits are subject to availability - there are two slots in either the early morning (when they are often up in the trees feeding and more active) or at mid morning (when they often come down to take a nap as it is cooler on the forest floor and therefore closer and more relaxed). Both of these viewing slots are rewarding and interesting.
Kibale's 795 sq km National Park contains one of the most beautiful and varying tracts of tropical forest in the whole of Uganda. This is home to 13 species of primate including chimpanzees. The park's highest point is at 1590m above sea level. After lunch we will proceed to Queen Elizabeth National Park, and enjoy a game drive on the way to our lodge. Named after Her Majesty's Queen Elizabeth of England, it is Uganda's most popular and scenic game reserve. It stretches from the crater-dotted foothills of the Rwenzori range in the north, along the shores of Lake Edward to the remote Ishasha River in the south, incorporating a wide variety of habitats that range from open savannah, wetlands, crater lakes and rainforest.
Accommodation: Marafiki Safari Lodge or similar
Approx. distance 130 km
Approx. driving time 4-5 hours (including game drive speed)
Day 6 :

Morning Game Drive, Afternoon Kazinga Channel Boat Cruise
This morning we will have an early morning game drive. Queen Elizabeth National Park includes parts of Lakes Edward and George which are linked by the Kazinga channel. The park boasts the world's highest bio-diversity rating with over 600 bird and 100 mammal species including lions, hippos, buffaloes, leopard, Spotted Hyena, elephants and the elusive Giant Forest Hog. The primates include Chimps, Black and White Colobus Monkeys, Blue, Black faced Red Colobus, and Red tailed monkeys and Olive Baboons. Lunch at the lodge will be followed by an afternoon Kazinga Channel boat cruise.
Accommodation: Marafiki Safari Lodge or similar
Approx. distance 40 km
Approx. driving time 3 hours game drive
Day 7 :

Drive To Bwindi Impenetrable Forest, Game Drive In Ishasha Enroute
After breakfast, you will be driven to Bwindi Impenetrable Forest National Park, passing through the Ishasha Sector of Queen Elizabeth National Park, famous for its tree climbing lions. Bwindi National Park is the habitat of half of the world's Mountain Gorilla population and also home to chimpanzee, monkeys, elephants, small antelope and birdlife. Your accommodation tonight is located near Bwindi National Park.
Accommodation: Haven Lodge Buhoma or Engagi Lodge or similar
Approx. distance 150 km
Approx. driving time 5 hours (including game drive speed)
Day 8 :

Gorilla Trek In Bwindi Impenetrable Forest, Drive To Lake Bunyonyi
A very early start for the short drive to Bwindi Impenetrable Forest National Park for your Gorilla trek. You will be taken to the Park Headquarters for a short briefing after which you will enter the forest and start your Gorilla trek (please note that a drive may be required to your trekking starting point). The trek can be anything from 2 hours to 6 hours or longer depending on the location of the Gorillas on the day. The terrain is rough, often over steep slopes covered with matted vegetation. You will be led by an experienced ranger who will tell you interesting facts about the flora and fauna and the lifestyle of the Gorillas. Be prepared for rain, mud and giant stinging nettles – long trousers, gloves and a waterproof jacket will help. The mountain gorillas have inspired travellers from all over the world to experience one of nature's greatest interactions. Anyone who has witnessed the Mountain Gorillas of East Africa will strongly agree that it is a once in a lifetime experience that will never be forgotten. Afterwards we will drive to Lake Bunyonyi for overnight.
Accommodation: Birds Nest Resort or similar
Approx. distance 60 km
Approx. driving time 1.5 hours
Day 9 :

Drive To Lake Mburo National Park
This morning after breakfast we will depart Bwindi and drive to Lake Mburo National Park, the only park in Uganda with an entire lake. Here we enjoy a brief game drive along the way to your accommodation. Lake Mburo National Park forms a mosaic-like habitat with rocks, dry slopes, open and wooded savannahs, forests and swamps. These diverse habitats are home to 313 recorded bird species including Flame Head Barbet, Long-tailed Zitting Cisticola (Tabora), African Bins Rail, Collared Barbet and Binding Bush Singer.
Accommodation: Rwakobo Rock or similar
Approx. distance 180 km
Approx. driving time 4-5 hours (including game drive speed)
Day 10 :

Nature Walk, Drive To Entebbe, Trip Concludes
You will get up early morning for a guided nature walk before returning to the lodge for a hearty breakfast. Then you will drive to Entebbe. Time permitting you can stop for a photo opportunity at the Equator. Transfer to Entebbe Airport, where trip concludes. (Please note: earliest departure time is 18:00hrs).
Approx. distance 270 km
Approx. driving time 5 hours
What's Included
Accommodation
7 nights safari lodge

9 breakfasts, 9 lunches and 8 dinners

airport transfers (day 1 and 10 only)

7 nights in 3 star safari lodge on a twinshare basis

1 night in 3 star permanent safari camp on a twinshare basis

1 night in 3 star hotel on a twinshare basis

English speaking local driver-guide

private transport in a 4wd safari vehicle

game drives and excursions as listed in itinerary

national park and conservation fees (including gorilla and chimp permits) valued at US$900

mineral water while on tour
What's Not Included
international airfares and airport taxes

tips

bottled water, aerated and alcoholic drinks

items of a personal nature such as phone calls, laundry, etc.

meals not specified in the itinerary

visa

travel insurance (compulsory)

optional activities
Accommodation
7 nights safari lodge
For this accommodated safari, we make use of mid-range lodge accommodation. Your accommodation is situated either in National Parks, on the banks of a river, or in other places of interest. The accommodation will be a mix of safari lodges and permanent safari camp on a twinshare basis with en-suite facilities. Some properties are equipped with swimming pools and/or bar areas.
What You Carry
In your daypack you will need to carry extra warm clothing, a rainjacket, water bottle, camera gear, valuables and personal items such as sunscreen, lip balm, etc.
Grading
These adventure tours visit remote areas of the world where facilities are often basic. These adventure tours will often involve long journeys and rough roads. Sightseeing and optional day walks are often included and these days may involve up to 5 hours of physical activity. To enjoy these adventures we suggest you are reasonably fit, healthy, have a moderately active lifestyle and have a positive attitude. The fitter you are for your trip, the more of a holiday it will be. The gorilla tracking will sometimes be quite strenuous and will involve following trails beaten through the forests. These trails are often wet, steep and slippery. * Suggested preparation: Two or three times a week, we recommend you walk on undulating terrain for an hour or more, for at least 3 months prior to departure.
Wildlife
The wilderness areas of Africa are populated by large numbers of wild and potentially dangerous animals. The trip aims to view these animals in their natural habitat, uncontrolled by fences. Your experienced guides will make every effort to ensure the safety of the group at all times. Please be aware that all safari travel, including vehicle safaris in the proximity of wild animals is never entirely without risk. By travelling into wild areas in search of wild animals, all participants accept that they are choosing an adventure that includes an element of risk and this is an inherent aspect of the enjoyment of this style of travel.
Check out our Q&As
Who will be my travelling companions on the tour?

We have offices on three continents which means your travelling companions will be just that – international and wonderfully eclectic. Part of small group travel means that although travellers come from various locations and backgrounds, you will be travelling with like-minded companions who, like you, are keen to share the experience and forge lifelong friendships.

What about environmental impact?

We believe that adventure travel revolves around establishing a strong relationship with the people and environments in which we operate. Our responsible travel policies have been carefully developed to ensure that we minimise the impact of our presence and help to protect the regions we visit while contributing positively to the local community.

What should I pack?

Your pre-departure documents include a detailed packing list with items that you need to bring. While most of the equipment for daily activities is included in your tour cost, some items like helmets and hiking boots are best brought from home. The pre-departure documents also include information on layering and recommended brands for various items to ensure you are fully prepared for your trip.

Do you operate a "single share" option and how does it work?

Yes. World Expeditions does not require single travellers to pay a surcharge for travelling alone on the vast majority of our trips. Our holidays are primarily on a twin share basis, so if you are joining the group as a solo traveller, we will match you with someone of your own gender. The choice is yours however; if you prefer not to share, we do offer single supplements for private occupancy.

Are tips included in my trip price?

Tips are not included in the tour cost. Tipping is a personal thing, do not worry about how much, or when, to tip. Tipping guidelines are provided for certain destinations in our pre departure information upon booking, however the best advice will be provided by your tour leader.
Am I suited to small-group travel?

We recognise that many of our travellers have not been on a 'group trip' before. Yet what our departures provide is both structure and flexibility, allowing you plenty of freedom within the framework of the itinerary. You'll find that with our maximum group size at 16, you'll travel in a minimal impact style with a great group of like-minded travellers.

Can you advise which vaccinations are recommended?

While our pre-departure kit provides information on vaccinations, we suggest that you consult your doctor, local government inoculation centre or a travel medical specialist in order to get the most current advice regarding vaccination requirements.
Reviews From Travellers On This Tour
Ian Hanson(NSW Australia)
Best of Uganda
This trip delivered everything that was promised, plus more - attentive and knowledgeable local guides, memorable and diverse landscapes, outstanding wildlife viewing opportunities, and very comfortable accommodation and transportation. Seeing chimps and gorillas in the wild was truly a once in a lifetime experience, and one I'll never forget. There were so many other unexpected and thrilling things to see and do, from exploring the Katwe explosion craters in Queen Elizabeth National Park to spotting animals travelling through the Kazinga Channel. Uganda is now one of my favourite countries.
S. Hammond(Malvern East, VIC)
Best of Uganda
From planning to completion of our trip everything went exactly as planned with World Expeditions. Fantastic holiday.
Jill Doctor(Glebe, NSW Australia)
Best of Uganda
I absolutely loved everything about this trip. The guide, Africano, was awesome, the country is stunning, the wildlife brilliant and although there were long day's driving, it didn't feel like it as there was so much to see on the road
Rusli Suwito(NSW Australia)
Best of Uganda
J. Wall(Tingalpa, QLD)
Best of Uganda
Wow! This trip was absolutely amazing. We were so lucky to see all of the animals, including the big 6. (Lion, leopard, elephant, rhinoceros, cape buffalo and gorilla.) There were plenty of sightings of elephants, buffaloes, giraffes, various antelopes and heaps of different monkeys. My absolute highlight was the trek to see the chimpanzees. These apes have such personality and we saw them playing, eating and it seemed as though they were having an absolute ball! The gorillas were also another highlight, and we were extremely lucky with the weather and not having to trek very far through the jungle. We were also very privileged to see 1 of the 25 tree climbing lions that live in the Queen Elizabeth National Park. The food was delicious and the accommodation, which located in some gorgeous settings, was always different (ranging from permanent tent sites to cabins to hotels and resort). Really this trip was an experience not to be missed.
Clara Lopez Prunonosa(London, UK)
Best of Uganda
We had a superb guide, Charles, who was amazing at spotting animals! The lodges were all very good and the trip was we enjoyed trying local food too outside of the lodges. The wildfire was just amazing. And gorilla trekking is so special.
Book with Confidence
Transfer as credit to Future Tours

World Expeditions allows you to transfer existing payments to a future tour to avoid cancellation fees if you can't travel and inform world expeditions, 70 days before departure.

Low Deposit

World Expeditions requires a minimum deposit of 250 GBP per person or the full booking value, whichever is less, with the final balance not due until 70 days before departure.

Cancellation Policy

We don't charge a cancellation fee, here is a summary of world expeditions charges.

Up to 70 days before tour starts: Forfeit 100% of deposit.

At 69 days before tour starts: Forfeit 50% of booking price.

At 35 days before tour starts: Forfeit 100% of booking price.
Why book with tourhub?
Safe & Secure
Your money is protected in an external trust until you travel.
---
100% Guaranteed Refunds if your trip is cancelled.
---
The safest way to make overseas, multi-currency payments.
Guaranteed Best Value
Industry leading discounts, we won't be beaten on price.
---
No cancellation or amendment fees from tourhub.
(Operator terms may apply)
Expert Knowledge
Reliable & unbiased advice from travel experts.
---
Direct contact with the tour operator via our messaging service.
---
Inspiration & advice from a community of 6000+ real travellers, influencers & content creators.
Trusted Service
Official partners & licensed agents of 1000+ tour operators worldwide.
---
Don't just take our word for it...
"Tourhub: Friendliness, Professionalism & Integrity I would happily give tourhub a 6* review if I could..."
Not what you're looking for?
People that have booked this tour have also searched for the following:
Tours in Uganda
Similar Tours
Travel Guru Features
Our Reviews