Play & Pause: Southeastern Europe Highlights 2024
Play & Pause: Southeastern Europe Highlights 2024

Play & Pause: Southeastern Europe Highlights 2024
16 Days Starting in Venice and ending in Athens
Visiting: Venice, Ljubljana, Dubrovnik, Sarajevo, Kotor, Tirana, Gjipe Beach, Meteora, Athens
Tour operator:
Specialist Group:
18-30 Somethings
Special diets catered:
Please advise requests
Tour operated in:
English
Trip Styles:
Interests:
Activities:
Tour Overview
TRIP VIBE = the perfect mix of group activities and all-important YOU time. This 16-day adventure across Southeastern Europe will take you to places you've had on your bucket-list since you first dreamed of travel. AND, it's full of surprises that'll Blow. Your. Mind. Hit historic cities like Dubrovnik, Saravejo and Athens. Chill on beaches along the Albanian Riviera. Swap your brunches for late lunches. And have time to do you. With a small bunch of travel besties to share these life-changing moments with, you'll make mems that'll stand the test of time.
Highlights
Visit Lake Bled

Entry to Plitvice Lakes National Park

Orientation walk of Mostar with Trip Leader

Walking tour of Dubrovnik with local guide

Orientation walk of Tirana with Trip Leader

Visit the cliffside monasteries of Meteora (entry not included)
Itinerary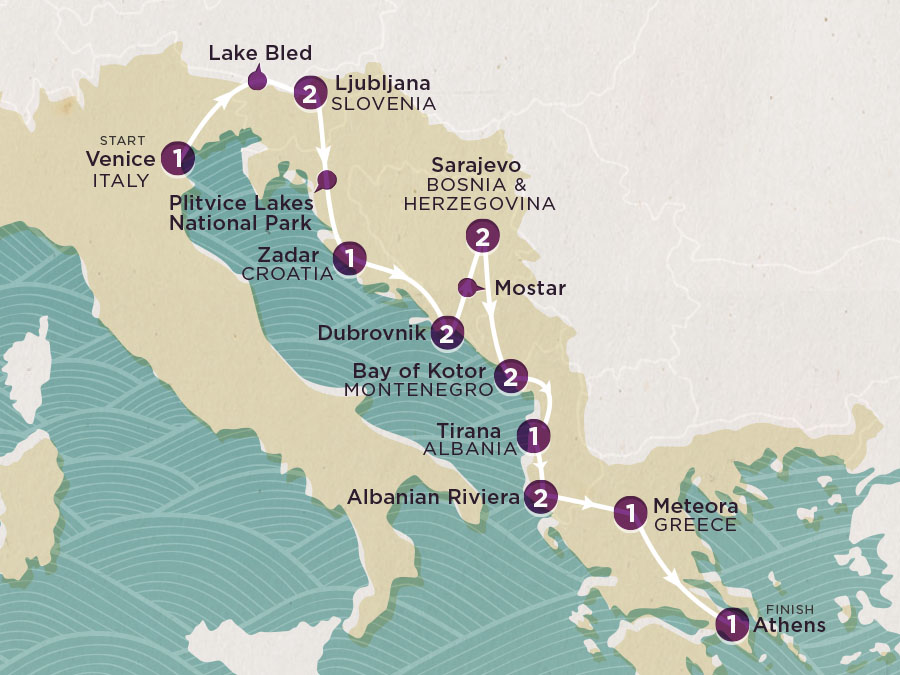 Expand All
Location:
Venice
Accommodation:
Hotel
Meals Included:
Dinner
Ciao amici, you're in Venice! You probs already know it for romantic gondola rides, beaut canals and that viral TikTok of *ahem* floods. But it's so. Much. MORE. We rec you get here a few nights before to truly experience the real Venice. Its vibrant art scene, majestic museum culture and iconic buildings are no joke. Back to the first day of the rest of your life... Meet the people you're gonna call fam by the end of the trip at our welcome dinner. Tasty food, sparkling juices and the beginning of a new adventure? What's not to love.
Day 2 :

Venice – Lake Bled (Slovenia) - Ljubljana
Location:
Venice
Accommodation:
Hotel
Meals Included:
Breakfast
Rise n shine, it's the first full day! Slovenia's on the cards and we're hitting it strong. With a stop at Lake Bled. Fairytale vibes and then some. Tranquil waters. Lush green forests. And a magical island Rapunzel could call home. Snap your pics. Bask in the serene ambience. Take a dip. Then: Ljubljana calls. The capital is brimming with cool af things to do. With your awesome trip mates or solo. This is your trip, your way. See the dragons along Zmajski most (Dragon Bridge). Relax and swap stories with your new fam in Tivoli Park. Or stroll to Ljubljana Castle for beaut views. That feeling in your chest? Pure happiness.
Location:
Ljubljana
Accommodation:
Hotel
Meals Included:
Breakfast
You're first taste of a Topdeck free day. Let's get it. Wander through the winding streets of the city's old town. The colourful buildings and delish aromas are enough to make your eyes pop and your mouth drool. Look out for traditional Slovenian snacks on an optional food tour: Istrian prosciutto, Slovenian cheese, Idrijski žlikrofi dumplings and some sweet surprises too! There's also a trip to Postojna Cave up for grabs. This place is surreal. It's gonna be one of those moments that imprints on your brain f-o-r-e-v-e-r. Later: gather the gang and sip a chilled glass of wine under the night sky.
Day 4 :

Ljubljana – Plitvice Lakes National Park (Croatia) - Zadar
Location:
Ljubljana
Accommodation:
Hotel
Meals Included:
Breakfast
Scoff your brekky, we've got another country to get to. This time: Croatia. We'll begin this part of the journey with a trip to Plitvice Lakes National Park. This is your time to explore. Get lost. Discover something new. Find yourself along the way. Then: tumble back onto the coach cos Zadar is calling. Hit the old town with your trip mates. Full of Roman ruins, quirky cafes and medieval churches, there's so much to see. Later: the only place to be is the spot where sea meets land. The main characters? The Sea Organ and Greeting to the Sun. As the sun sets, listen to the experimental instrument powered by the rolling of waves and stick around for the I-N-C-R-E-D-I-B-L-E light show when the sky turns dark.
Day 5 :

Zadar – Dubrovnik
Location:
Dubrovnik
Accommodation:
Hotel
Meals Included:
Breakfast
Hop back on the coach, we're hitting Dubrovnik with all we've got. And what better way to get acquainted with this stunning city than on a walking tour with an expert local guide. Feast your eyes on views of Sponza Palace, Rector Palace, Dubrovnik Cathedral and the old town: one of the most perfectly preserved medieval cities in the entire world. Facts. Once your daily step count hits 10k, see how this city lights up at night. Stroll along the boardwalk solo to see pretty reflections in the water. Grab some of your trip mates and relax in the Cave Bar with a cocktail in hand. Or feel the evening breeze with your travel bestie as you watch the sun set at Copacabana Beach.
Location:
Dubrovnik
Accommodation:
Hotel
Meals Included:
Breakfast
You're taking charge today – it's giving throne vibes. GOT fans are gonna love Lovrijenac Fort (The Red Keep), Dubrovnik West Pier (Blackwater Bay), St Dominic Street (THAT walk of shame moment) and heaps of other locations you've deffo seen on screen. Fancy taking to the water instead? There's a lit optional that's gonna have you kayaking your way around the ancient city walls. Why see 'em from land when you can see 'em from the sun-drenched Adriatic Sea, right? These kayaks fit two travel buds, so if you need a lil chill moment along the way, your mate can flex those muscles real good. And vice-versa. Obvs. Later, grab dinner in the old town and say Živjeli! to another incred city ticked off the travel bucket-list.
Day 7 :

Dubrovnik – Mostar (Bosnia & Herzegovina) - Sarajevo
Location:
Dubrovnik
Accommodation:
Hotel
Meals Included:
Breakfast, Dinner
Say see ya to Croatia. Bosnia & Herzegovina are up next. First location: Mostar. This place is pure paradise. River water that gleams. Architecture that plunges you to another world. And that world-famous Stari Most bridge. Our Trip Leader's gonna share the deets during an orientation walk before we head to Bosnia's capital: Sarajevo. The city is yours to play in for a few hours. Catch views from Latin Bridge. Have a cheeky bev in one of old town's easy-going bars. Or get a dose of history at a musuem: the tiny, hidden Saravejo Musuem is a treasure trove of history dating wayyy back to the Ottoman period. Even some of the locals don't know where this is. Later, we're all getting our feast on together at an included dinner.
Location:
Sarajevo
Accommodation:
Hotel
Meals Included:
Breakfast
Saravejo is your playground today, so get up, get out and stash some mems into your brain. Hop between the mosques and synagogues dotted around the city. Drink from the Sebilj Fountain for a guaranteed return to this part of the world. Sample some baklava – it's a MUST. Or take this day as an opportunity to learn about the fall of Yugoslavia and the longest siege to occur in modern warfare. Your guide will share insider knowledge, take you to important sites and teach you about the city's tragic past. Tonight, dinner's on you. Grab something authentic and turn in early to reflect on the day's antics.
Day 9 :

Sarajevo – Bay Of Kotor (Montenegro)
Location:
Kotor
Accommodation:
Hotel
Meals Included:
Breakfast
Onwards to Montenegro! Ngl, it's a bit of a drive today and we'll get to Bay of Kotor this arvo. The hotel we're staying at is a bit of a walk from Kotor Old Town, so you've got the option to have a chill beside the pool. Catch up on some reading. Snooze the afternoon away. Top up your tan. Or float in the water. If you don't fancy an afternoon in your swimmers, take a leisurely stroll up to the old town to get your bearings before heading back for a quiet dinner with the fam at a local restaurant. A little R&R day hits different in this part of the world. Pinky swear.
Location:
Kotor
Accommodation:
Hotel
Meals Included:
Breakfast
Another day of freedom to do YOU. Thank us later. Spend the day getting to know each other beside the pool. The stories that could come out = real af. Gaze at the STUN-NING mountain views allll day long. Wander around the old town of Kotor. Stumble across narrow streets. Hike up to Kotor Fortress for awesome panoramic views. Step inside the beaut cathedral. Stroke some cats (Kotor's saviours according to legend). Or step aboard an optional boat tour and head out to Blue Cave and Our Lady of the Rocks. Natural wonders. Refreshing swims. Beaut islands. And quaint churches. This is REAL travel.
Day 11 :

Bay Of Kotor – Tirana (Albania)
Location:
Kotor
Accommodation:
Hotel
Meals Included:
Breakfast
It's another morning of coach time. Fill your bellies with brekkie. Pair up with your trip bestie. And get the travel games out. Our next stop is Albania. Specifically: Tirana. Our Trip Leader's gonna give us the lowdown during an orientation walk. Prepare for industrial vibes, lush gardens, art galleries and churches galore. Once the daily steps have been counted, the rest of the day is yours. Head back to Skanderbeg Square to absorb the national buildings for longer than a few mins. Climb the Clock Tower for incred views of the entire city. Sprawl beside the lake in Grand Park. Or hit one of the musuems to fill your brain with even more facts. After: lick your lips over some local eats and hit a jazz bar. Vibes = lit.
Day 12 :

Tirana – Albanian Riviera
Location:
Tirana
Accommodation:
Hotel
Meals Included:
Breakfast, Dinner
Truthbomb: it's a long drive day. If you're head's feelin' a lil fuzzy from last night, take this opportunity to get into the fetal position and catch some zeds. Pure relaxation is the vibe for today anyway cos the Albanian Riviera is next on the agenda. It's giving dreamy, turquoise, never-getting-over-these-views kinda feels. Sunbathing = mandatory. Tonight, we've got an included dinner to get to. Swap your swimmers for something stretchy cos eyes will be bigger than bellies when you see the delish level of local eats – it's Off. The. Scale.
Day 13 :

Albanian Riviera
Location:
Gjipe Beach
Accommodation:
Hotel
Meals Included:
Breakfast
Who's up for another day of blissful paradise? You got it. Gather the gang (or go solo if you need some me-time!), grab your kindle, find a shop that sells floatable donuts, and hit the golden sands for a full day of chill vibes. Do whatever feels good: afternoon naps, sea dives, secret swaps. Later, head to a local restaurant to get your fill of food that slaps. Then, take your pick of colourful cocktails at an awesome beach club. Tonight's ambience = unmatched.
Day 14 :

Albanian Riviera – Meteora (Greece)
Location:
Meteora
Accommodation:
Hotel
Meals Included:
Breakfast
Ah, Greece. The place of mythology, famous sunsets and democracy's birthplace. First up is Meteora. A rock formation that could have only been created by the ancient gods themselves. No cap. If that wasn't awesome enough, there are heaps of Byzantine monasteries on top. We've got plenty of time at this otherwordly UNESCO World Heritage Site, so get ready to have your mind BLOWN. Enter the holy sites for a fee. Snap a pic – no filter needed, duh. Breathe in the fresh air. Take in allll the views. This is your life. On a scale of 1 – 11, how stoked are you?
Day 15 :

Meteora – Athens
Location:
Athens
Accommodation:
Hotel
Meals Included:
Breakfast, Dinner
Try not to cry, today's the last full day. Let's end it with a bang in Greece's capital: ATHENS. This city is next level, no cap. The mighty Acropolis stands on top of the world. Its museum will take you back in time. The colourful streets of Plaka scream explore-with-all-you-got! Make the most of this arvo. Grab a souvlaki. Head to a rooftop bar to toast your adventure together. Wander the market streets for some last min souvenirs. Tonight: we're gathering for dinner one last time. Let's make it one to remember.
Location:
Athens
Meals Included:
Breakfast
Not ready for the fun to end? Call us your travel fairy godmother, we've made your dreams come true. Our Delve Deep and Sail & Swim Greek Islands trips start tonight. Practice your best ABBA tune cos the Mamma Mia vibes are Next. Level. And you get a lil more time in Athens too. Sweet!
What's Included
Transport

Air-conditioned coach

Guide

Trip leader & driver

Accommodation

15 nights in hotel-style accommodation (twin or double)

Meals

15 Breakfasts, 4 Dinners
What's Not Included
Airport Transfers at Destination

Insurance

International Travel
Mode of Transport
Air-conditioned coach
Accommodation
15 nights in hotel-style accommodation (twin or double)
Check out our Q&As
Are airport transfers included in this tour?

No, airport transfers are not included

What is the maximum group size?

Are children permitted to take part in the tour?

No. This trip is specifically designed for those aged 18-39 years

Are flights included in this tour?

No, international flights are not included

Who will be my travelling companions on the tour?

Curious? Open-minded? Same. Topdeckers are a mixed bunch, but that's what makes us special. They come from all over the globe and are aged between 18 and 39. Like you, they're looking to feel real. To experience more. To embrace the unknown. To grow and connect – without judgement.
Is there an age limit on Topdeck trips?

Yes. Our trips are specifically designed for those aged 18-39 years of age.

How long has the tour company been trading?

What policies are in place for Covid-19?

https://www.topdeck.travel/resources/booking-flexibility

Do you operate a "single share" option and how does it work?

We operate Single Share across across all touring styles and will match you with someone of the same gender

What documents will I receive before I travel?

E-Documentation will be sent

Will the accommodation included meet local health and safety regulations?

Yes, we work dilligenltly with our partners to acheive this

Can I join the tour once it has departed?

Yes you can on European Tours
Dates & Availability
Instant Booking Available
Friday - Saturday
May 10, 2024 - May 25, 2024
Instant Booking Available
Friday - Saturday
Jun 14, 2024 - Jun 29, 2024
Instant Booking Available
Friday - Saturday
Jul 12, 2024 - Jul 27, 2024
Instant Booking Available
Friday - Saturday
Aug 09, 2024 - Aug 24, 2024
Instant Booking Available
Friday - Saturday
Sep 06, 2024 - Sep 21, 2024
Book with Confidence
Free Date Changes

Topdeck allows you to make 1000 free date changes, as long as the change is made at least 60 days before the start of the tour.

Transfer as credit to Future Tours

Topdeck allows you to transfer existing payments to a future tour to avoid cancellation fees if you can't travel and inform topdeck, 60 days before departure.

Low Deposit

Topdeck requires a minimum deposit of 60 GBP per person or the full booking value, whichever is less, with the final balance not due until 60 days before departure.

Cancellation Policy

We don't charge a cancellation fee, here is a summary of topdeck charges.

Up to 60 days before tour starts: Forfeit 100% of deposit.

At 29 days before tour starts: Forfeit 50% of booking price.

At 7 days before tour starts: Forfeit 100% of booking price.

Covid-19 Vaccination Policy

Updated: 01-Jan-2023

The world of travel has changed since we introduced our COVID-19 Vaccine Policy. That's why the policy came to an end on 31 December 2022.

This means you no longer need to be vaccinated against COVID-19 to join a Topdeck trip.

BUT bear in mind some countries and airlines will have different requirements – it's your responsibility to keep up to date with these (Google is your friend).
Why book with tourhub?
Safe & Secure
Your money is protected in an external trust until you travel.
---
100% Guaranteed Refunds if your trip is cancelled.
---
The safest way to make overseas, multi-currency payments.
Guaranteed Best Value
Industry leading discounts, we won't be beaten on price.
---
No cancellation or amendment fees from tourhub.
(Operator terms may apply)
Expert Knowledge
Reliable & unbiased advice from travel experts.
---
Direct contact with the tour operator via our messaging service.
---
Inspiration & advice from a community of 6000+ real travellers, influencers & content creators.
Trusted Service
Official partners & licensed agents of 1000+ tour operators worldwide.
---
Don't just take our word for it...
"Tourhub: Friendliness, Professionalism & Integrity I would happily give tourhub a 6* review if I could..."
Similar Tours
Travel Guru Features
Our Reviews